Reddit has had an unenviable year, with a founder's hiring decision yielding the resignation of of its CEO, scrutiny around which shone a light on its worst corners. Meanwhile, the bean counters raise questions about whether or not the 10 year-old company can ever make any money and whether or not it's problematic that the company depends heavily on unpaid workers.
Kevin Rose, the founder of Digg, has even suggested Reddit might give up and become a nonprofit.
Into this context comes a brand new startup called Topick, which opens its beta to the world today. The three-person team believes it can update the neglected online forum, delivering the latest technology and the benefit of hindsight into what went wrong with previous failed fora.
"There's a kind of system failure in conversation," Maxime Leroy, one of the company's two co-founders, told the Observer during an interview yesterday. He said he basically wants to apply the principles that made redditors love Victoria Taylor so much to the whole site (she's doing public radio now, by the way).
The Whole Earth 'Lectronic Link (The WELL) claims to have launched the movement toward online community conversation, but the French might disagree. Either way, group conversations online about specific topics have not changed a lot since the first dot-com boom. Randall Munroe's forum for the insanely popular XKCD is a fair example of where webforums have been stuck for some time.
Google created Groups which look like they just sort of hoovered up some local newspaper's forum code and then turned it over to a recently graduated designer to spend for a weekend's update and left it. Facebook has Groups, too. Their chief feature seems to be "being on Facebook." They are hobbled by Facebook's universally frustrating search functionality and the weirdness of airing your conversations so close to your personal life.
It's hard to come off as an expert when there are photos of your kid shoving cupcakes in your face just a couple clicks away, as Mr. Leroy pointed out.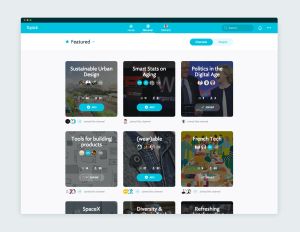 Topick, he argues, can improve the languishing user experience of online conversation by making its case to users, potential investors and business partners around the quality of engagement rather than the quantity of users. He believes that by setting its goals around engagement, and not signups, the company can earn a reputation for quality online discussion. And, therefore, convince people to come back.
Here are some of the features that Mr. Leroy believes will make a difference for the site:
Staff commitment to community moderation. "I don't believe in self-moderating communities," Mr. Leroy said. No interns will be doing moderation, he told us. Moderators will be professionals, on the team. Mr. Leroy repeatedly asserted that the team is putting just as much resources into community as they are into the product.
More features for users. By giving users new ways (still in development) to show how they feel about different comments by forum participants, they believe they can arrive at a system where forums become almost self-moderated, by consensus. Right now, users just have "likes," but they plan to experiment.
Conversations always start with a link. By requiring a link to start a conversation (or a "pick"), the team believes it will keep returning the conversation to content and substance. After having a look at the system, there's a key difference here from Reddit. Link posts on Reddit emphasize punchy headlines. On Topick, users often leave lengthy intros to links, and their commentary appears above the link. Mr. Leroy believes this is a key feature. It will, however, shut out a wide array of conversations that take place on other forums, such as those in this relationships forum.
Pre-eminence of the first post. Mr. Leroy said that the core principle of Topick, right now, is keeping the conversation oriented around the first post on a thread. If users veer away from the first post, users are encouraged to remind others to stay within the conversation. Right now, many of the site's conversations are led by high level experts.
Everyone can read; not everyone can write. Not every forum may be open to all for commentary.
Invite-only beta era. The team believes it is setting the table now. It only has about 200 users now, with about 100 in the beta over the last few months. They will carefully add more users, onboarding each one with personal messaging. By doing so, they believe, they can create a site culture that can define the site forever. He said, so far, the mindset of its nascent community has been a feature unto itself. He described it this way: "Our edge is about innovation. Not tech, but innovation in general. … Talking about the future of something, which is in our DNA right now, there's a humility in that."
Diversity. The team is working hard to get a lot of different backgrounds into the conversation. Conversations become narrow and hostile to certain experiences when they are defined by a homogeneous group, Mr. Leroy believes. "We want to be super welcoming and super surprising," Mr. Leroy said, meaning that by welcoming a wide array of backgrounds, diverse people will find sources that other members of the community would never find on their own. He believes it will lend to discovery.
It all sounds a little utopian. Having watched a lot of these communities in the past, it often seems like their success is often linked to the degree to which they permit hostile talk, homogeneous groups and alienating dialogue.
In fact, in talking to a GamerGate supporter during some recent reporting, it became apparent that, underneath all the issues of "social justice" and "ethics in journalism" driving much of the fury in that group, an underlying frustration surfaced: the fact that so many websites are shutting down forums and comment sections. The right to comment in any way a reader wants appears to be a unifying principle of the cause.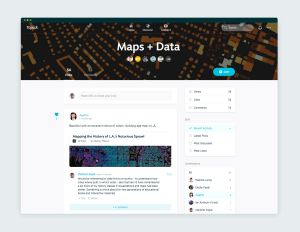 Topick aims to appeal to the majority that finds hostile commentary distasteful.
On the product side, Mr. Leroy emphasized shareable posts, responsive design, a user specific front page that crosses all his or her forums and introducing mobile apps next year.
By creating a bespoke front page on the site for users, Topick aims to save users time. In forums today, users always have to visit each forum to see the latest conversation. Topick will aggregate the best posts from each of a users' forums on its front page.
Reddit and Facebook did not reply to a request for comment on this story.