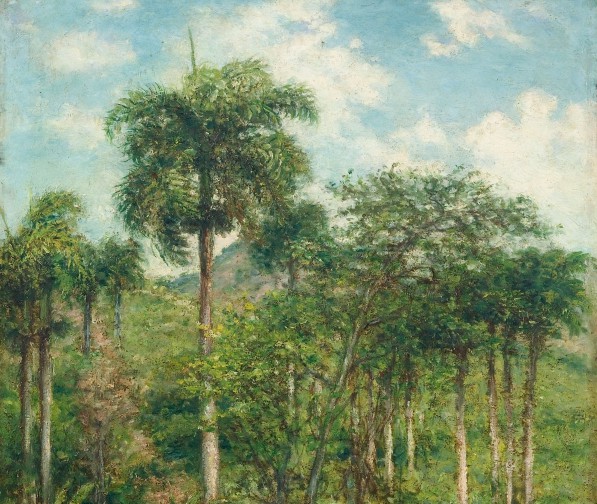 Some artists blossom early. Others, like fine wine, age into maturity. An illuminating show chronicling such an evolution is "Impressionism and the Caribbean: Francisco Oller and His Transatlantic World" at the Brooklyn Museum (through January 3, 2016).
As organized by Richard Aste of the Brooklyn Museum, and Edward J. Sullivan of New York University, it contains 85 works of art, plus the large reproduction of an 86th. Yet only 42 of these works (including the reproduction) are by the show's titular topic Francisco Oller (pronounced o-YAIR). The rest are included to illustrate his time & place, but may well distract viewers from his own accomplishments.
If you can manage not to lose sight of Oller's progress through the first three parts of this show, you will be rewarded in the fourth and last to find that almost all of its works are by the master himself—and that they lead up to a socko finale.
Francisco Manuel Oller y Centro was born in Puerto Rico in 1833 (when it was still a Spanish colony) to a family which seems to have been at the very least comfortably fixed—and that also appears to have welcomed his desire to pursue a career in art.
A talented child, he was sent as an adolescent to study art at the tradition-heavy Royal Academy of Fine Arts de San Fernando in Madrid. 
When grown, he migrated to Paris, where the action was — with Courbet, Manet and the impressionists.  Here he learned how to paint in the Impressionist style himself, and became friends with Cézanne and Monet. From time to time, he returned to Puerto Rico long enough to marry, beget children, and start a few art schools. Around 1890, he resettled there full-time–painting what posterity has come to regard as his greatest work until his death, at 83, in 1917.
The exhibition follows the artist's own migrations: In Part One, "Oller's Caribbean" we get two dozen nice pictures by other artists depicting people and places in the Caribbean (loosely defined) between the early 18th century and 1912. Part Two, "Oller's Spain," has 7 pictures, of which only 3 are by Oller, and only one from his student days. Part Three, "Oller's France," does have nine Impressionist Ollers, but 15 more works by other (and often, though not always) more talented people in Paris at that time.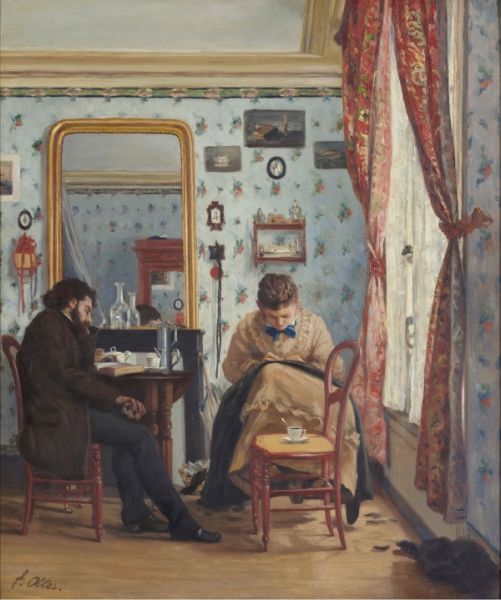 Finally, we get to Part Four, "Oller's Puerto Rico."   Here 23 out of 28 works are by the master (the rest being primarily by his students or recording major historical events, like the ceding by Spain of Puerto Rico to the U.S. in 1898).
Nominally this part of the show is devoted to Oller's late work, but its true uniqueness lies in the fact that its canvases show the artist being most purely himself. Most Ollers here are landscapes, genre scenes, portraits or still lifes. The landscapes are nice, especially the two views of sugar plantations, The Hacienda La Fortuna (1885), and The Hacienda Aurora (ca. 1898-1898). Though rendered with impressionist sunlight, the brushwork is tighter and more precise, somewhere between Courbet and academia. Equally importantly, the subject is distinctively Puerto Rican.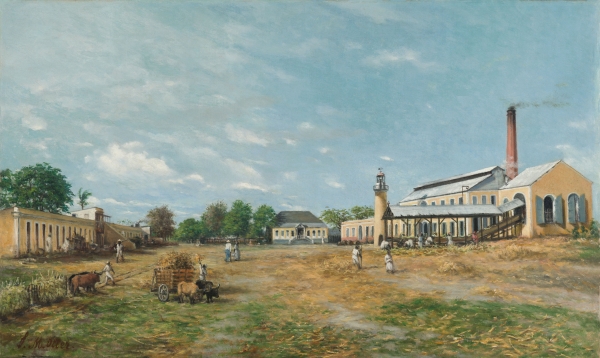 The genre scenes, I'm afraid, don't really come off, not even The Wake (ca. 1893), which is the biggest (8 x 13½ feet).
Some of the portraits are much better. Though their rich, dark brushwork is highly traditional, it's appropriate, and the individuality of the subjects shines through.
One of the two best depicts José Gautier Benitez, the Puerto Rican poet (ca. 1885-1886), with a stinging vitality. The other shows Manuel Sicardó y Osuna (ca. 1866-1868), the public architect of San Juan, a relaxed and distinguished-looking figure.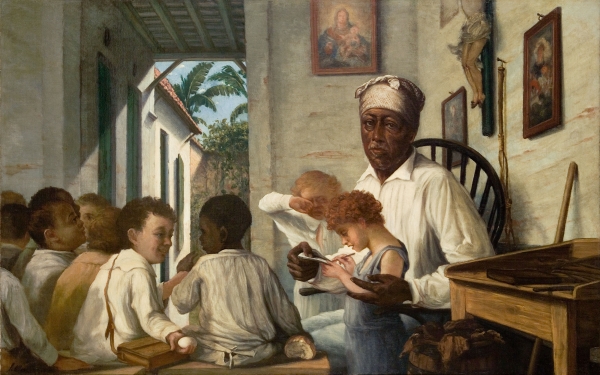 The highlight of this show – at the end of it — is ten magnificent still lifes.
All but one were made between 1890 and 1914.
Though not large, they give the impression of largeness—being dominated by monumental, luscious fruits: bananas, pineapples, plantains, coconuts, mameys, gourds, guavas, mangos, watermelons or sugar apples.
Most of these fruits grow happily in tropical Puerto Rico.
As art, they trace their descent back to the great "bodegóns" (kitchen still lifes) by 17th and 18th century Spanish masters like Zurburán, Sánchez Cotán and Luis Meléndez.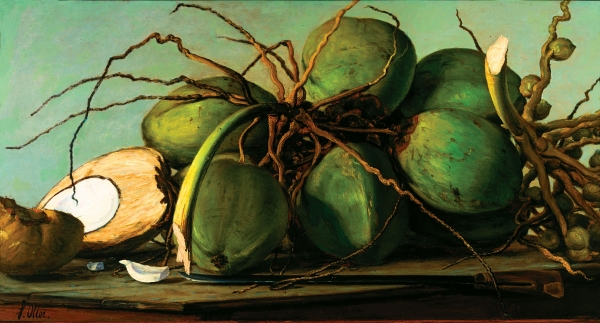 Oller must have seen some of these bodegóns in the Prado, in his student days—or later.  Thus in his maturity, he threw away his impressionist copy-book and adapted to his New World surroundings a type of Old World painting that over the years must have come to mean more to him.

Not that these still lifes don't have some residual Paris about them, but one school of Paris haunts them more than impressionism: 20th century surrealism.

In Oller's Still Life with Coconuts (ca. 1893) the foliage, stems or roots that accompany the fruit in its natural state twist and writhe over the fruit itself like some enormous dying spider.

It's attractive but disturbing. Because of those disturbing overtones, this painting reminds me of Salvador Dali — another painter who would later travel from Spain to Paris.

How extraordinary– that Oller in his old age should not only establish his own powerful identity but also anticipate another eerie reality — above and beyond reality itself!