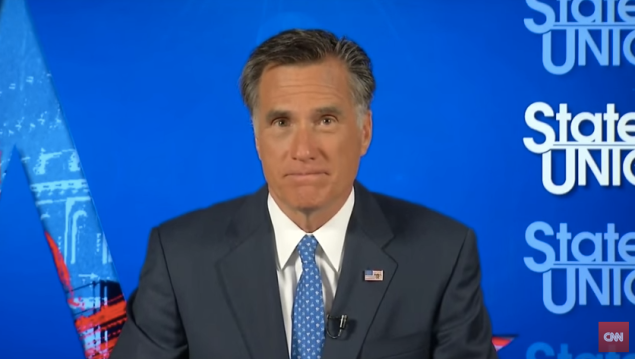 Predicting presidential nominees more than a year before the national election is like picking World Series qualifiers during spring training.
There's always a chance you might guess right, so here's a notion for 2016 based on Sunday's political talk shows: Mitt Romney for the Republicans against Joe Biden for the Democrats.
Mr. Romney, who lost to Barack Obama in 2012, appeared on CNN's State of the Union with Jake Tapper and offered a lot of opinions about a lot of things.
He said Hillary Clinton—the leading Democratic candidate—was "misguided and uninformed" while Secretary of State for President Obama.
"Her mistaken perspective on foreign policy has led to the fact that, frankly, there is no place in the world that I can think of where American interests have been bettered by virtue of Hillary Clinton serving as Secretary of State," Mr. Romney said. "That's quite an indictment."
Indeed it is, more than an average non-candidate might offer. He praised many of the Republican contenders but not Dr. Ben Carson. Asked about Dr. Carson, Mr. Romney called him "a very gentle and sweet soul."
Of other Republican candidates, Mr. Romney alluded to Donald Trump and Ted Cruz when he said "The problem with bomb-throwing so far is that most of the bombs have landed on our own team. That doesn't help."
When Mr. Tapper asked if Mr. Romney would be leading in the polls now if he were running, Mr. Romney replied: "I can't imagine running right now. I'm not in this race."
Which is not the same thing as saying "I will never, ever run in this race, even if Trump and Carson and crackpots like Cruz threaten to turn the convention into a sleazy casino filled with fanatics yelling trash and fat cats walking around with big bag of cash."
Over on Face the Nation on CBS, John Dickerson asked Bob Woodward his prediction.
"The Republicans are going to find the person who most resembles Ronald Reagan," the venerable Mr. Woodward intoned. "This is the new hero in the Republican Party. If anybody can stand up convincingly and say 'I'm most like Ronald Reagan' that may be the nominee."
Hmmm. Who might that be?
Mr. Romney even looks like Mr. Reagan. Combs his hair the same way. Both former governors who talk a right-wing streak but worked fairly well with Democrats. Both seniors but youthful-looking. Both political veterans who had tried for the White House before and fell short.
As for the Democrats, Sunday's pundits were all tingly over Ms. Clinton's appearances before the now discredited House Benghazi committee. A good performance on Thursday would help her, they decided.
A bad showing—or a solid, new, fair allegation from the Republican witch-hunters—might encourage the current vice-president to join the field.
On ABC's This Week, Katrina vanden Heuvel said it's time for Mr. Biden to decide.
"We've seen 'Hamlet on the Potomac' play out for too long," she said.
This launched the vision of Bill Kristol, ABC's leading conservative on the panel, who predicted Mr. Biden may soon enter the race.
"He will be a strong candidate," Kristol said. "He is a more sympathetic candidate than Hillary Clinton. He's a more electable candidate than Bernie Sanders. He will signal that he'd like Elizabeth Warren (the Massachusetts Democratic U.S. Senator) as his running mate."
At this point, Ms. vanden Heuvel—sitting next to Mr. Kristol—could be seen on screen, jaw dropping and eyes bulging. For reasons unknown, the director cut away from the shot. Mr. Kristol, it should be remembered, is one of the neo-cons who convinced the Republican Party that Sarah Palin would be a worthy candidate for vice-president.
In other news . . .
ABC replayed the scene of Donald Trump accusing Bernie Sanders of being a "socialist-slash-communist." Mr. Sanders promised a tax rate "a damn lot higher than it is now" on "Trump and his billionaire friends."
On Face the Nation on CBS, host John Dickerson asked Benghazi committee chairman Trey Gowdy how even Republicans are calling his investigation a political fishing expedition. "Why would all these people say that?" Mr. Dickerson asked innocently. Mr. Gowdy replied: "I guess they don't have any idea of what the facts are. I have told my own Republican colleagues and friends 'Shut up talking about things that you don't know anything about.'" In that his investigation has bled from four murders of Americans in Benghazi into how Ms. Clinton's emails were handled, Mr. Gowdy said email is not his focus. "Four dead Americans is more than enough work for me," he said. Curiously, when there are gun massacres of 10, 15, 20 or more Americans, Mr. Gowdy rarely gets this worked up. Mr. Gowdy also referred to advice Ms. Clinton gets from an old colleague as "drivel that is produced by a guy named Sidney Blumenthal."
On Fox News Sunday Mr. Trump told Chris Wallace he may eliminate the Department of Education. Of the Environmental Protection Agency, Mr. Trump said: "What they do is a disgrace." Mr. Trump also said he doesn't need campaign advice from the right-wing Wall Street Journal, citing its purchase by Rupert Murdoch, "The Wall Street Journal was bought for $5 billion," Mr. Trump said. "It's now worth $500 million, O.K.?" Mr. Wallace, perhaps grateful to be back in Mr. Trump's good graces after their recent feud, proclaimed in his dreamy way, "I am beginning to believe he could be elected President of the United States." On Fox's MediaBuzz, Brit Hume, in a less gushy tone, conceded only, "I can see how he could become the nominee of Republican Party."
Disclosure: Donald Trump is the father-in-law of Jared Kushner, the publisher of Observer Media.