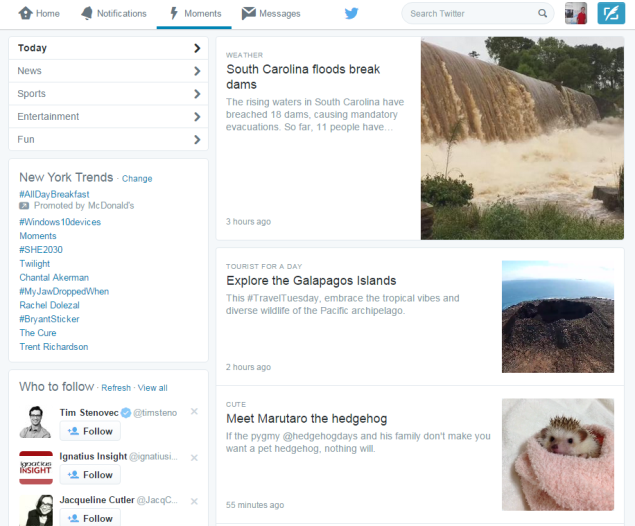 Jack Dorsey certainly works fast.
Just one day after Mr. Dorsey, a co-founder of Twitter, was appointed permanent CEO, the social network introduced Moments, a new feature designed to give users the best of Twitter in an instant.
Moments is meant to show what matters on Twitter in an instant—everything from breaking news to cute animal videos. It aggregates the most popular tweets and media from around the site, even from accounts users don't follow. The feature is split into five verticals: Today, News, Sports, Entertainment and Fun.
Users who click on the new lightning bolt "Moments" icon at the top of the screen are directed to a page featuring headlines centered around various topics. When they click on one of the topics, they are taken to an introductory page, featuring a description of the story along with related tweets and media.
One of the most promising features is the option to "follow a Moment." This will be used for live events such as sporting events or awards shows—users can get tweets on that topic blended directly into their timeline. When the event ends, the affiliated tweets do too, so the timeline looks the same as it did before.
Initial reaction to Moments on Twitter itself was split between pure adulation and concern about the feature's impact on the news:
In light of the sarcasm, it's worth pointing out that multiple national newspapers have already begun using Moments—Washington Post reporter Robin Givhan is utilizing the service to send updates from Paris Fashion Week: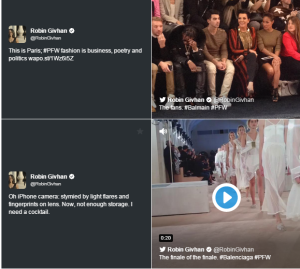 Twitter is using the Moments tab to appeal more to new and casual users. And if it succeeds, hopefully all the people who were predicting Twitter's death four months ago will finally learn their lesson.