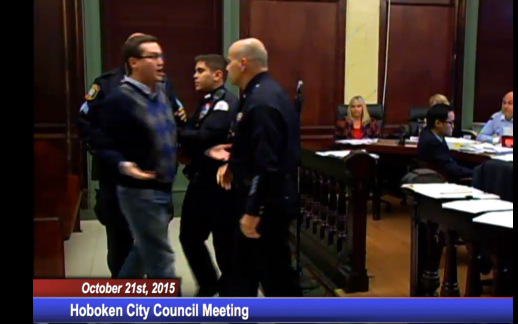 At a Wednesday night Hoboken City Council meeting, two residents butted heads with and were eventually ejected from the meeting by Council President Ravi Bhalla. The removal from the meeting came after both men brought up the correspondence Mayor Dawn Zimmer's husband, Stan Grossbard, had with Hoboken Housing Authority members seemingly advising them on how to terminate former HHA executive director Assemblyman Carmelo Garcia (D-33).
First came comments from Perry Belfiore, a long-time Hoboken insider.
"Since I have been involved in politics there has been a raging question: What is the extent to which a sitting mayor can intrude on a sovereign function of an independent body of board?" Belfiore said. "Detractors of the mayor would say 'None.' Fans of the mayor would say 'As far as she could go or he could go, and then some.' The question has never been posed 'What of the mayor's spouse?' What rights does the mayor's spouse have?"
[Click here to see the UStream video of last night's meeting. Jump to 30:30 for Belfiore's exchange with the council.]
Immediately, Bhalla interjected in an attempt to keep Belfiore from making further remarks. "The mayor's spouse is a private citizen and this is a meeting," Bhalla said.
From that point, things between Bhalla and Belfiore got heated with Belfiore accusing the council president of censorship.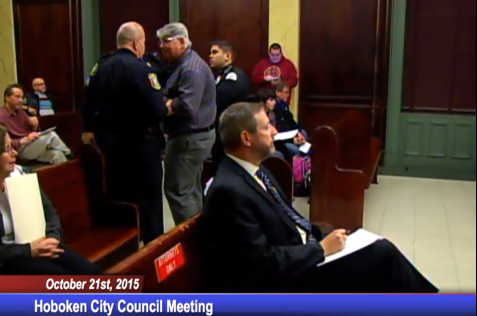 "Don't censor the public, Ravi," Belfiore continued. "I am not going to let you talk over me."
Bhalla then ordered police to escort Belfiore out stating: "I have the right under the council rules to object anyone who is out of order. That is completely inappropriate, you are out of order. If anyone at this dais or members of the public injects private citizens into a business meeting, they will not be permitted to speak."
After Belfiore's removal, the meeting continued as usual until David Liebler took the stand. While Liebler's comments started off as innocuous and he spoke to the council for several minutes about issues like bike safety, things quickly turned intense when Liebler mentioned Grossbard.
[For Liebler's exchange with the council, jump to 1:10]
"For a lot of you who haven't seen already on [PolitickerNJ.com]… holy cow! Holy cow!" Liebler said. "Just like I expected, just like we all knew. Stan Grossbard is the unofficial mayor of Hoboken. He has never been elected."
Bhalla immediately interjected. He said: "No, no, no, no. You can speak but there are parameters."
As Leibler was escorted out by three police officers, he questioned why he was being ejected.
"Why? Because you're a disgrace!" said Bhalla. "It is very shameful that people come to this dais and need to disparage private citizens."
Throughout the exchanges, Mayor Zimmer and other council members did not interject.
Bhalla was contacted for further comment about the incident but could not be reached.