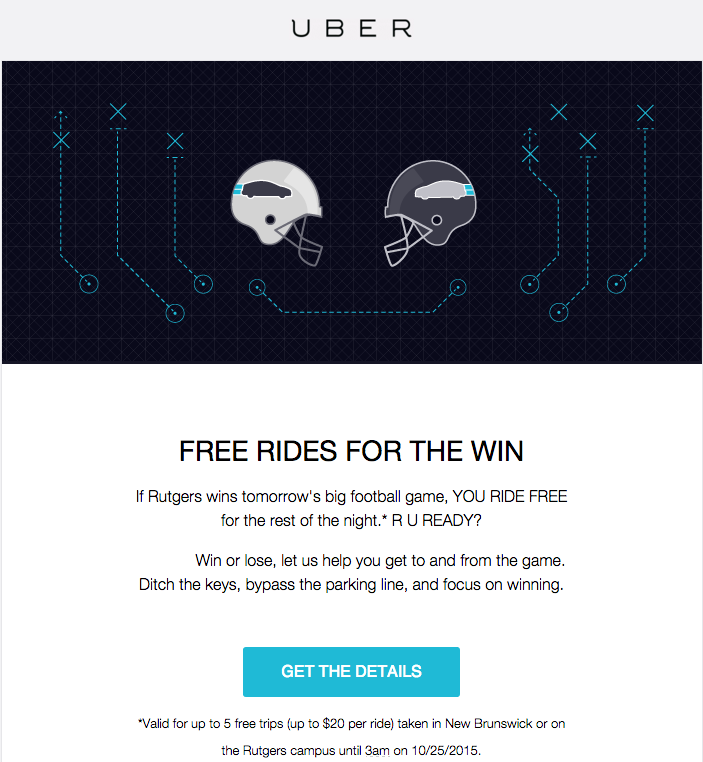 This past weekend, everyone in New Brunswick, N.J. was raving about Uber. Users had opened the app and their inboxes to see a message announcing free rides on Saturday night if the Rutgers football team (whose main campus is in New Brunswick) beat Ohio State.
Offering five free rides per user on a Saturday night while also supporting the community and its football-crazed fans made the company seem like quite a good guy. We're calling them out, however, because there was no way Rutgers was going to win the game and Uber had to have known that.
"Our free rides offer was meant to show our faith in the home team and gin up excitement in advance of the biggest game of the season," Craig Ewer, spokesperson for Uber New Jersey told the Observer. He said the company really wanted the team to win so they could do the promotion, and that fulfilling it would be good for the company. But if this is so, why offer the deal for a game Rutgers was sure to lose?
We'll start with the outcome: Ohio State completely destroyed Rutgers, winning 49-7 after keeping Rutgers scoreless until the end of the fourth quarter. Uber doled out exactly zero free rides.
This was no surprise. Ohio State is once again the number one team in the country. They lead the Big Ten in scoring, rushing and pass defense and are second in total offense and interceptions. They were on a 20-game winning streak going into the Rutgers game, and their star running back Ezekiel Elliot was on a streak of his own, as well, having rushed for at least 100 yards per game in the team's last 12 matchups. 
Unranked Rutgers, however, only just joined the Big Ten conference last year and is just beginning to play the powerhouse teams. Prior to the game, their overall record so far this season was 3-3, and their record in conference was 1-2. Head coach Kyle Flood just came off a three-game suspension the week before, and the team's big scorer, wide receiver Leonte Caroo, was injured and listed as questionable for play.
Sports analysts' predictions did not fare well for the Rutgers Scarlet Knights, either. They unanimously called for Ohio State to win with projected final scores like 49-14, 48-20 and 59-20. Some didn't think Rutgers would break 10 points.
A Rutgers win would've been the college football upset of the season, and this is coming from a devoted, season ticket-holding Rutgers alumna and football dreamer. The chances that Uber would have to pay up and offer everyone in town free rides was practically zero.
So, if what Mr. Ewer said holds true and Uber wanted the team to win so they could do the promotion, why this game? There have been numerous home games where the team was projected to win. In fact, two of the team's three wins so far this season have been at home, including the season opener they won 63-13.
Mr. Ewer provided the Observer with the following comment:
We knew going in a major upset would be cause for celebration and providing free rides would generate wide media exposure. This is just one example of the ways we celebrate the community on and off campus: last year, we offered a week of free uberX rides in New Brunswick, no strings attached. Like other companies that have run similar promotions, we believe that fans enjoy the game more when their team's victory could bring even greater rewards.
If Uber is serious about supporting the Rutgers community and celebrating football wins with free rides, we'd love to see them offer this promotion again, when the chance of it happening isn't just shy of pigs flying. The final game of the season versus Maryland (who also just joined the Big Ten), for example, would be an equal contest. What do you say, Uber? Shall we give it another go?