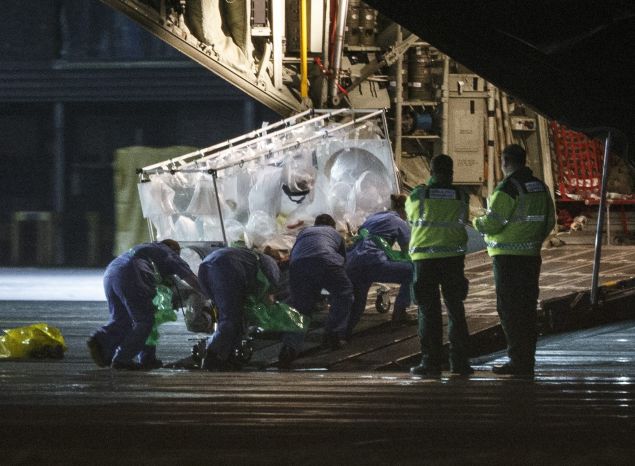 In February 2014 Scottish nurse Pauline Cafferkey volunteered in Sierra Leone, when the country was at the center of the Ebola epidemic with nearly 4,000 confirmed deaths and over 13,000 suspected cases. Though the World Health Organization declared the end of the outbreak in Liberia in May 2015, the disease is still prevalent throughout Sierra Leone and Guinea. Ms. Cafferkey became the first person infected with Ebola in the UK after using a protective visor instead of goggles while treating Ebola patients. The infiltration of the disease inspired the non-governmental organization, Save the Children, who Ms. Cafferkey volunteered for, to tighten their protocols.
Her symptoms didn't become apparent until she returned to the UK and reported a fever. She was later diagnosed with Ebola and flown from Glasgow, Scotland to the Royal Free Hospital in London. Doctors kept her in isolation in three weeks until she recovered this past January.
A few days ago Ms. Cafferkey reportedly went into relapse and is now back in isolation at the same hospital in critical condition.
"We can confirm that Pauline Cafferkey was transferred from the Queen Elizabeth University Hospital in Glasgow to the Royal Free Hospital in the early hours of this morning due to an unusual late complication of her previous infection by the Ebola virus," said the Royal Free Hospital in London, in a press release. "She will now be treated in isolation in the hospital's high level isolation unit under nationally agreed guidelines. The Ebola virus can only be transmitted by direct contact with the blood or bodily fluids of an infected person while they are symptomatic so the risk to the general public remains low and the NHS has well established and practiced infection control procedures in place."
The disease is known to linger, causing negative aftereffects, but relatively little is known because of the low number of historic cases. Ms. Cafferkey's family has expressed dismay and disappointment with the medical officials who failed to spot her condition a week ago when she was discharged from a hospital in Glasgow. 48 hours later she was rushed back to the Royal Free Hospital in London via aircraft. The 39-year-old is now fighting for her life, with family members furious her illness wasn't recognized as an immediate priority.
Ms. Cafferkey boldly volunteered to help Ebola victims at the forefront of the epidemic, enduring high risk to help save the lives of others. Her case demonstrates how little medical researchers know about the virus and its aftermath. Similar cases have not been well-documented and Ms. Cafferkey's condition is unprecedented on record in terms of the longevity of its recurring existence in the patient.
In an interview with the New York Times, Stuart T. Nichol commented that Ms. Cafferkey's illness wasn't a relapse of Ebola, but a meningitis-like syndrome complicated by the lingering of the Ebola virus. Despite the rarity of this particular incidence, Ms. Cafferkey's illness raises concerns for other surviving Ebola patients. Similar cases have been reported, with patients developing side effects ranging from encephalitis to eye inflammation, joint pain and severe headaches. A case published this May in the New England Journal Of Medicine noted that Dr. Ian Crozier, who survived his infection of Ebola, had persistent vision problems for weeks after recovering, with part of his eye inflamed with fluid that tested positive for the virus, though other blood samples came up negative.
Although reported cases in Guinea and Sierra Leone have significantly decreased since the outbreak began in 2014, serveral new cases show up each week. Hope had been on the horizon when no new cases were reported in the first two weeks of October. Of the 28,421 reported suspected cases of Ebola, over 800 of those have been health care workers.