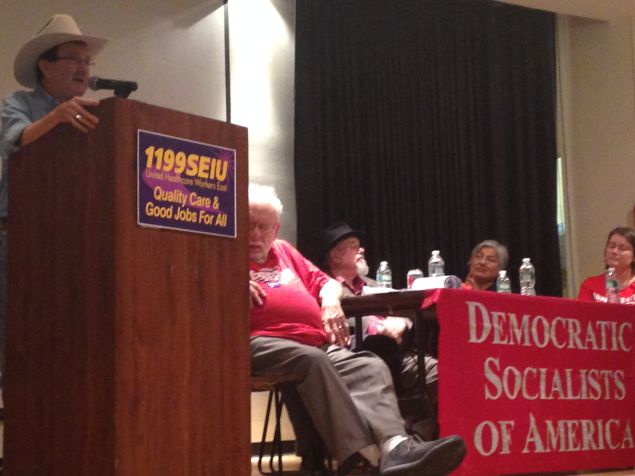 As Vermont Sen. Bernie Sanders—the second place candidate for the Democratic nomination for president—prepares for a "major speech" to explain his self-professed democratic socialism, healthcare workers' union 1199 SEIU hosted a meeting of democratic socialists last night overjoyed to have one of their own in contention for the highest office in the land.
Speakers at the Democratic Socialists of America event—keynoted by former Texas agricultural commissioner and progressive activist Jim Hightower—stressed that the location did not constitute an official 1199 SEIU endorsement of Mr. Sanders, though they repeatedly thanked union president George Gresham for reserving his Midtown headquarters' auditorium for their use. Besides Mr. Hightower, longtime 1199 SEIU Secretary-Treasurer Edward Kay and Communication Workers of America organizer Jerome Thompson—one of the 22 workers laid off in the bitter but successful drive to unionize Cablevision's Brooklyn shop—addressed the audience about the significance of Mr. Sanders' campaign, as did leading members of the DSA. (Mr. Thompson also appeared at a Manhattan fundraiser for Mr. Sanders in September.)
"The fact that democratic socialism is dinner table and breakroom conversation across this country in a positive way, more than it has been in a hundred years, to me is a game-changer," national director Maria Svart said. "Bernie is dangerous because he's not afraid of being called a socialist."
Mr. Sanders has indicated his speech on the subject will assert that governmental institutions ranging from police departments to public colleges to Social Security are essentially social democratic programs.
The audience was predominantly older and white, with a sprinkling of youth and minorities, and failed to entirely fill the small auditorium—perhaps reflecting one of Mr. Sanders' struggles on the campaign trail: attracting minority voters, and finding himself a target for Black Lives Matter protesters dissatisfied with his emphasis on economic concerns. Nearly all of the speakers went out of their way to praise the Black Lives Matter movement without directly mentioning the candidate's run-ins with its demonstrators.
"There's one thing that I'm unapologetic about, and this has been a topic in this election process, and I'm so glad. I'm talking about the Black Lives Matter movement," said Mr. Thompson, a member of the group African-Americans for Bernie, even as he hit on the candidate's economic issues. "Bernie Sanders, you know, he's the only candidate who's out there that's talking about jobs, that's talking about free education."
The only one to shy away from an open embrace of socialism was Mr. Hightower, known nationally as a liberal Democrat with Green Party leanings.
"He's Franklin Roosevelt! And Eleanor Roosevelt! He's a combination of Franklin and Eleanor Roosevelt. He may be their son," he told the Observer, arguing most Americans would look past his self-applied political label. "If ordinary people can hear the message, without the label, that's Bernie's strength. Once you hear him talk you say, 'oh, yup, I'm for that.'"
Polls have indicated less than half of Americans, though a majority of Democrats, would be willing to vote for a socialist for president.