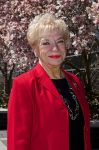 Bergen County Freeholder incumbents Steve Tanelli, Tracy Zur and Tom Sullivan will debut their first ad of the campaign season tomorrow on cable and online.
It's a a $75,000 buy for the first week.
In the ad, Freeholder Joan Voss, a former teacher, lectures a roomful of men identified as Washington Republican insiders, presenting the countywide Democrats as a contrasting example of government effectiveness.
To watch the ad, go here.