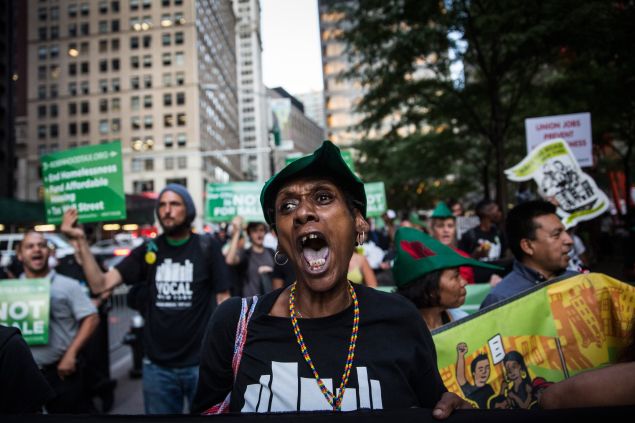 A majority of voters disapprove of the way Mayor Bill de Blasio is handling crime, poverty and homelessness, according to a new Quinnipiac University poll.
The poll, coming on the heels of another Quinnipiac survey that showed Mr. de Blasio's disapproval rating hitting a new high, was filled with mixed to bad news for the Democratic mayor, who formally kicked off his re-election campaign yesterday.
"From the beginning, Mayor Bill de Blasio has promised to reduce homelessness. His comments about income inequality have been eloquent. But on deeds–not words–New Yorkers give him negative marks. On dealing with poverty and homelessness, he comes up short 2-1," said Quinnipiac University Poll Assistant Director Maurice Carroll.
Voters disapprove 61-28 percent of his handling of poverty and homelessness and say 53-14 percent that the quality of life in the city is getting worse, not better. The outlook is not good across the board for the mayor: just 14 percent of Republicans, 35 percent of Democrats and 20 percent of independents like the way Mr. de Blasio is handling homelessness, which data show is on the rise.
Voters overall disapprove of City Hall's handling of crime 59-32 percent. The good news for Mr. de Blasio is that Democrats, who far outnumber Republicans in the five boroughs, have a sunnier outlook: Democrats give a thumbs down on crime 43-49 percent, while a whopping 88-8 percent of Republicans disapprove. Independents disapprove of the mayor's handling of crime 62-26 percent.
Police Commissioner Bill Bratton, however, scored relatively high marks. 58-29 percent, including 53-35 percent among black voters, approve of the job Mr. Bratton is doing. Voters also approve 56-37 percent of the job New York City police are doing, but black voters, who consistently back Mr. de Blasio, disapprove 51-37 percent. Voters approve 68-27 percent, including 57-37 percent among black voters, of the job police in their community are doing.
While voters are worrying about crime, despite a low murder rate, they are less concerned about their own backyards. Asked whether their neighborhood has become more or less safe compared to five years ago, 58 percent said their neighborhood is "about the same." Only 25 percent said it was less safe.