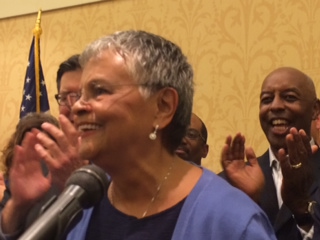 U.S. Rep. Bonnie Watson Coleman (D-12) denounced Gov. Chris Christie's Sunday remarks on CBS' Face the Nation that Black Lives Matter has "chanted in the streets for the murder of police officers," and should not be "justified."
"As if we needed any further proof that Christie isn't the right man to lead New Jersey, let alone the country, his statements about the Black Lives Matter movement demonstrate the drastic gap in his understanding for the very real bias our nation's communities of color face," said Watson Coleman, a longstanding Christie critic.
"We should place value on every single life, but the rallying cry that Black Lives Matter wasn't born out of a desire to place certain lives higher than others — it was an effort to draw attention to the fact our nation has consistently mistreated, beaten, scapegoated, and otherwise refused to value the faces of black men and women," the congresswoman added. "All lives matter, but all lives don't face the same threat, endure the same fear, or face the same consequences as African Americans. Study after study has validated the call for justice that those associated with Black Lives Matter has made, and Christie's decision not to justify that call is exactly the kind of backward movement our nation can't afford."
Elected in 2014 as the first African-American congresswoman from New Jersey – and the only sitting female member of the New Jersey congressional delegation – Watson Coleman was a vigorous ally of 2013 Christie general election challenger Barbara Buono.