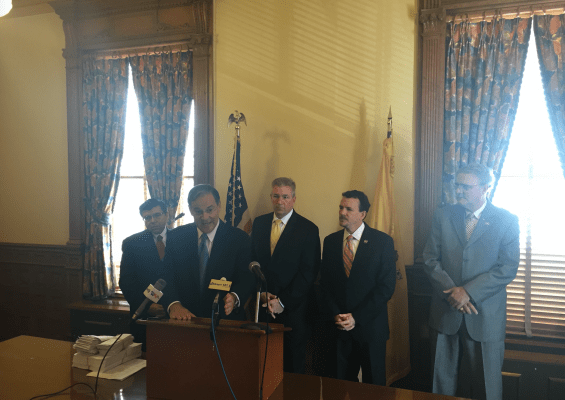 It's been a slow year for New Jersey's state and local races, which are all but guaranteed to see historically low turnout with the Assembly at the top of the ticket. For all the inertia, this cycle has still seen its share of clashing personalities as Assembly candidates and party figureheads jockey for position in 2017.
Sweeney versus Bramnick – Assembly Minority Leader Jon Bramnick has been steadfast in shouting down the Democrats' super PAC support this cycle, calling Senate President Steve Sweeney's decision not to hold committee hearings on Republican pension reform bills a capitulation to the NJEA and their anger over a $40 billion pension shortfall. The teachers' group has been the biggest donor to the General Majority PAC, which has spent upwards of $2 million dollars on Democrats' behalf in the first and second districts.
Brown versus Mazzeo – As the two most likely to be groomed for future Senate runs in the second district, Assemblyman Chris Brown (R-2) and Vince Mazzeo (D-2) both have much to lose this year if they don't hold onto their seats. This has been a bitter contest Brown and Mazzeo, with Brown accusing Mazzeo of apathy on new casinos outside Atlantic City and PAC ads accusing Brown of accepting contributions from North Jersey casino interests. 
Andrzejczak versus Fiocchi – Assemblyman Bob Andrzejczak (D-1) and Sam Fiocchi (R-1) joined their running mates in a debate this week that saw Andrzejczak's first public appearance without mentor Senator Jeff Van Drew (D-1) by his side. Fiocchi's campaign has been freewheeling with accusations that Andrzejczak is only a pawn of Van Drew's, and with allegations the debate that Andrzejczak was forced to capitulate to his caucus on a bill offering in-state tuition to undocumented students.
Levinson versus Guardian – Republican Atlantic County Executive Dennis Levinson has been vocal in his opposition to a payment in lieu of taxes bill for Atlantic City casinos, calling the plan "welfare for the casinos." Levinson's opposition has put him at odds with Republican Mayor Don Guardian, who had initially hammered out an agreement with Levinson on the county's cut of casino payments that fell by the wayside. Guardian has sided with Mazzeo, a sponsor, in supporting the bill.
Cappola versus DiPisa – The indignities keep piling on in the 38th district, where disgraced Assembly candidate Anthony Cappola announced this week that he was formally rescinding his decision to exit the race after anti-semitic, anti-gay writings of his hit the press. Former running mate Mark DiPisa has disavowed Cappola's campaign, even refusing to appear at a debate that Cappola attended.