Some might say the hardest part about the New York Marathon—besides, of course, canvassing 26.2 miles on foot through the city's five boroughs—is figuring out how to dress. Temperature-wise, runners need something to guard against the pre-race, early November morning chill, but also something that will not be too hot once their bodies warm up. They need something that is breathable, flexible, that will not chafe, and—for those with stylish sensibilities—that will look sharp for that post-finish photo session.
For women who are running the New York Marathon for the first time—or who could not seem to get their outfit right last year—we surveyed fitness pros and assembled their best attire-related advice. Now, if only they could offer tips on how best to finish 26.2 miles without collapsing mid-way through.
Don't Experiment the Day Of
"The worst possible thing to happen is to have a race day ruined with poor prep or wardrobe malfunctions," Creenagh Flynn, director of e-commerce at Karma, the luxurious new Vancouver-based activewear line, said. Ms. Flynn is also a regular marathon and half-marathon runner.
She recommends testing out that marathon wardrobe a week before the actual race. "[I do] a five mile run in the exact outfit I am planning to wear on race day, including accessories and hairstyle," she said, "right down to the SPF and moisturizer."
Jill Cromwell-Wang, a Well+Good staffer and NYC Marathon vet, warns not to buy a new pair of kicks for race day.
"You should run in your training shoes!" she said. "You really do not want to break in new shoes over 26 miles."
Layer Up
Before the runners start their journey, they will queue up for hours on Staten Island, waiting to cross the start line. "The simple reality is you have to bring clothes that you have no problem with leaving there, to keep over your layers that you're wearing for the run," Brian Drennen, VP of sales for the activewear line Free Country and longtime runner, said. Athletes can also start by wearing a hat, then storing it on their person once the race starts.
"On top, we swear by layers," Ms. Cromwell-Wang said. She recommends pairing a "cute running tank," like this one from Nike, with a "breathable long-sleeve layer, ideally with thumbholes and a pocket"—like the above option from Aether—that you can tie around your waist by mile three or pass off to a friend waiting along the sidelines.
Find Clothes that Wick Sweat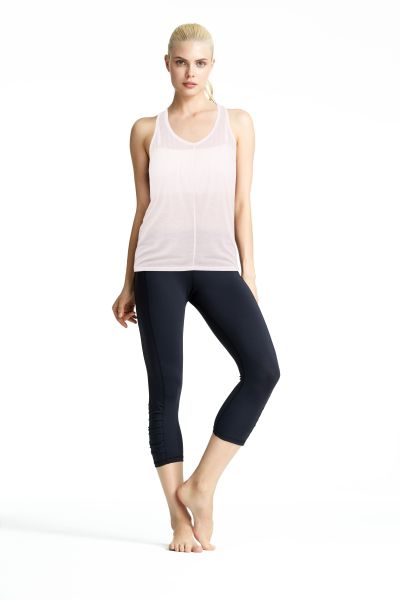 No one wants to run in clothes that stay damp with sweat.
From Karma's collection, Ms. Flynn recommends the Peggy Tank on top. "The breeze travels through and the soft material gently wicks away my sweat and dries quickly as the miles pass by," she said. On the bottom, she suggests the Kata Cropped Tight or full-length Kata Tight. "It's so weightless and wicking," she said, "it kind of feels like you are running naked and free."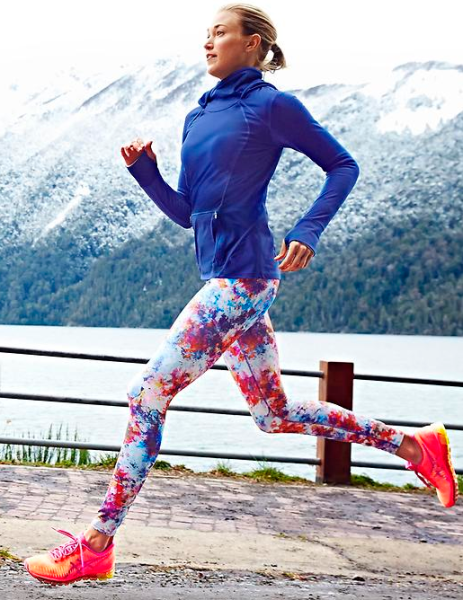 Athleta's Hypersonic Sonar Tight is a popular choice, Ms. Cromwell-Wang said. "The material of this pair is super sleek, wicking, and compressive, too." The tights also offer enough warmth to withstand those hours on Staten Island before the race begins, and full-leg coverage to protect from chafing. Additionally, the pattern is really fun and bright. "Your style makes you more visible to your friends and fans cheering you on at strategic places," Ms. Cromwell-Wang pointed out.
Care About Footwear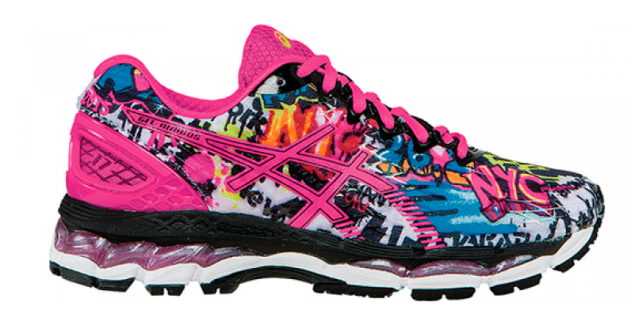 If one is ever going to spend $14 on a single pair of socks, the New York Marathon is the time to do it, Ms. Cromwell-Wang said. She recommends "a pair that lets your toes spread out and swell, versus compress and give you black toenails." Yuck.
For those who wish to commemorate the race, Asics makes a fun NYC shoe in honor of the New York Marathon.
Get That Hair Under Control
One must not overlook the importance of a secure, comfortable running hairstyle.
"Test your hairstyle during training to be sure whatever you choose does not annoy you or distract you in any way," Ms. Flynn said. "Get it out of your face and pinned away. A slipping ponytail or fly-aways can be so annoying race day." Her personal choice? "A really tight French braid with fly-aways pinned," she said.
How to Handle Technology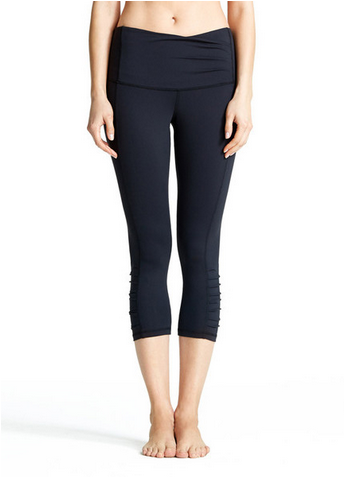 For runners who like listening to music or monitoring their activity with a fitness tracker, technology will be part of the race day get-up. Just don't let it get in the way of success.
Ms. Flynn opts for Karma's Taylor Crop pants because "the oversized waist pocket is big enough for my phone to fit in and never fall out, so I can run to music," she said, adding, "I silence the calls and emails for no distractions on race day. I believe everything else can wait until I am done, but I like to listen to music."
"It's great to wear a running watch," Ms. Cromwell-Wang said, "just to keep track of your pace." She recommended Garmin as "a tried-and-true choice."
Get Warm After the Race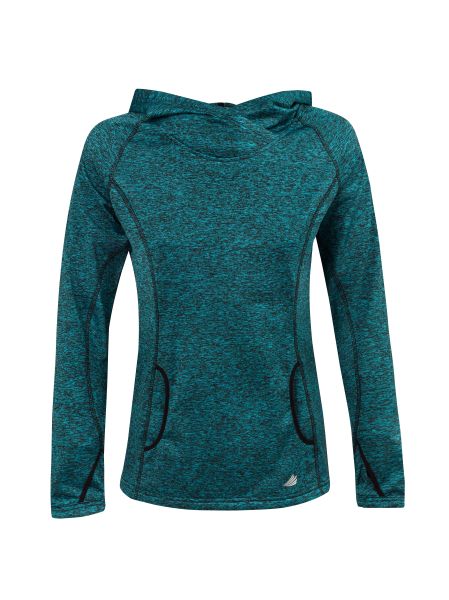 Though the body produces heat during the race, that ends when runners stop moving. "My body temperature drops exponentially post-run, to the point where normally, my lips turn a deep shade of purple," Mr. Drennen said. Free Country, which specializes in outerwear, makes a number of good options; "After [runners] complete marathon they should put on all our fleeces," he said.