Last night, the five Democratic candidates for president squared off in the first of their televised debates, moderated by CNN's Anderson Cooper. Frontrunner Hillary Clinton and her four challengers, Bernie Sanders, Martin O'Malley, Jim Webb, and Lincoln Chafee, stated their cases to primary voters, and their rhetoric was crystallized in the vocabulary items they used. But what were their significant "vocabulary moments"?
Following up on the first two Republican debates, Vocabulary.com has undertaken a rapid-response analysis of the Democratic candidates' vocabulary, plumbing the debate transcript for their most relevant words. Determining "relevance" means looking at how often a candidate uses a particular word and comparing that with how often one would expect to see the word outside of the debate. Armed with Vocabulary.com's 3.2 billion-word corpus of texts, we can zero in on which words were the most significant for the candidates based on their relative frequency.
Overall, the vocabulary analysis reveals that Democrats were focused on economic issues such as income inequality, making college more affordable, and crafting comprehensive legislation addressing immigration reform and gun safety. But the debate was not just a dry litany of policy points: the candidates' "vocabulary moments" often displayed colorful and idiosyncratic language.
The vocabulary moment of the night may have come when Bernie Sanders used the word quagmire three times in less than 30 seconds, calling Syria a "quagmire in a quagmire," and referring to Iraq as a "quagmire" for good measure. Lincoln Chafee tried to get in on the quagmire action as well, but Sanders clearly put his own stamp on the word, a mucky term that resonates with memories of Vietnam and the perils of U.S. involvement in foreign wars.
Another key moment occurred when Anderson Cooper interrogated Sanders about what it means to be a socialist. Sanders didn't back down from the word but instead explained how he embraced "democratic socialism" and offered a critique of "casino capitalism." While Clinton acknowledged it is sometimes necessary to "save capitalism from itself," she distanced herself from the hot-button word socialism, one of the most treacherous terms in American politics.
For each of the five candidates we have collected the most relevant words from the debate, as well as other words that provided memorable "vocabulary moments." The analysis was conducted using Vocabulary.com's list-making tool, a component of the Vocabulary.com educational resources used in schools across North America and by millions of individuals worldwide. Users of the tool can take any text and instantly create a learnable vocabulary list with example sentences, ordered by relevance, difficulty, or where the words appear in the text. You can find a learnable list of the most relevant words in the debate here.
---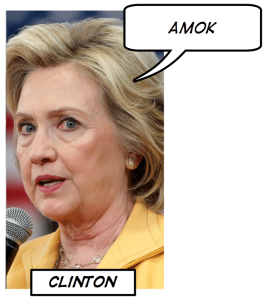 Hillary Clinton's most relevant word: amok
"And it's our job to rein in the excesses of capitalism so that it doesn't run amok and doesn't cause the kind of inequities we're seeing in our economic system."
This word signals out-of-control, chaotic behavior, and is almost exclusively seen in the phrase "run amok."  Amok originally comes from the Malay language, from a word that means "attacking furiously." Clinton used the word to refer to the excesses of capitalism, a system that needs to be put in check lest it "run amok" and lead to stark income inequalities.
Clinton's most memorable vocabulary moment: revere
"Now, I revere my late mother, and she gave me a lot of good advice. But one of the best pieces of advice she gave me was, you know, the issue is not whether or not you get knocked down. It's whether you get back up."
In seeking to portray herself as a relatable candidate, Clinton often spoke of her family, particularly the reverence she has for her mother and her homespun wisdom.
---
Bernie Sanders's most relevant word: quagmire
"Well, let's understand that when we talk about Syria, you're talking about a quagmire in a quagmire."
A quagmire is a mess that is very hard to get out of. Sanders used the word when discussing the prospect of sending troops into Syria, warning that such intervention could turn into a quagmire. Quagmire became a big political word a with the publication of David Halberstam's book on the war in Vietnam, The Making of a Quagmire. Sanders may have been alluding to Winston Churchill's oft-quoted line, "Russia is a riddle wrapped in a mystery inside an enigma."
Sanders's most memorable vocabulary moment: socialism
"And what democratic socialism is about is saying that it is immoral and wrong that the top one-tenth of 1 percent in this country own … almost as much wealth as the bottom 90 percent."
When debate moderator Anderson Cooper challenged Sanders to explain what it meant to be a "democratic socialist," he didn't back down, despite the fact that most U.S. politicians treat the word like kryptonite. The debate led many viewers to scurry to their dictionaries to find out what socialism really entails.
---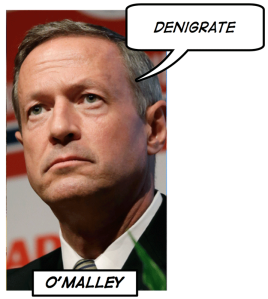 Martin O'Malley's most relevant word: denigrate
"On this stage, you didn't hear anyone denigrate women, you didn't hear anyone make racist comments about new American immigrants, you didn't hear anyone speak ill of another American because of their religious belief."
Governor O'Malley proudly noted late in the debate that no person or group was insulted and made to feel low, or denigrated, during the debate.  O'Malley contrasted this to the Republican candidates in their two debates thus far. O'Malley also called the Democratic debate "an honest search for answers."
O'Malley's most memorable vocabulary moment: barker
"We passed a state version of the DREAM Act, and a lot of the xenophobes, the immigrant haters like some that we've heard, like Donald Trump, that carnival barker in the Republican party, tried to mischaracterize it as free tuition for illegal immigrants."
In discussing the DREAM Act, legislation that allows the children of undocumented immigrants to qualify for education benefits, O'Malley further sought to distance the Democratic candidates from the Republicans, particularly Donald Trump. O'Malley portrayed the Republican Party as a circus, with Trump nothing more than a loud-mouthed "carnival barker."
---
Jim Webb's most relevant word: inevitabilty
"To me it is the inevitability of something like Benghazi occurring in the way that we intervened in Libya."
In the context of a debate, the ability to predict the future gives any speaker a clear advantage. And this is the kind of advantage one can seize by labeling a potential outcome an inevitability, or an event that is nearly guaranteed to happen. The word is derived from Latin, which makes it seem that much more authoritative, and yet, aside from death and taxes, there's very little in life that can truly be called an inevitability.
Webb's most memorable vocabulary moment: grenade
"I'd have to say the enemy soldier that threw the grenade that wounded me, but he's not around right now to talk to."
When Cooper asked the candidates about the enemies they are most proud to have made, most answered in political terms, but Webb brought it back to his military service, reminding viewers that he saw combat with the Marines during the Vietnam War. The incident with the grenade burnished Webb's pugnacious persona.
---
Lincoln Chafee's most relevant word: echelon
"So let's go back to the tax code. And 0.6 percent of Americans are at the top echelon. But they generate 30 percent of the revenue… So there's still a lot more money to be had from this top echelon."
Chafee used this somewhat fancy-sounding word, derived from French and used to describe a finer class of people or objects, to make a point about income inequality. Ironically, in trying to craft a populist message, Chafee ended up using a word that identifies him with the upper echelon of society.
Chafee's most memorable vocabulary moment: granite
"Time and time again, I have never changed. You're looking at a block of granite when it comes to the issues."
Chafee implicitly contrasted his unchanging beliefs to those of frontrunner Hillary Clinton, who has been criticized by fellow Democrats for changing her positions "based on political expediency," as Anderson Cooper put it. But in emphasizing his consistency on the issues, Chafee likened himself to "a block of granite," not the most exciting image he could have chosen.