When it comes to the 2016 presidential election, does number of Twitter followers equal number of supporters?
We took a look at the candidates' presences on the social network, ranked them by number of followers and noticed some interesting trends. Firstly, the candidates' followings range widely from 4.44 million to a mere 1,800, and to no surprise, the polling leaders in both political parties do have the largest followings. This trend largely ends there, though. When stacked up against the most recent polling numbers, the rankings don't exactly match up.
Democratic party:
Hillary Clinton – 

4.44M 

Bernie Sanders – 800K
Larry Lessig – 355K (the only candidate not invited to tonight's Democratic debate)
Martin O'Malley – 85.8K
Lincoln Chafee – 20K
Jim Webb – 14.8K
(Polls: Clinton – 43.3, Sanders – 25.1, Joe Biden – 17.4, Webb – 0.9, O'Malley – 0.4, Chafee – 0.3)
According to the most recent poll numbers, Hillary Clinton and Bernie Sander are numbers one and two, which falls in line with their Twitter rankings. Interestingly enough, the Democrat polling in third place is Joe Biden, who has said he's reluctant to run but has been saved a podium at tonight's debate in case he changes his mind. Still, he's up there in the Twitter world with 945K followers.
Out of the lesser-known Democratic candidates, Larry Lessig has the most followers, but he hasn't even made it into the polling numbers. Contrastingly, Jim Webb has very few Twitter followers but is first in the polls behind the well-known Democratic leaders.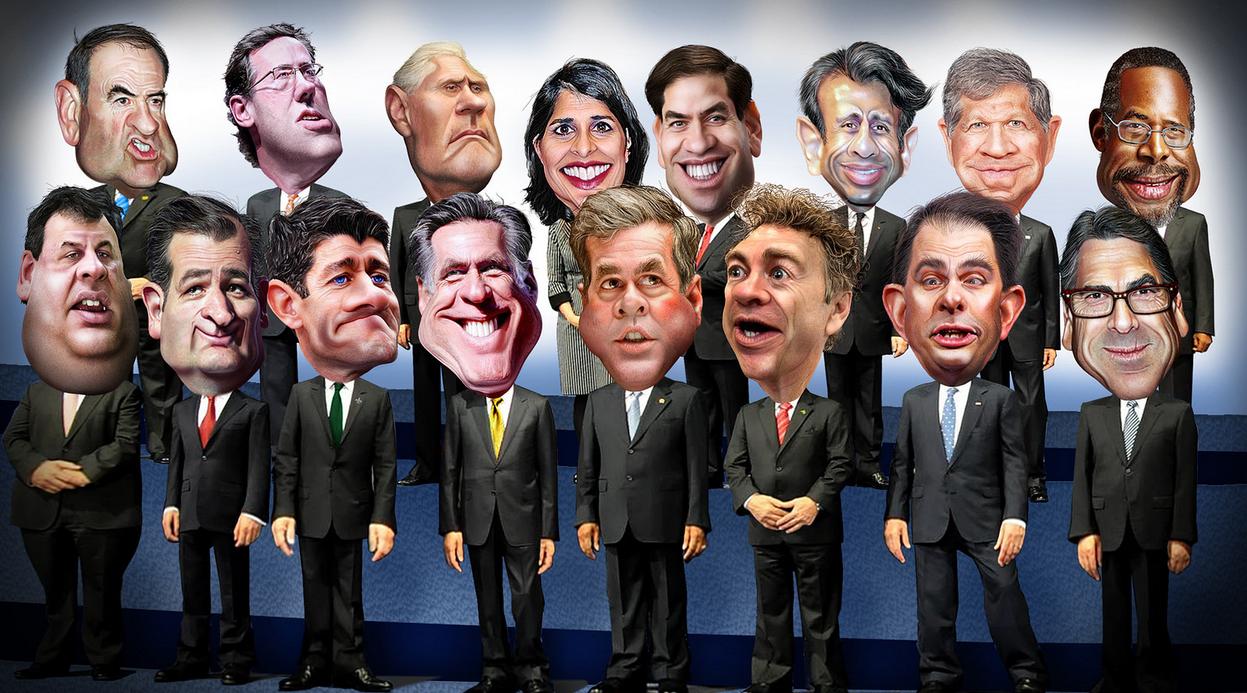 Republican party:
(Polls: Trump – 23.7, Carson – 18.4, Rubio – 9.9, Fiorina – 8.9, Bush – 7.1, Cruz – 6.7, Kasich – 3.3, Paul – 2.6, Christie – 2.4, Huckabee – 2.4, Santorum – 0.6, Jindal – 0.6, Graham – 0.4, Pataki – 0.3)
Considering the fact that 15 candidates remain in the running for the GOP nomination, this will be a little more complicated to analyze. But here we go:
Donald Trump leads the Republican polls and Twitter rankings. Out of the five candidates behind him in the polls, four of them rank within the next five Twitter spots as well. That is something of a trend, especially when considering those candidates (Ted Cruz, Marco Rubio, Ben Carson and Carly Fiorina) are all within the same realm of Twitter fame. The same can't be said for others like George Pataki, who's only halfway to the 100K-mark, and Jim Gilmore, whose Twitter has a lowly 1,800 followers but is still updated regularly and linked on his campaign homepage.
For comparison purposes, all of the candidates rank way lower than popular celebrities in terms of Twitter followings. For example, Taylor Swift tweets to 64.7M followers, Kim Kardashian to 35.9M and Drake to 26.1M. Current President Barack Obama has 64.9M followers of his personal handle, so maybe there's hope for celebrity Twitter status for the one candidate elected.