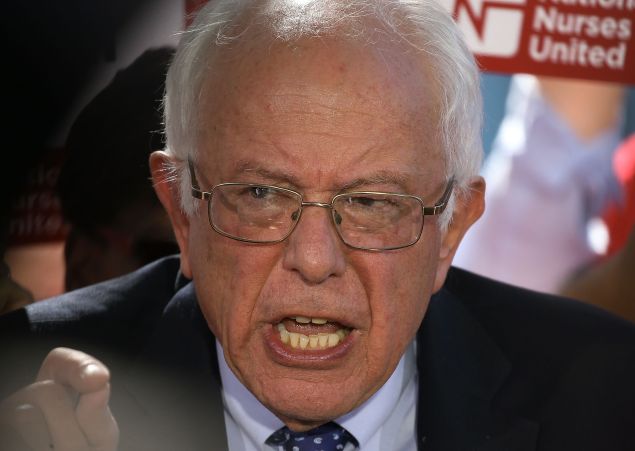 If President Bernie Sanders enters the Oval Office in 2017, he will have to do a lot more than cajole Republicans in Congress to raise the federal minimum wage to $15 an hour, make college tuition free and implement universal healthcare.
Bernie's United States will likely be facing down a seemingly intractable Syrian civil war, an emboldened Russia and China, and the hope of a lasting two-state solution as distant as ever. A migrant crisis threatens to unravel the European Union as we know it. The Islamic State, equally savvy and apocalyptic, isn't going anywhere.
But the 2016 presidential election, unlike many contests of the last half century, will not hinge on foreign policy. Hillary Clinton's Iraq War vote doesn't matter like it did seven years ago. Mr. Sanders' solutions for global crises–as admirable or thinly-sketched as they may be, depending on your perspective–won't matter much to his supporters or the wider electorate he must win over.
Even the first televised debate of the Democratic presidential primary, set for Tuesday, isn't likely to force Mr. Sanders, a Vermont senator and independent who describes himself as a democratic socialist, to start saying much more about the rest of the world.
That's because he has little to gain by doing so.
"Everything I'm looking at says domestic policy is what's driving his surge. He fares better the more he talks about domestic economics and, in fact, the groups he has to try to win over are more focused with economics than domestics," said Joe Trippi, a Democratic strategist who worked on former Vermont Gov. Howard Dean's 2004 presidential campaign.
Mr. Trippi said the voters who are most concerned with foreign policy, white progressives, are already in Mr. Sanders' corner. If he has any hope of toppling Ms. Clinton, still the front-runner despite the gains Mr. Sanders has made in the polls, he must attract black and Latino Democrats. Immigration and civil rights, rather than troop counts in Syria, are what motivates those voters most.
"I don't think there are a whole lot of people rushing to support Bernie Sanders because of his policy on Syria," said Larry Sabato, a professor of political science at the University Virginia who studies presidential campaigns. "Average people are much more interested in his point of view on income inequality."
But it's not as if Mr. Sanders' relentless focus on yawning income inequality and getting corporate money out of politics is a simple calculation. Mr. Sanders has been talking about these issues for decades and is fundamentally the same politician he was when he stormed into the House in 1991.
Foreign policy may be the "background music of the Senate," as presidential historian Gil Troy told the Observer, but it's just not something that's animates him in the same way, compared to the likes of Ms. Clinton, a former secretary of state, and Vice President Joe Biden, a foreign affairs maven reportedly leaning toward making a late entry into the primary.
On the issues section of Mr. Sanders' campaign website, "War and Peace" and "Why I Support the Iran Deal" are at the bottom of a 17-item list. When Mr. Sanders puts out statements, they are rarely about imbroglios beyond the borders of the United States. One exception was October 3rd, in the wake of Russia's sudden intervention in Syria, when he said he did "not want to make a very complex situation in Syria even worse."
In two brief paragraphs, he said he supported President Obama's "effort to effort to combat the Islamic State in Syria while at the same time supporting those in Syria trying to overthrow the brutal dictatorship of Bashar Assad."
He said he opposed an American no-fly zone over Syria, an idea floated by several GOP candidates and Ms. Clinton, because it "could get us more deeply involved in that horrible civil war and lead to a never-ending U.S. entanglement in that region."
Mr. Sanders' central concern will always be domestic policy, said Huck Gutman, his former chief of staff.
"I don't mean to suggest he is not concerned about hunger, mass migration, immigration, violence and warfare," Mr. Gutman, now a poetry professor at the University of Vermont, said. "Too often, and I think he sees this with Republicans, foreign policy is a way of avoiding dealing with inequities at home."
Mr. Gutman said the Vermont senator "is reluctant to embark on a muscular military response to foreign events. That doesn't mean he won't ever support military action. I think he sees it as a last resort rather than a first resort."
As mayor of Burlington in the 1980s and later in Congress, Mr. Sanders' stabs at foreign policy amounted to outreach to left-leaning cities. Going against the grain of the Reagan era, he found a sister city for Burlington in Yaroslavl in the Soviet Union.
"I know he wasn't a supporter of the Soviet Union's repressive and militaristic policies," Mr. Gutman said. "He reached out nonetheless to have relationship with the people in municipal government."
Like New York Mayor Bill de Blasio, he was drawn to the Sandinista movement in Nicaragua. Leftists movements and governments across the globe always enticed Mr. Sanders, and in 2008 he invited the Finnish ambassador to the United States to visit Burlington to talk about the benefits of a large social-welfare model of government.
The quickest way to sum up Mr. Sanders' foreign policy is to label it non-interventionist, which is now in vogue after George W. Bush's Iraq War soured the American public on military invasions. Hawkish Democrats are in short supply. Ms. Clinton has called her Iraq War vote a mistake; while she promises a more muscular approach to Syria than Mr. Obama's, she will not commit to putting any American boots on the ground. Republicans are eager to ridicule the Obama administration's worldview and less willing to announce a set number of troops they would deploy to fight ISIS.
The lack of easy answers to any of the current quagmires abroad may be to Mr. Sanders' benefit because even those with the foreign policy chops like Ms. Clinton can't offer credible, sound-bite ready solutions. It's one thing to be for or against a war. It's another to pick a side in a fight that pits ISIS against Bashar al-Assad, the vicious Syrian president, and Iran, while coming to terms with a region that may have been stabilized by brutal strongmen unequivocally opposed to democracy.
In a statement released on Saturday, Mr. Sanders sought to remind the public of his vote against the Iraq War, pointing to a 2002 House speech that warned of how the war would roil the region. "He worried about the unintended consequences of the war and who would govern Iraq after Saddam Hussein was overthrown and what role the United States would play in the civil war that followed," Michael Briggs, Mr. Sanders' spokesman, said.
Mr. Sanders' opposition to military intervention is not absolute. As some aggrieved liberals remember, he voted to send troops to Afghanistan after the September 11 attacks.
"I regret that President Bush did not use that authority properly, and that American combat troops remained there too long," he says on his website. "The only mission President Bush and his neo-conservative friends accomplished was to destabilize an entire region, and create the environment for al-Qaeda and ISIS to flourish."
Mr. Sanders made his own small contribution to the military-industrial complex when he advocated for the basing of F-35 bombers at Burlington International Airport. He also backed NATO's bombing of Yugoslavia in 1999.
He is loudest on issues that directly impact the United States. See his frequent calls to reverse the course of climate change and halt the Trans-Pacific Partnership, a Pacific Rim free-trade agreement reviled by many mainstream progressives.
On others, particularly when they may run in conflict with his electrified liberal base, he is quieter.
There are socialists and progressives deeply skeptical of Mr. Sanders because of his consistent support for Israel. Mr. Sanders, who is Jewish, lived on an Israeli kibbutz and joins Democrats in calling for a two-state solution: a State of Palestine and a State of Israel. Both political parties strongly back Israel, with Republicans growing more unflinchingly committed to defending the country, but activists on the left have been strongly critical of how Israel interacts with the Palestinians.
To some leftist critics, Israel is a violent colonial power enforcing an apartheid system that degrades the Palestinian population. During Israel's rocket war with Gaza last year, a heckler challenged Mr. Sanders at a Vermont town hall meeting about a Senate resolution that condemned Hamas, a militant Palestinian political movement, but "said nothing" about Israel's "massacre" of Palestinians in Gaza.
Mr. Sanders said Israel had "overreacted" and was "terribly wrong" for the shelling of a United Nations school in Gaza. "On the other hand," Mr. Sanders said, "you have situation where Hamas is sending missiles into Israel … and you know where some of those missiles are coming from? They're coming from populated areas. That's a fact."
He noted Hamas had built "sophisticated" tunnels into Israel for "military purposes."
When people began shouting their opposition to what he said, Mr. Sanders lost his temper.
"Excuse me! Shut up! You don't have the microphone," he growled.
Several minutes later, after going back-and-forth with the crowd, he threw his hands up. "This has gone on for 60 bloody years. Year after year. You're asking me, do I have a magical solution? I don't."
This month a volunteer for Mr. Sanders' campaign ejected student activists from a rally in Boston after they wouldn't take down their pro-Palestinian sign. Later, his campaign apologized, and said the volunteer was wrong for kicking them out.
Many pro-Palestinian activists want Mr. Sanders to stop approving of unconditional military aid to Israel.
"For those of us who care about the Israel and Palestine issue, putting energy into Bernie isn't all that productive," said Peter Feld, a writer and editor who speaks out on Palestinian issues. (Mr. Feld is a former Observer editor.)
Mr. Feld, also a former Democratic strategist, argued Mr. Sanders' outreach to the Black Lives Matter movement overlaps with the debate over Israel because younger activists in the sprawling civil rights groups feel solidarity with Palestinians. "A lot of people who care about Black Lives Matter also care about Israel-Palestine," he said.
Given the acrimony Mr. Sanders confronted when he briefly waded into Israeli affairs, and the incentives the electorate is giving him to talk about something else, activists shouldn't expect to hear a lot more from him on anything not related directly to America. Mr. Sanders' campaign will be trying to draw sharp contrasts with Ms. Clinton on economic issues–and worry about the other stuff later.
"Foreign policy is the castor oil of a campaign," Mr. Troy, the presidential historian, said. "You drink it and show you're a good boy and show you've got balanced nutrition. It's not what's going to win votes."