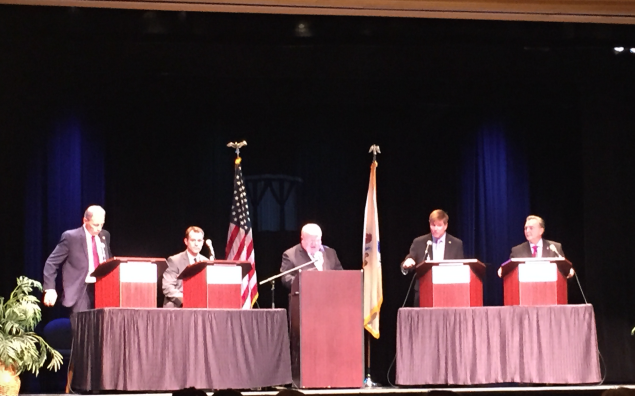 WINNERS
Hillary Clinton
The Democratic frontrunner for 2016 saw a strong showing during Tuesday's DNC debate on CNN, where Clinton made strides toward positioning herself as the most viable Obama administration veteran over Joe Biden.
Bernie Sanders
Though most called the debate for Clinton, Sanders continues to carry the progressive and youth votes. Sanders could see gains against Clinton on the strength of his anti-war record from 2003, and in his opposition to establishing no-fly zones in Syria.
Assemblyman Chris Brown (R-2) and Atlantic County Freeholder Colin Bell
Just as they did during NJTV's forum, Brown and Bell were the standouts at Tuesday's Assembly debate in Atlantic City. Both distinguished themselves from their respective running mates freeholder Will Pauls and Assemblyman Vince Mazzeo (D-2) with clear and concise answers.
Congressman Donald Norcross (D-1)
House Democratic Whip Steny H. Hoyer appointed Norcross as Assistant Whip Friday, increasing Norcross' influence as an adviser to the House Democrats.
Operative Michael Makarski
Makarski made the move this week to leave Vision Media, where he has worked campaigns for six years, to a post as MWWPR's senior director of public affairs.
Assemblyman Ralph Caputo (D-28)
The Chair of the Senate Committee on Tourism, Gaming and the Arts held a successful fundraiser this week.
Paterson School Board Member Corey Teague
Teague secured an endorsement from councilwoman-at-large Maritza Davila for his reelection campaign in the Paterson school board race. 
LOSERS
Joe Biden
The perceived strength of Sanders and especially Clinton has many fearing that Biden has missed his shot at entering the field without disturbing Democratic momentum against Trump et al.
Vince Mazzeo
Though Mazzeo's performance Tuesday was a marked improvement from his NJTV appearance last week, Mazzeo suffered two blows to his public image in the form of two advertisements from the Republican campaign. One of the spots shows Mazzeo choking badly for an excruciating 30 seconds when questioned about his whited-out signature on a resolution brought forward by Brown.
Assembly Minority Leader Jon Bramnick
Bramnick caught heat from Assembly Speaker Vincent Prieto when he said he would accept disgraced assembly candidate Anthony Cappola into the caucus if he scored a win against the odds.
The NJ GOP
With Bramnick allowing that it was his call not to spend the money to replace Cappola on the ballot, fears are mounting that state Republicans are suffering without the fundraising draw of Governor Christie.
LD18 Republican challenger Synnove Bakke
Bakke featured prominently in a story from Politico's Matt Friedman on the social media gaffes of Republican candidates running in the doldrums of non-competitive Democratic districts. After Friedman quoted one of Bakke's unabashedly anti-Muslim tweets, she smeared Friedman as being in the tank for Democrats to 101.5 FM.
State Senator Kip Bateman (R-16)
Senate President Steve Sweeney (D-3) denounced Bateman from Bateman's own district on what he said was a politically motivated change of heart on a public safety bill concerning criminal record expungement and gun sales.