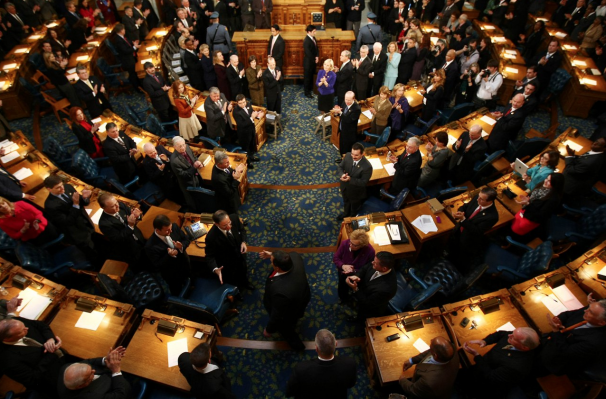 WINNERS
New LD38 Assembly candidate Fernando Alonso
Though his candidacy still rides on a petition to enter the race after the deadline for new candidates, The Bergen County Republican Organization voted unanimously to replace disgraced candidate Anthony Cappola with Alonso.
Assemblyman Chris Brown
The LD2 assemblyman received an appointment to the New Jersey NAACP's Martin Luther King Commission, and is slated to receive the group's Government Award at the end of the month.
Senator Cory Booker's new press secretary Tom Pietrykoski
Fromerly the chief media contact for U.S. Representative Bill Pascrell (D-NJ), Pietrykoski will replace Silvia Alvarez as press secretary to U.S. Senator Cory Booker (D-NJ).
Senator Nick Sacco
The senator from LD32 held a well-attended event Thursday night that drew a crowd of 2017 gubernatorial hopefuls.
Senators Jim Whelan and Tom Kean
Whelan (D-2) and Kean (R-21) pushed a bipartisan bill through the Senate (the so-called 'Britney bill') to offer tax incentives to A-list entertainers who perform multiple concerts in Atlantic City and across the state, à la Britney Spears' residencies in Las Vegas.
Tony Vauss
At his fundraiser this week, the Irvington Mayor spoiled the tastes of 700 guests, who contributed $150,000 to the coffers of the freshman executive leader from Essex.
LOSERS
Horizon Blue Cross Blue Shield
Monday's all-day hearing ended in Senate Commerce Chair Nia H. Gill and Senate Health Chair Joseph F. Vitale calling on the attorney general to investigate Horizon's new OMNIA Alliance and tiered benefits system.
Assembly candidate Jim Sauro
The LD1 one candidate saw remarks he had made on a radio program in his home district reappear in Politico this week. Sauro said he stood by his characterization of Black Lives Matter protests as the beginning of a "race war."
Assembly candidate Colin Bell
Bell accused his opponent Chris Brown of attempting to remove Bell and Brown's own running mate Will Pauls from panels on NJTV and WOND, a claim that both organizations said was a fabrication.
Burlington County freeholder candidate Kate Gibbs
Blue Jersey reported that Gibbs answered "Can you explain the Voting Rights Act?" when asked about it in a debate hosted by the League of Women Voters Tuesday.