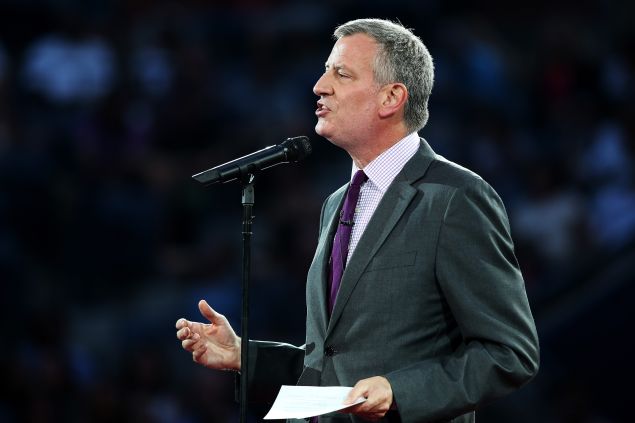 The winds blew a different way.
Following reports that Hurricane Joaquin is likely to bypass New York City, Mayor Bill de Blasio's office announced this afternoon the Democrat would be re-upping his plans to travel to Washington, D.C. and Baltimore tonight and tomorrow.
Mr. de Blasio will deliver remarks at a reception for the State Innovation Exchange Conference in Washington this evening and then go to Baltimore to speak at the United States Conference of Mayors fall leadership meeting on Saturday. The liberal mayor, who is striving to be a national spokesman on progressive issues, has drawn criticism locally for his occasional ventures out of state.
Yesterday, when Joaquin looked like more of a threat to impact the five boroughs, Mr. de Blasio said he was putting his travel plans "on hold."
"At this point, it's on hold and we have to get further updates from the weather service and the hurricane center, and that will determine everything, but for now there's no plan to travel until this is clear," Mr. de Blasio said.
In a radio interview yesterday, he also defended traveling out of state, arguing it's essential to ensure New York City's interests are represented on the national stage.
"The federal government used to do a lot for us with mass transit, affordable housing, education, infrastructure. That's not happening, John," Mr. de Blasio said. "To get that investment back is going to take change in the political dialogue. That's why I'm talking to groups that are pushing very hard to change the agenda in Washington."