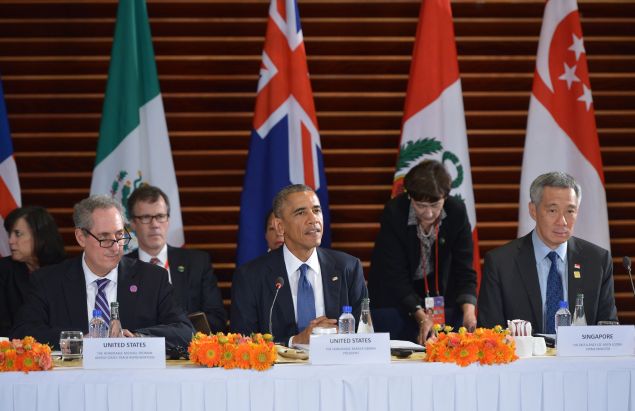 The labor-backed Working Families Party called on Congress to vote against the Trans-Pacific Partnership, a historic trade agreement easing regulations and commerce barriers among Pacific Rim nations that the Obama administration finished negotiating today and hopes to pass.
The WFP argued that the TPP—which would create a business zone comprising the U.S., Mexico, Canada, Japan, Vietnam, Australia, several Pacific island nations and the entire west coast of South America—would have an even more drastic impact than the North American Free Trade Agreement of the 1990s, which many blame for the hemorrhaging of American manufacturing jobs to Mexico. Congress granted President Barack Obama so-called fast-track authority to unilaterally negotiate the deal in June, despite opposition from organized labor and some Tea Party conservatives, meaning that the House and Senate will only be able to vote in favor or against the deal and will be unable to amend the accord in any way.
"The TPP is NAFTA on steroids. It has no place in our economy and should be voted down by Congress immediately. The Obama administration has agreed to a deal that will condemn countless families to poverty. It's a huge step backward. Every member of Congress should know that a vote against TPP is a vote for economic fairness, higher wages, and a stronger middle class," said WFP's New York Director Bill Lipton "No one who truly cares about the future of working people in the United States should support the TPP. Period. End of story."
Nearly every member of the New York City congressional delegation is on record as opposed to the deal or deeply critical of it. The exception is Queens Congressman Gregory Meeks, who has taken fierce criticism from both local elected officials and labor unions for his decision to co-found the four-member "Friends of the TPP" caucus and to visit Singapore with Wisconsin Republican Congressman Paul Ryan in support of the pact.
Mr. Meeks sent a letter to the Observer earlier this year defending his support of the deal, echoing Obama administration arguments that the deal will give the United States the economic upper hand over China. He further asserted that a Pacific region trade agreement would come to pass even without the United States, and could give advantages to Chinese and Japanese corporations—and thus hurt the American economy.
"Global trade is a reality and trade agreements are the tracks on which global trade runs," Mr. Meeks wrote, painting the TPP as an inevitability. "The fact is trade agreements are going to happen whether or not the U.S. is engaged. If the U.S. is not at the table negotiating for trade standards that uphold our standards and help American businesses export to the world, other nations will set the rules."