Well, now we know where some of that $58 million severance package is going.
It looks like Henrique de Castro, Yahoo's former COO who left the tech giant in early 2014, has picked up a $6.28 million Soho pad, according to public records.
Mr. de Castro was handpicked by Yahoo's president and CEO, Marissa Mayer, to serve as COO of the company in 2012. Just over a year after he left Google to go purple—Ms. Mayer reportedly gave Mr. de Castro a four-year, $62 million pay package to come aboard the Yahoo ship—he was out of a job.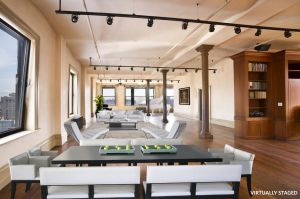 Publicly, Mr. de Castro put an unusually chipper face on it—he told LinkedIn that "I was fired and that's OK…being fired is part of your career options."
Perhaps the $58 million severance package he received after being ousted, on top of the over $50 million he made during his brief time at Yahoo, softened the blow.
His new 4,000-square-foot apartment at 491 Broadway should help ease any residual pain, especially since he paid seller Andrew M. Forbes, just a tad under the $6.8 million asking price for the full-floor loft, which is accessed by way of a private elevator.
Tanner Garland at Stribling had the listing for the three-bedroom, two-bathroom co-op, which features an open kitchen, book shelf built-ins, as well as views to the north, south, east, and west. (Every direction!)
The listing photos are "virtually staged" in case Mr. de Castro needed a better idea of what to do with his new lodgings, though in our humble opinion, the wood floors look like they could use some work. Then again, considering the fact that Mr. de Castro made approximately $96 million for fifteen months at Yahoo, we don't think it'll be much of a problem if and when he decides to invest in some renovations.