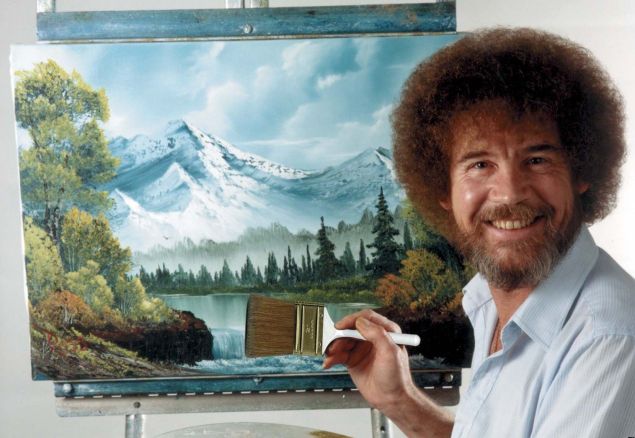 Bob Ross brought the technical know-how of traditional painting to the living rooms of millions through the cult PBS television series The Joy of Painting for over a decade. Now, the gaming community's online video platform Twitch will be marathon-streaming the series—all 403 "happy little cloud"-filled episodes. Bob drops next week.
The screenings are a launch event of sorts for Twitch's new creative-themed vertical, Twitch Creative, which will feature video content by and for artists. Videos on the new channel will feature behind-the-scenes footage of artists in the studio and cover topics like animation, painting and robotics.
Seems only fitting, then, that Twitch would kick things off with a look back at a master of instructional video.
For the uninitiated, Ross' series took viewers from a blank canvas to finished picture in a mere 30 minutes; Ross painted at a God-like speed that defied the logic of the medium. He instructed viewers on how to render pastoral mountains and streams, and specialized in landscapes, in the process becoming most famous for the "happy little trees" and "happy little clouds" that he'd whip off with the flick of a wrist, all the while talking through the process with the kind of soothing voice that might accompany guided meditation.
We'll help you get in the mood with an episode from season six of The Joy of Painting, in which Ross paints Blue River.