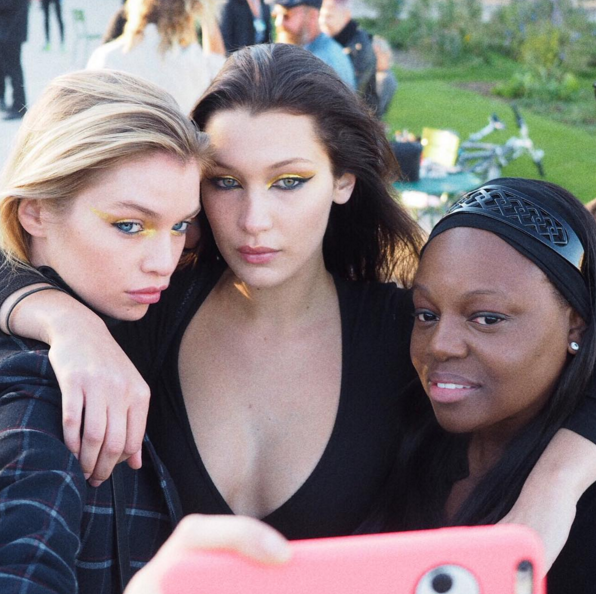 According to one of fashion's most influential makeup artists, the only color you will need this season is gold. And lots of it.
That beloved backstage fixture would be Pat McGrath and she is so fond of the golden hue that her first-ever beauty product was made to adorn eyelids, lips, cheeks and so forth with the brilliant metal. "When I used Gold 001 for the first time at the Spring 2016 Prada runway show, the obsession began and everyone was asking me about it," she said in a statement, revealing the public's introduction to her metallic fixation.
"I have been working in the labs for years to see a pigment with this finish – I knew once I touched it that it was major; there is something magnificent about its pure form that leaves me breathless," Ms. McGrath described. Her golden makeup was created to be used in a playful way, with these warning labels affixed on the package: "Use Without Caution: Requires unrestrained play and a reckless attitude" and "May Cause Enhanced Fierceness and Sickening Results: Keep within reach and proceed with impulse."
Shortly after that Prada show, Ms. McGrath held a Paris Fashion Week event for Gold 001, where she allowed the public to meet her at the Tuilerie Gardens for a golden makeup application. The many Instagram posts from that event helped get the word out about the product, as did the attendance of models including Bella Hadid, Stella Maxwell, Jamie Bochert, Lily Donaldson and even Kris Jenner.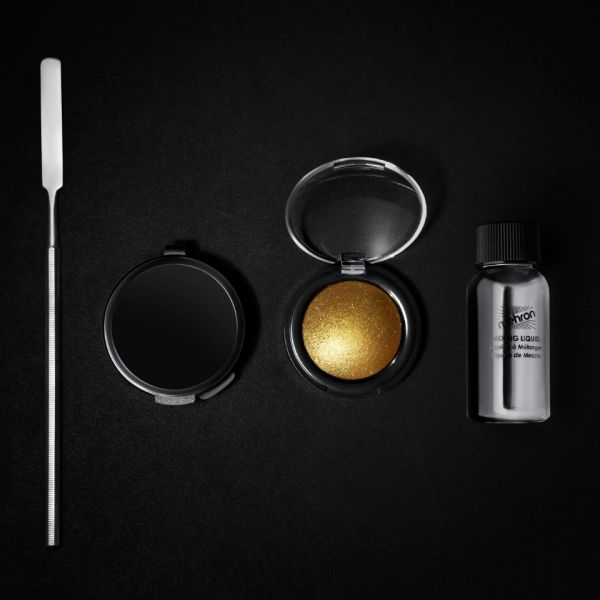 Now, we can all experience Gold 001, because on Thursday, October 29th at 12 p.m., a limited run of 1,000 gold palettes will be available to purchase on PatMcGrath.com. The golden pigment comes with a spatula applicator, mixing liquid, as well as a second container, should the first Gold 001 vessel break. It will also arrive buried in a foil bag, which has been playfully stuffed with gold sequins, making the process of receiving this makeup more joyful than usual.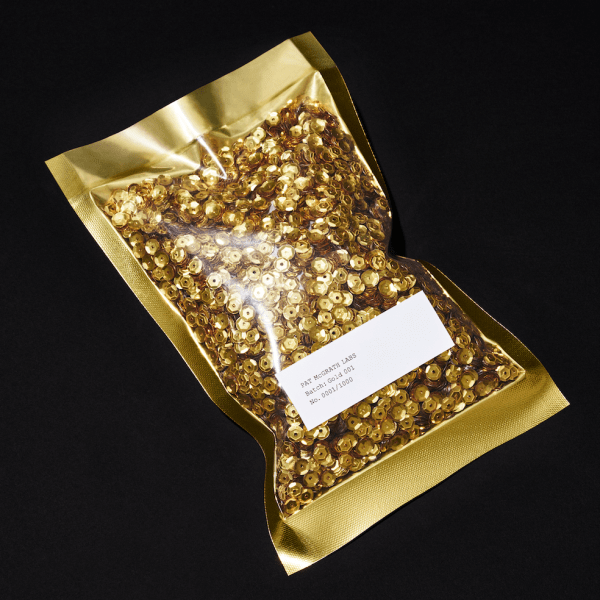 However, it seems this is only a taste of what's to come, with the beauty maven promising to roll out a full makeup range in 2016. Gold 001 is simply part of Pat McGrath Labs, a branch of her forthcoming line that will allow the makeup artist to quickly innovate and produce short runs of playful beauty products.
For now, clear your schedule at noon on Thursday to purchase the $40 product. Or check out Ms. McGrath's site for some golden inspiration on how to play with this new, shimmering formula.