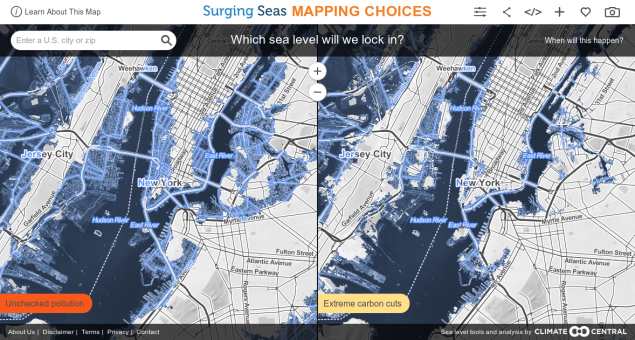 At a time when New Yorkers are as dismissive of the words "climate change" as they are of a friend announcing the words "I'm a vegan," a new study published by the Proceedings of the National Academy of Sciences should cause some New Yorkers to do a double take. An interactive map shows just how much of the city will be under water in the next decades if carbon emissions are left unchecked.
One of the study's authors, Benjamin Strauss, told Wired, "Those generations could know lower Manhattan as a place to visit, or as a place to go diving for ruins."
The map, published in a Gothamist article, offer two options at two given times in the future. One side of the map projects the areas that would be under water given no change in the output of carbon emissions. The other side shows areas affected given a dramatic cut to emissions. The map can be changed between the years 2050 and 2100, 2050 being only 45 years from now and during most of our lifetimes.
According to the study, parts of New York will be underwater in less than fifty years, even with dramatic cuts to carbon emissions (Goodbye, most of Staten Island!). Areas of the city including Williamsburg, Greenpoint, Long Island City and Red Hook would be submerged. The coasts of Brooklyn and Queens would also be eaten away by the surrounding water.
Mr. Strauss, along with coauthors Scott Kulp, and Anders Levermann, found that by the year 2100, sea levels will rise about 14 to 32 feet (4.3 to 9.9 meters). Compare that to your apartment building: you, your second-floor neighbors and the Duane Reade occupying the storefront below would be underwater. The authors stress that the cuts to emissions, which will be discussed at the UN Conference on Climate Change in Paris this December, would have to be "aggressive."
"One of the most astonishing things to me was finding that burning one gallon of gasoline translates to adding 400 gallons of water volume to the ocean in the long run," Mr. Strauss, also the Vice President for Sea Level and Climate Impacts at Climate Central, told Wired.
The study showed that other major cities, including Miami and New Orleans, are pretty much lost causes and doomed to become modern Atlantises. According to the study, the most affected states are Florida, California, Louisiana and New York.
"We were really trying to show what the consequences of our carbon choices are going to be,"Mr. Strauss told Phys.org.