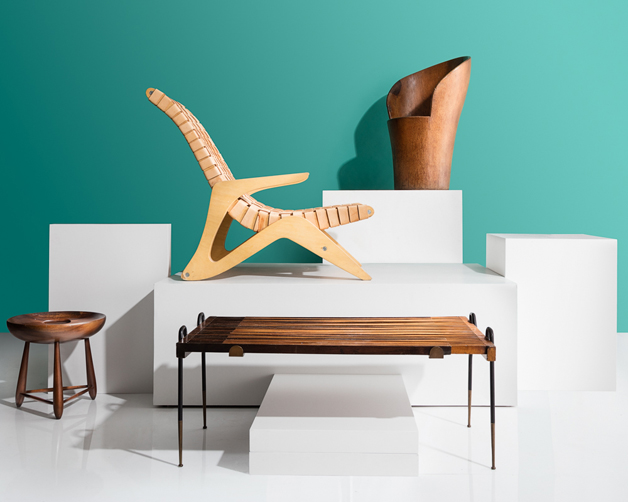 TUESDAY, NOVEMBER 10
Opening: "Brazil Modern" at R & Company
Shining a light on Brazilian industrial design between the late 1940s and early '70s, this show features furniture, textiles and ephemera by nine designers, including the celebrated architects Oscar Niemeyer and Sergio Rodrigues. Highlights of the show include an extravagant desk from the 1950s in jacaranda by Joaquim Tenreiro, a 1960s upholstered lounge chair with a sculptural iron frame by Carlo Hauner and a glass-top table with a root-shaped wooden base from the 1970s by Jose Zanine.
R & Company, 82 Franklin Street, 6-8 p.m.
Opening: "Ebony G. Patterson: Dead Treez" at MAD Museum
A Caribbean artist who splits her time between Jamaica and Kentucky, Ebony G. Patterson is best known for her ornate, hand-embellished artworks that draw inspiration from the colorful Jamaican dancehall culture, while commenting on the unacknowledged crimes against the poor in the region. Here, Ms. Patterson exhibits a life-size tableau of mannequins in fancy fashions, figurative tapestries that reference murders reported via social media and an installation that mixes jewelry from MAD's collection with fabric body parts in a garden-like environment of deadly delights.
MAD Museum, 2 Columbus Circle, 10 a.m.-6 p.m., Free with museum admission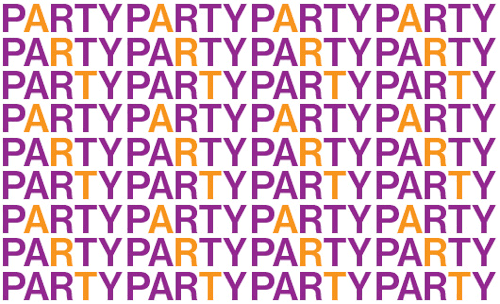 Party: "Art Party 2015" at the Whitney Museum of American Art
An annual event to support the Whitney's educational initiatives, this will be the first Art Party and—according to the press release—the first actual party to be held in the museum's new building. Hosted by the young members of the Whitney Contemporaries and sponsored by Max Mara, the party features exhibitions by emerging artists Rachel Rose and Jared Madere, live performances by Ignabu and DonChristian and DJ sets by Boody and Harley Viera-Newton. An added attraction is a group of solo shows on view at Bed Stuy Love Affair, Mr. Madere's Brooklyn gallery, which will be recreated just outside the museum.
Whitney Museum of American Art, 99 Gansevoort Street, hours, price
WEDNESDAY, NOVEMBER 11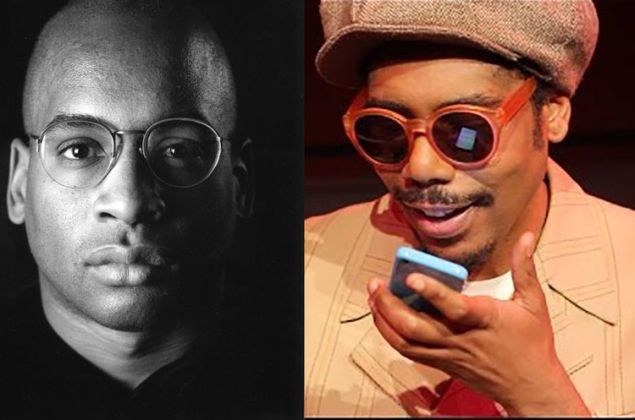 Performance: "Glenn Ligon and Carl Hancock Rux" at the New School
As part of the Parsons Fine Arts Visiting Artists Lecture Series, American conceptual artist Glenn Ligon discusses his paintings, photographs and sculptures, which deal with issues of social and cultural identity through appropriated sources. Adding to the conversation, poet Carl Hancock Rux—author of the OBIE award winning play Talk—will respond with a live, spoken-word performance. Mr. Ligon, who had a 2011 retrospective at the Whitney Museum, has a site-specific, 400-foot neon work, which quotes from Walt Whitman's Leaves of Grass, at the New School. A reception follows the performance in the school's Event Café.
The New School, 63 Fifth Avenue, 7 p.m.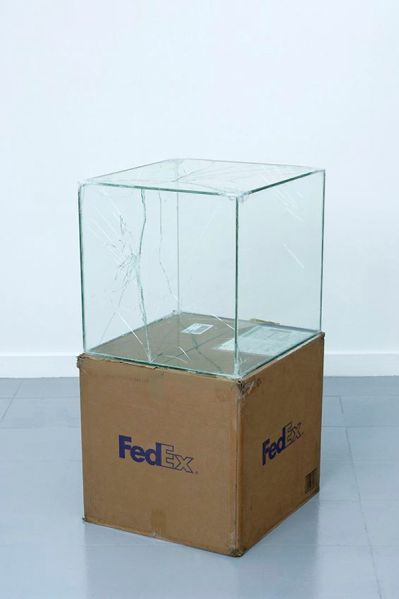 Opening: "Walead Beshty" at the Institute of Fine Arts at NYU
A British-born, Los Angeles-based artist and writer, Walead Beshty makes amusing artworks that some might describe as damaged goods—by using film for photographic projects that's been spoiled by airport x-ray machines and by constructing glass and copper sculptures that get smashed and scarred when shipped for shows via FedEx. This exhibition features several of the glass sculptures, made between 2008 and 2012, that are displayed atop their FedEx boxes, and new works that smartly employ deconstructed HP All-In-One printers and impaired Samsung large-screen TVs.
Institute of Fine Arts at NYU, 1 East 78 Street, 6-8 p.m.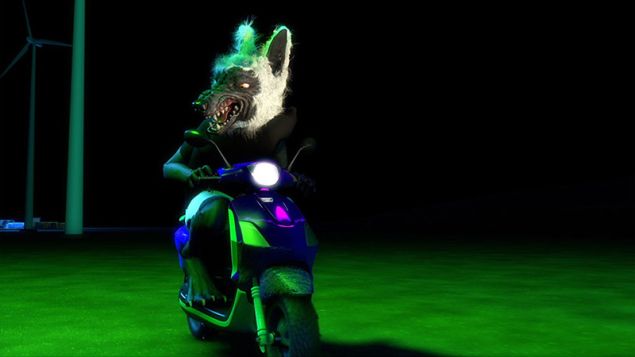 Screening: "Nitehawk Shorts Festival: Art Seen" at Nitehawk Cinema
An evening of art films followed by a Q&A with the filmmakers, this program features six fantasy shorts by Zachary Heinzerling, Frieze Video with Jonathan P. Watts, Julia Oldham, Ronni Thomas, Takeshi Murata and Marcel Dzama. Mr. Heinzerling, who directed the 2014 Oscar-nominated documentary film Cutie and the Boxer, presents his new 10-minute film Hugh the Hunter, which has artist Hugh Hayden in the role of both hunter and prey. Equally as fascinating are Mr. Murata's digitally animated psycho-drama OM Rider and Mr. Dzama's Dadaist love-story Une Danse des Bouffons (A Jester's Dance), which debuted at David Zwirner in 2014 and stars Sonic Youth lead singer and all-around badass Kim Gordon.
Nitehawk Cinema, 136 Metropolitan Avenue, Brooklyn, 7:30-9:30 p.m., $15
THURSDAY, NOVEMBER 12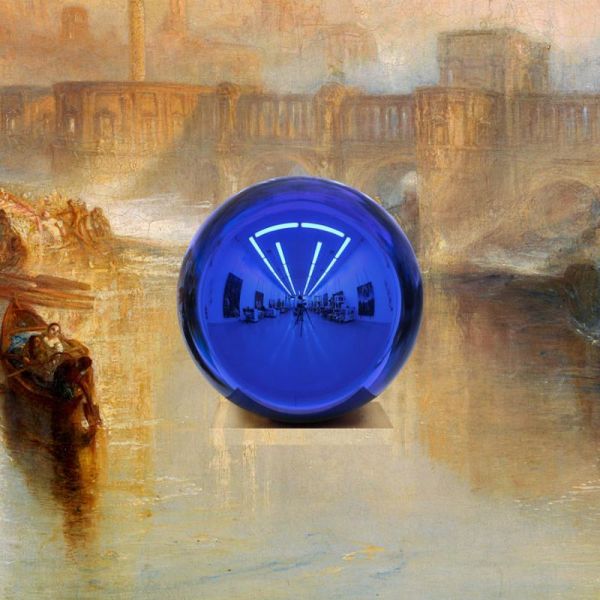 Opening: "Jeff Koons: Gazing Ball Paintings" at Gagosian Gallery
Following his critically acclaimed show of gazing ball sculptures at David Zwirner in 2013, America's most famous living artist is back at Gagosian Gallery with a new series of three-dimensional paintings that place the iconic blue ball in the middle of well-known masterpieces. Recreating celebrated paintings by Titian, El Greco, Courbet, Turner, Manet and others, Mr. Koons then attaches one of the mirrored ornaments on a shelf to the front of the canvas to ironically invite contemplation of the historical painting, the curious viewer and the contemporary space—all in the same moment of time.
Gagosian Gallery, 522 West 21 Street, 6-8 p.m.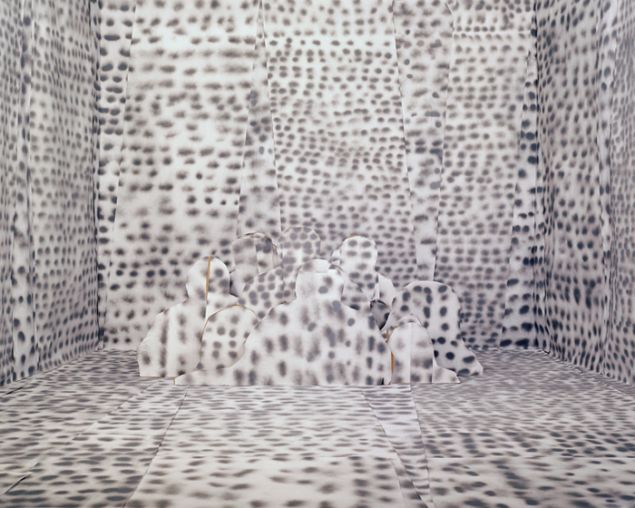 Opening: "Gina Osterloh" at Higher Pictures
A Los Angeles-based artist who works in a variety of media, Gina Osterloh makes her New York solo show debut with a captivating exhibition of recent photographs, drawings and film. Her photographic series Copy Flat features constructed paper sets painted with graphic patterns and filled with cutout cardboard silhouetted figures, while her 16mm film Press and Outline documents Ms. Osterloh's interaction with her own shadow, as she presses against it and dances with its form.
Higher Pictures, 980 Madison Avenue, 6-8 p.m.
Talk: "Claire Bishop and Joshua Decter" at the Jewish Museum
In conjunction with the museum's new exhibition "Unorthodox," which presents some 200 works by 50 non-conformist artists, art historian Claire Bishop and writer and curator Joshua Decter discuss the role and function of art in post-avant-garde times. Engaging speakers, Ms. Bishop is a professor in the History of Art Department, CUNY Graduate Center, while Mr. Decter is the author of Art Is a Problem: Selected Criticism, Essays, Interviews and Curatorial Projects (1986-2012) and teaches at Cooper Union and the School of Visual Arts.
Jewish Museum, 1109 Fifth Avenue, 6:30-8 p.m., $15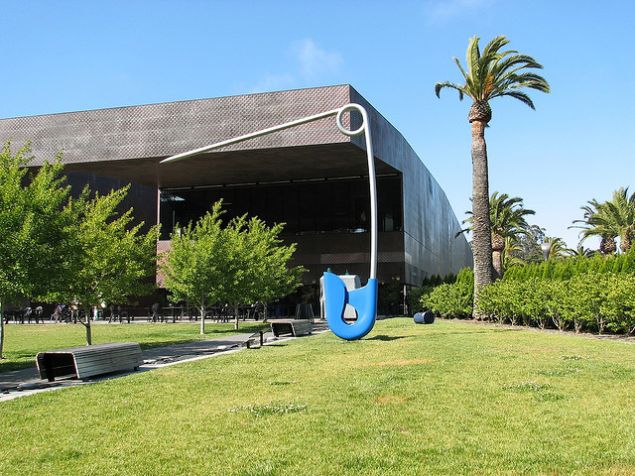 Opening: "Claes Oldenburg & Coosje van Bruggen: Things Around the House" at Paula Cooper Gallery
An unusual type of gallery exhibition, "Things Around the House" features more than 100 artworks by Claes Oldenburg and Coosje van Bruggen that made up the private collection of their own works that they lived with in their home and studio from 1971 until Ms. van Bruggen's death in 2009. Ranging from Mr. Oldenburg's early "soft sculptures" of everyday objects rendered in canvas and paint to the couple's later maquettes for monumental public art works, this show captures the creativity of these venerable artists.
Paula Cooper Gallery, 534 W 21 Street, 6-8 p.m.
Performance: "Only You Could Have a Face Like That" at French Institute Alliance Française
A muse and lover of Salvador Dalí and one of Andy Warhol's famed "superstars," Ultra Violet—born Isabelle Collin Dufresne in France in 1935—was an artist, actress, writer and performer. She exhibited her art around the world and wrote the book Famous for 15 Minutes: My Years with Andy Warhol. Now she is the subject of a performance piece—described in FIAF's press release as "part music hall spectacular, part fashion show, and part installation." A tribute to Ultra Violet, the work is conceived and performed by artist Pascal Blondeau.
FIAF, 55 East 59 Street, 7:30 p.m., $35
Opening: "Zineb Sedira: Present Tense" at Taymour Grahne Gallery
A London-based Algerian artist who was born in Paris, Zineb Sedira makes her New York solo show debut with an exhibition curated by Sam Bardaouil and Till Fellrath of Art Reoriented. An overview of work made by the internationally recognized artist between 2008 and 2013, the exhibition features photographs and a two-channel video installation that deal with issues of migration and the challenge of adapting to new cultural realities while holding on to a fading past.
Taymour Grahne Gallery, 157 Hudson Street, 6-8 p.m.