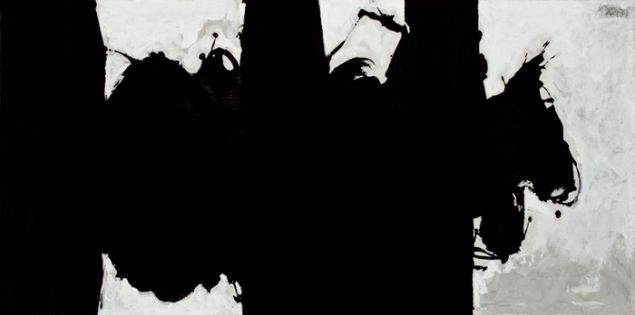 TUESDAY, NOVEMBER 3
Opening: "Robert Motherwell: Elegy to the Spanish Republic" at Dominique Lévy
In celebration of the centenary of Robert Motherwell's birth, the gallery is taking a fresh look at the artist's most famous series of artworks, "Elegy to the Spanish Republic." Between 1948 and 1991, the Abstract Expressionist created more than 250 paintings and works on paper exploring his emotional and intellectual response to the violence of the Spanish Civil War and the oppressive regime of General Francisco Franco. Eighteen of these poignant artworks, including loans from the Philadelphia Museum of Art and the Hirshhorn Museum and Sculpture Garden, are on view in the show.
Dominique Lévy, 909 Madison Avenue, New York, 6-8 p.m.
Opening: "David Hockney: Early Drawings" at Paul Kasmin Gallery
An intimate exhibition of 25 small-scale drawings from the 1960s and '70s by one of Britain's most influential artists, "Early Drawings" features portraits of David Hockney's lovers, friends and art world associates. Highlights of the show include two renditions of his first dealer John Kasmin, three portraits of Metropolitan Museum of Art contemporary art curator Henry Geldzahler and a delicate line-drawing of Mr. Hockney's favorite muse, the celebrated textile designer Celia Birtwell. A selection of still-lives and landscapes complete the dynamic display of rarely seen works.
Paul Kasmin Gallery, 297 Tenth Avenue, New York, 6-8 p.m.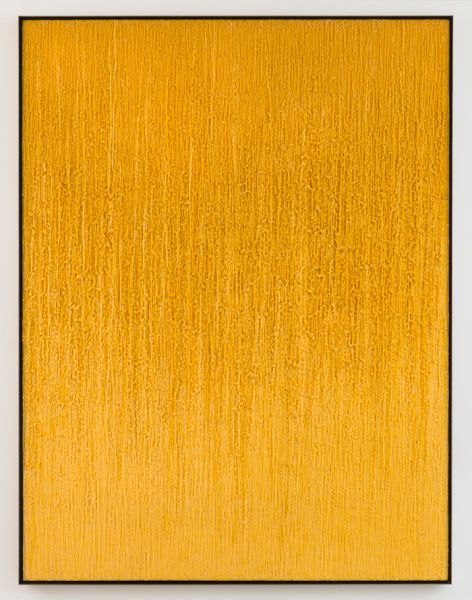 Opening: "Nick Theobald: With Honey from the Rock" at Richard Taittinger Gallery
Using beeswax as his main medium, Nick Theobald makes vibrant monochromatic abstractions that look like minimalist paintings. He pours hot beeswax in vertical and horizontal patterns and dips ropes, fabric, sponges and yarrow plants into the wax. Equally painterly are Mr. Theobald's inventive rust paintings, which he constructs with bars of steel that are wrapped in wet canvas and then left in the sun to oxidize.
Richard Taittinger Gallery, 154 Ludlow, Street, New York, 5-8 p.m.
WEDNESDAY, NOVEMBER 4
Opening: "Gordon Parks: Segregation Story" at Salon 94
In 1956 Gordon Parks was sent on assignment by Life magazine to document three African-American families living in the Jim Crow South. The photos have rarely been seen—until now. "Segregation Story" captures the day-to-day activities of the Thornton, Causey and Tanner families in Alabama, at a time when stores, restaurants, playgrounds and water fountains had signs designating whether or not they were for Black or White use. Although he became better known to a later generation for his famous 1971 blaxploiation film Shaft, Gordon Parks' documentary photographs played a major role in drawing attention to racial segregation in the U.S.
Salon 94, 1 Freeman Alley, New York, 6-8 p.m.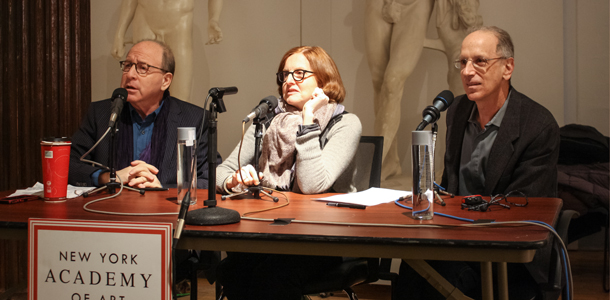 Talk: "A Conversation with the Consultants" at the New York Academy of Art
Artist, lecturer and author of the best-selling book Living and Sustaining a Creative Life: Essays by 40 Working Artists, Sharon Louden continues her popular Professional Practice lecture series with a conversation with three art consultants. Discussing the art market and the role of art advisors in it, are Leslie Gerber-Seid, who has a well-earned reputation for discovering new talent; Lacy Davisson Doyle, who got her start with the Museum of Modern Art's art advisory service; and Emily Santangelo, an art consultant, fine art publisher and former gallery owner.
New York Academy of Art, 111 Franklin Street, New York, 6 p.m.
Fair: "2015 IFPDA Print Fair" at the Park Avenue Armory
Covering 500 years of printmaking, the 23rd edition of the International Fine Print Dealers Association features 89 international exhibitors presenting rare, never-before-seen prints and new editions. Highlights include a series of prints and an artist book by artist and director William Kentridge detailing his work on Alban Berg's Lulu at the Metropolitan Opera, as well as conceptual artist John Baldessari's new series of prints inspired by the Hollywood Walk of Fame. Other excitements include three new prints and a special performance by appropriation artist Mike Bidlo that has him signing 73 audience members, to turn them into "living sculptures."
IFPDA Print Fair, Park Avenue Armory, 643 Park Avenue, New York, VIP opening 6:30-9 p.m., $85
Performance: "Pauline Curnier Jardin: The Resurrection Plot" at Pioneer Works
Amsterdam-based French visual artist Pauline Curnier Jardin's new commission for Performa '15 "takes the audience on an idiosyncratic journey through the Renaissance." Influenced by such Renaissance rebels as painter Giuseppe Arcimboldo, ceramicist Bernard Palissy and writer François Rabelais, the musical production mixes staged scenarios with pop cultural and historical references. Wednesday night's premiere performance is followed by a festive cocktail reception complete with food and music.
Pioneer Works, 159 Pioneer Street, Brooklyn, $40
NOVEMBER 4 AND 5
Party: Guggenheim International Gala and Pre-party
Warm up for the Guggenheim's major fundraising event of the year at the pre-party—with a performance by Grimes—on Wednesday. The Young Collectors Council is hosting and the $350 ticket price includes a preview of "Alberto Burri: The Trauma of Painting." Thursday, at the gala dinner, honorees include On Kawara, the Japanese-born conceptual artist who died last year; Monir Shahroudy Farmanfarmaian, the Iranian mosaicist; and Columbian sculptor Doris Salcedo. Dior has sponsored the entire fete, for the third year in a row and the celebrity contingent will likely be thick. Last year's guests included Marion Cotillard, Greta Gerwig and Dev Hynes and indie rock royalty The xx performed.
1071 Fifth Avenue, New York, N.Y., 9 p.m.
THURSDAY, NOVEMBER 5
Opening: " Paintings & Textcavatations: New work by Matt Magee " at John Molloy Gallery
After more than 20 years in New York, Matt Magee moved his life and studio to Phoenix, where he began mapping both his immediate and digital environments through painting and the assemblage of found objects. In his first solo show with John Molloy, Mr. Magee makes a triumphant return. In this collection of minimal, nonrepresentational paintings, pebbles replace letters in texts, recycled aluminum cans are cut up and arranged to represent circuit boards and airport floor plans inspire abstract paintings.
John Molloy Gallery, 49 East 78 Street, Suite 2B, New York, 6-8 p.m.
Book Signing: "Walter Robinson: Paintings and Other Indulgences" at Max Fish
Following his celebrated 2014 museum survey at the University Galleries of Illinois State University, New York artist and critic Walter Robinson signs the show's newly published monograph at one of his old haunts, Max Fish, in its new location, just a few doors down on the Lower East Side. Mr. Robinson is joined by University Galleries Director Barry Blinderman, who curated the exhibition, which features nearly 100 of the artist's works: both figurative paintings drawn from popular culture and abstract canvases made on a "spin art" machine. There's a second chance to see the show when it travels to Philadelphia's Moore College of Art & Design in 2016.
Max Fish, 120 Orchard Street, New York, 6-8 p.m.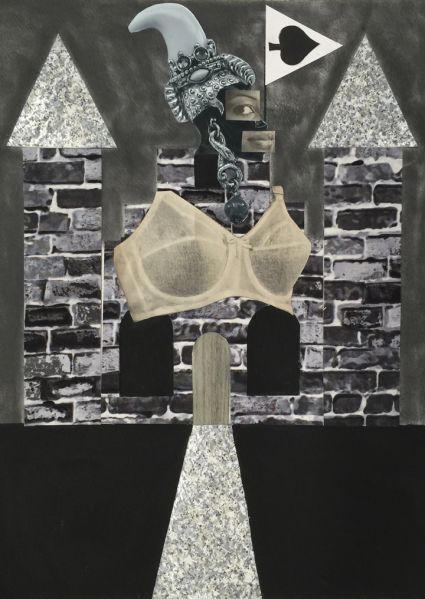 Fair: "Editions/Artists Books Fair" at the Waterfront Tunnel
Coinciding with the IFPDA Print Fair is the Editions/Artists Books Fair, which moves to the Waterfront Tunnel in this its 17th year. The fair showcases more than 50 exhibitors representing prints, multiples and artist books by both established and emerging artists. Highlights this year include new editions by Hauser & Wirth superstar Matthew Day Jackson, silkscreen-wiz Ryan McGinness, collage-master Derrick Adams and 2015 MacArthur "Genius" Award recipient Nicole Eisenman. There's also a program of talks and walk-throughs with artists, curators and experts in the field of prints.
Waterfront Tunnel, 269 11 Avenue, New York, VIP Opening 6-9 p.m., $25
Opening: "Bridget Riley" at David Zwirner
For her first show since joining this venerable gallery in 2014, British Op Art painter Bridget Riley presents a selection of large-scale striped and patterned paintings and smaller-scale works on paper that delight the eye. The subject of countless museum and gallery shows over the past 60 years, the 84-year-old artist continues to explore perception in art through her dynamic use of line, color and form. Her 1982 canvas Serenissima creates a sense of movement through the use of vertical stripes in varying colors, while the 2015 painting Rustle 2 keeps the eye in motion with the inventive use of straight and curved edges on a network of triangles.
David Zwirner, 525 & 533 West 19 Street, New York, 6-8 p.m.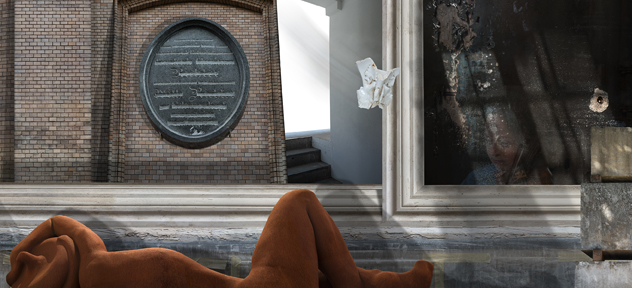 Opening: "Ilit Azoulay: a 7th option" at Andrea Meislin Gallery
A Tel Aviv-based Israeli artist working with digital photography, Ilit Azoulay returns to the gallery for her third solo exhibition. Ms. Azoulay presents a 36-foot panoramic photograph of objects and architectural fragments that she documented during her 2013 residency at the Kunst-Werke Institute for Contemporary Art in Berlin. The work, titled a 7th option, is related to Ms. Azoulay's 85-piece photographic and audio installation, which is part of the group exhibition "Ocean of Images: New Photography 2015," opening November 7 at the Museum of Modern Art.
Andrea Meislin Gallery, 534 West 24 Street, New York, 6-8 p.m.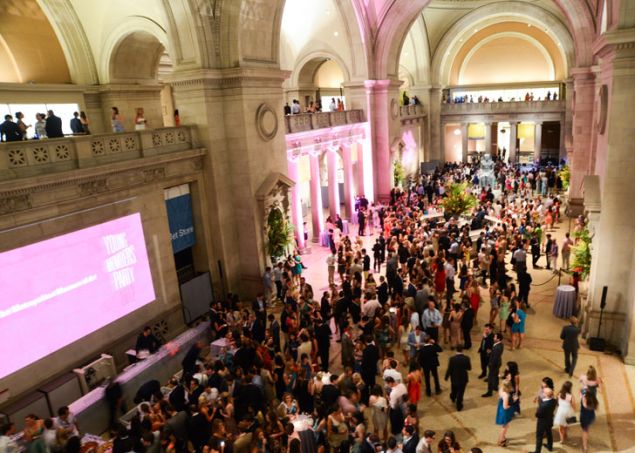 Party: The Apollo Circle Benefit 2015
The Metropolitan Museum of Art's 12th annual Apollo Circle Benefit—a black tie evening of dancing, hors d'oeuvres and cocktails—is the institution's signature event for young supporters. Ticket packages range from $200 to $8,500, with the more expensive packages offering private "EmptyMet" tours for as many as ten people. Last year's guests included Seth Meyers, Audrey Gelman and Lily Kwong.
1000 Fifth Avenue, New York, N.Y., 9 p.m.-midnight