Love 'em or hate 'em, it's just good policy to hang with your family on Thanksgiving weekend. You have a lot of free choice here in 'merica, but you cannot—I repeat you cannot—choose your family. We at the Observer appreciate this fact and hope you'll look back through art history with us and pay tribute to how artists have dealt—artistically and literally—with their families as they gather 'round the dinner table. Maybe you'll even start to appreciate those people you've known all your life (yes, even uncle Lenny from New Paltz.)
Let's start with Portrait of the painter Andries van Bochoven and his family, a painting by the ridiculously gifted twenty-year-old Andries van Bochoven from 1629. Here, he shows himself as a painter awaiting dinner with his family in Utrecht, Netherlands. Andries was born with skills for days, but dang that's a shallow gene pool! Everyone pretty much looks like everyone else. "Hey handsome/beautiful!" is all you hear in that house. Oh, and fun fact: four years after this picture was finished, Andries, his stepmother, his brother Herman, and his sister Josina had all died! I'm giving thanks to modern medicine this year.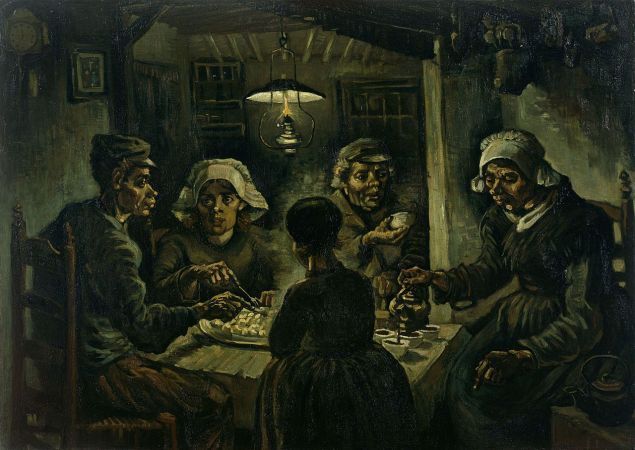 Speaking of depressing Dutch paintings…Hereeeee's Vinnie! As we all know, Van Gogh was a brilliant colorist, he just didn't want to show that off in the early work. I'm sort of hoping this wasn't Thanksgiving, but Potato Eaters, still had a populist bent, not too far from the sappiest Rockwell. Van Gogh even went so far as to hire actual peasants as models—good work if you can get it (beats plowing!). Van Gogh approached the idea like a typical condescending bleeding-heart liberal, saying, "I wanted it to give the idea of a wholly different way of life from ours—civilized people."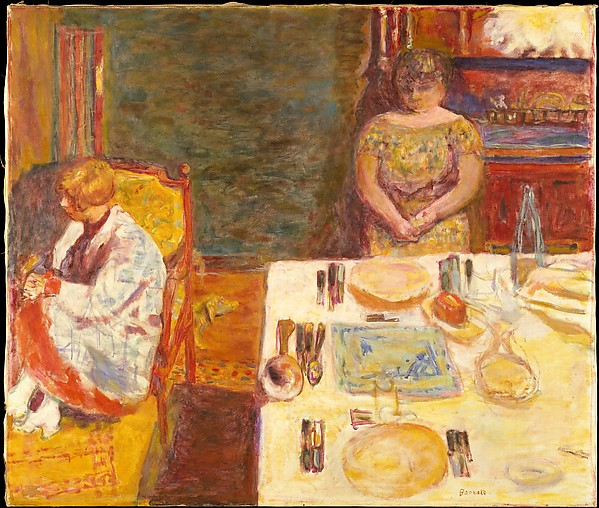 Now to Paris, where Pierre Bonnard has painted this lovely interior with a woman preparing a dinner. Bonnard was a hell of a painter who forged energetic color combinations that buzzed with emotional resonance, but his "detached and psychologically remote figures"—as the Met calls them—don't appear to be having a "Happy Thanksgiving." Maybe it was one of those situations where one sister stole a boyfriend from the other? Or maybe one sister is simply protesting because she's vegetarian? Whatever it is, I'm sure it's driving Pops crazy! And that was before Lions and Cowboys football games were around, which are always a good excuse for checking out of an awkward Thanksgiving beef.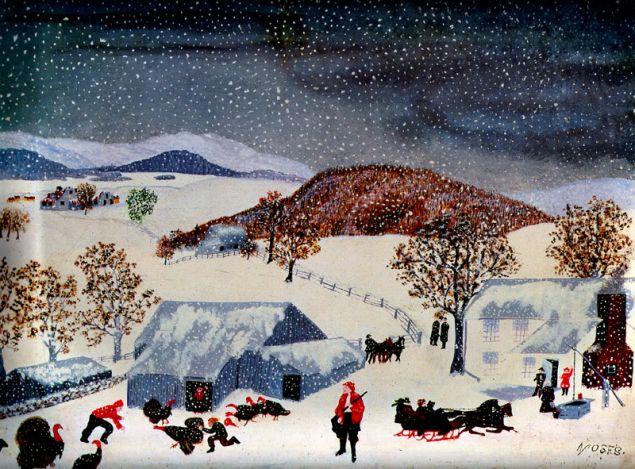 This former live-in housekeeper didn't start painting in earnest until the age of 78, but she quickly became famous; appearing on Edward R. Murrow's TV show and even meeting then president Harry Truman! She's a great American folk legend and a real Cinderella story, all rolled into one. In this painting, she shows one of the gory realities of Thanksgiving: the turkey hunt. Granny M. worked on a farm early on, where she met the future Mr. Moses, so she was used to this kind of stuff and not used to ordering Thanksgiving dinner on Seamless (don't judge me!). Nevertheless, she authored many tranquil and studiously authored scenes of contemplation over the rest of her life, and we're lucky to have her loving recreations of early 20th century American life at our disposal.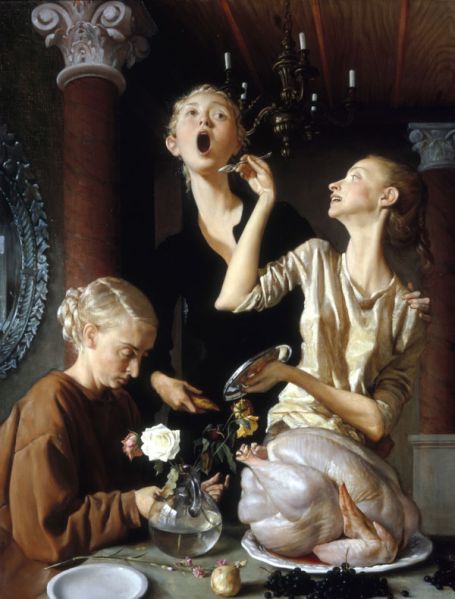 And then there's this guy. John Currin, one of the best painters to come out of the '90s Yale grad scene, kind of cemented his place in American art history with this weird Thanksgiving painting aptly titled, Thanksgiving. It depicts three young pale-skinned, blonde-haired women preparing the traditional dinner inside an ornately decorated interior. Although Mr. Currin's subject is entirely American, his interconnected compositions and illusionistic rendering recalls the tradition of northern European Renaissance painting. But the somewhat cartoonish elements of the painting, such as the woman arching her neck and opening her mouth in a manner reminiscent of a young bird, echo the mannerists of late Italian Renaissance. Such is nature of this wily alchemist, who above all likes to hint at the hidden lineage that runs through the history of art, whether he's pulling from Rockwell or Parmigianino.