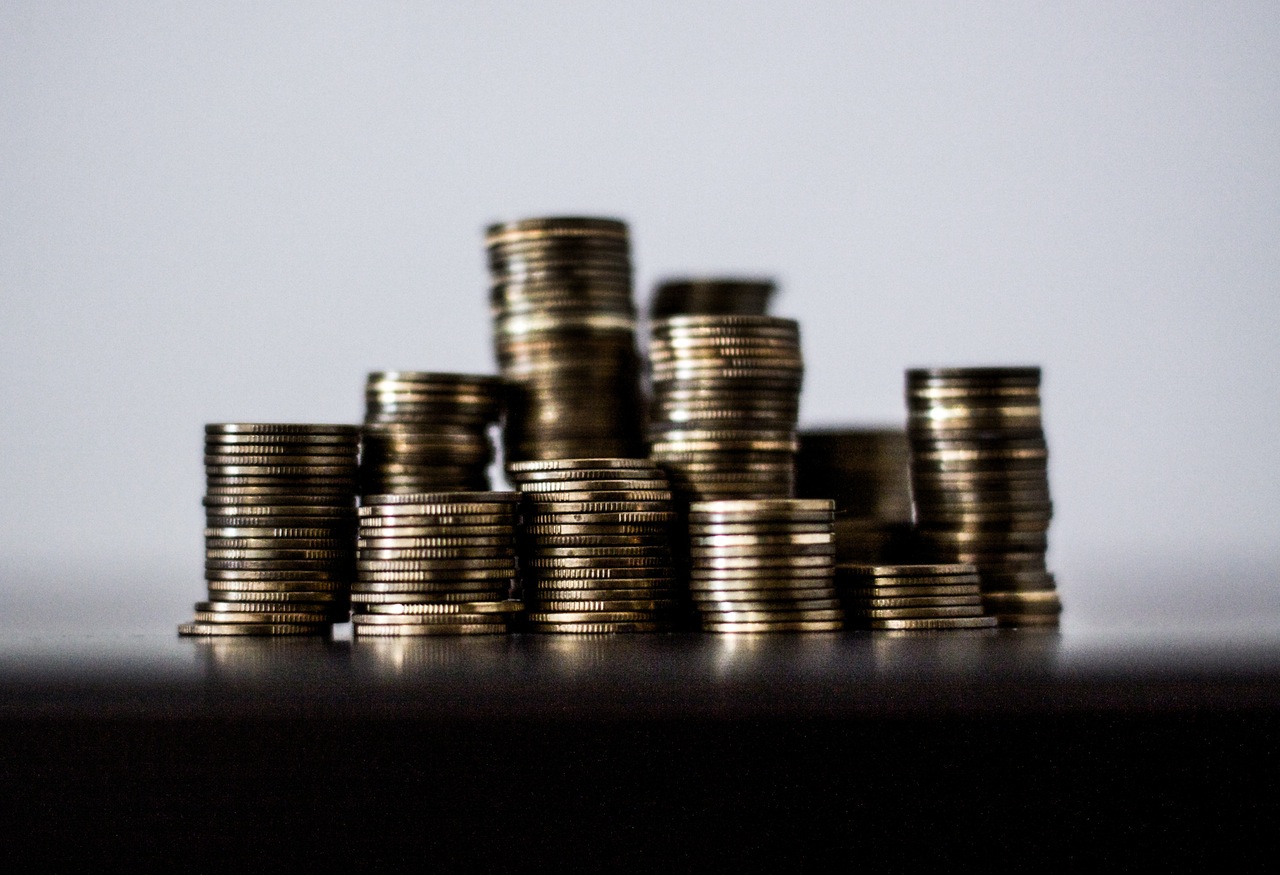 A strengthening dollar and lower gas prices should boost consumer spending, but worries about slowdowns in other countries, especially China, hurting U.S. exports is tempering expectations. On balance, there's still concerns the economy could go either way. Today's numbers showed significant domestic strength in the face of some economic headwinds, hopefully signaling strong growth as we move into the holiday sales season. But is the economy healthy enough for the Fed to raise interest rates?
1) Job Growth
This month the economy added 271,000 total non-farm (TNF) jobs, and we are averaging 206,000 TNF jobs/month in 2015. If this monthly pace continues, we will add 2.5 million jobs by the end of the year, behind last year's growth but still better than any other year since 2005.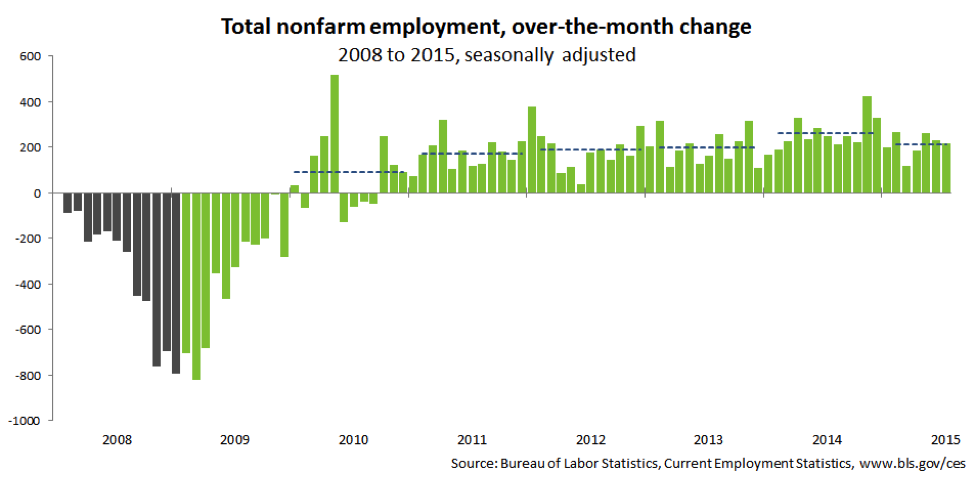 2)
By any measure, unemployment is falling
The Unemployment rate ticked down this month and remains at its lowest level since April 2008. The overall unemployment rate, aka, the "real" unemployment rate has been at or near these levels for the past few months. There are many pundits, who claim the main measure for unemployment, labelled U3 in the chart, is not actually the "real" unemployment rate. The government has three other broad definitions of unemployment. One that adds discouraged workers (U4), another that adds marginally attached to the labor force (U5), and the last one that adds on those who are part time but want full time jobs (U6). By any measure you look at the unemployment rates are falling and the economy is improving.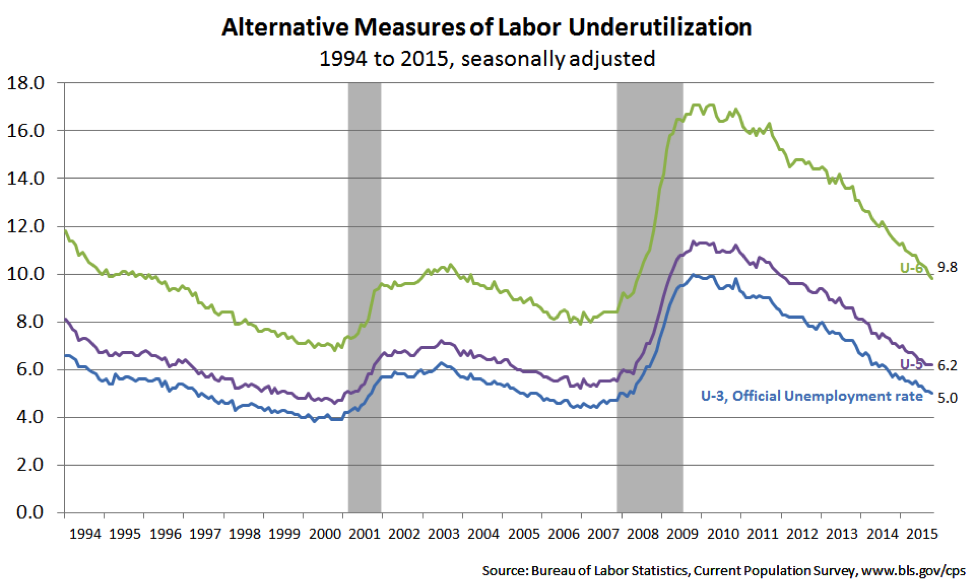 3)
Wage Growth
Over the year, average hourly earnings have risen by 2.5%. Since inflation has remained even lower (mostly from falling energy prices), meaning workers are seeing some real wage growth even if it doesn't feel like much. But the worry is that inflation will return to normal, leaving real wage growth stagnant. Anemic wage growth leads to growing inequality which itself hampers future economic growth, because my income is someone else's spending, and my spending is someone else's income.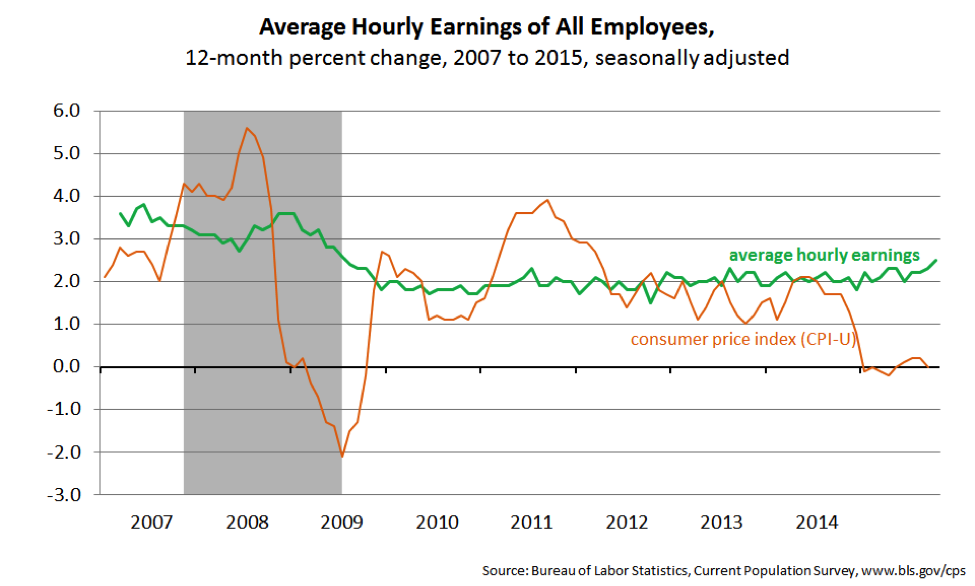 4) Low inflation means we're seeing sustained, real wage growth
We are seeing real sustained wage growth thanks to low/non-existent inflation. Wage dynamics are complicated because both employment and earnings change in many sometimes divergent directions.In the chart below, we've simplified industries into high- and low-wage categories, and further broken by whether their wages have been increasing or decreasing since 2007.  As you can see, the overwhelming majority of job losses happened in low-wage industries, so as you might expect, the recovery has seen more low-wage job growth as these industries bounced back. But low-wage industries that cut wages have seen stronger employment growth since the end of the recession. The last couple of years have seen job growth pick up, particularly in high-wage industries with increasing earnings.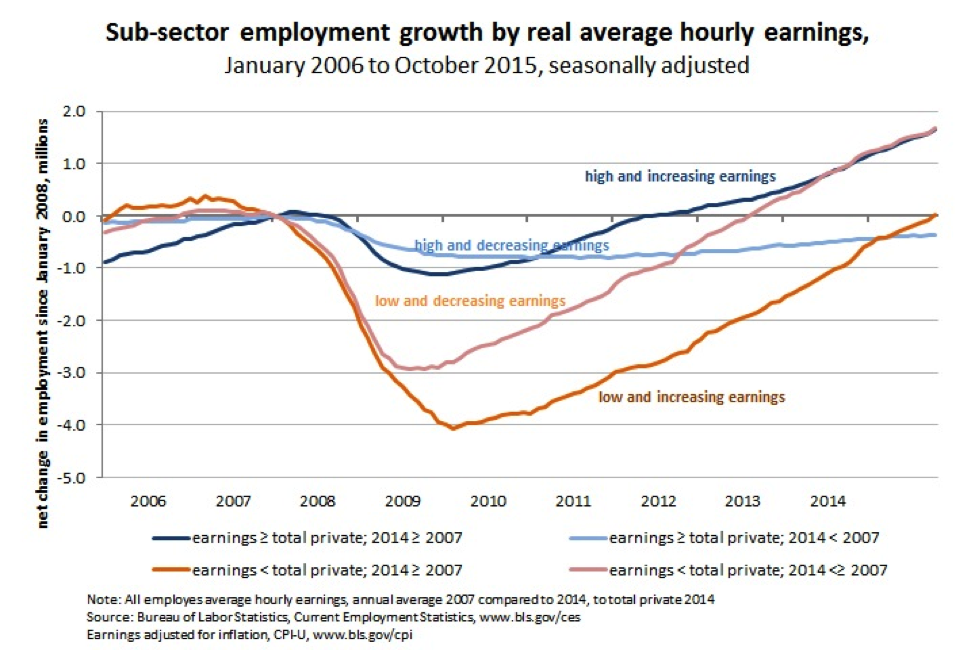 5)
 U6/U3 ratio – Slack remains in the labor market
While the economy has improved and unemployment is falling by all accounts and measures, there are some weak points in the economy. In the expansion of the 90s, U-6 was consistently between 1.7 and 1.8 times the U-3 unemployment rate. However, since the end of the most recent recession, the U-6 rate remains severely elevated given the current U-3 unemployment rate. Though the unemployment rate (U3) is nearing pre-recession levels of what economists consider "full employment," there's still a lot of slack in the labor market. One way we measure slack is by taking the ratio of U6 (the broadest measure of unemployment) by U3, the standard measure. The ratio is stubbornly elevated and has not improved at the rate of other economic indicators.
Harin J. Contractor (@harincontractor) & Charles Carson (@CharlesC1983) are former economic policy advisors to the U.S. Secretary of Labor.