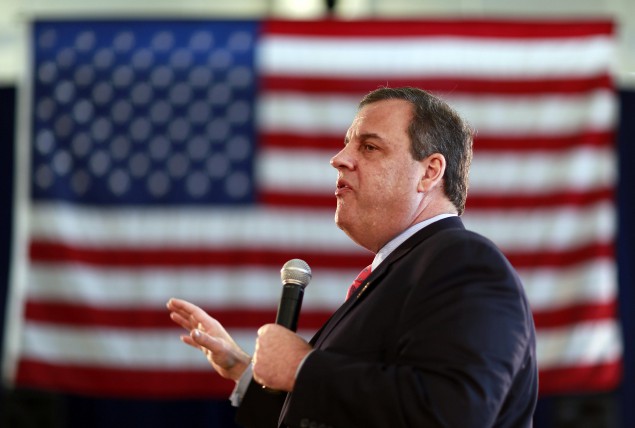 On Saturday night, Governor Chris Christie received some great news out of New Hampshire, the state where he has invested 48 days this year since declaring his run for president: the endorsement of the New Hampshire Union Leader, the only statewide daily newspaper in the state.
The news comes after a less-than-stellar series of events for the New Jersey Governor. In early November, his poll numbers were plummeting and he was demoted to the "Kid's Table" debate stage. Now, the new endorsement looks like it will likely propel him back onto the main stage to spar with still-strong Donald Trump, the climbing Marco Rubio, middle-of-the-pack Ted Cruz, sinking Ben Carson and others in the still-crowded GOP presidential field.
According to Monmouth University pollster Patrick Murray the endorsement of conservative Union Leader publisher Joseph McQuaid may indicate that Christie's time in the state has paid off.
"Obviously we don't know whether this is going to impact the actual outcome but there is no question that this gives Governor Christie a bump," Murray told PolitickerNJ. "It puts him in the top tier again."
According to Murray, McQuaid's endorsement—in which he discusses how Christie is "right for these dangerous times" due to past experience as a U.S. attorney prosecuting terrorists from 9/11—is just one instance in a more positive series of events for Christie. Murray said that "the first is when is favorability turned around in New Hampshire."
While Murray acknowledged that the endorsement might have no impact on the actual outcome of the election, he said that the Monday Twitter remarks Trump made blasting Christie for spending so much time in New Hampshire show that Trump, at least, is threatened by the endorsement.
How is Chris Christie running the state of NJ, which is deeply troubled, when he is spending all of his time in NH? New Jerseyans not happy!

— Donald J. Trump (@realDonaldTrump) November 30, 2015
//platform.twitter.com/widgets.js
"One thing, it has gotten Donald Trump to go on the attack against him," Murray said. "So that, in and of itself, is a sign that he has gotten a bump. His top competitor is considering him a potential threat."
According to Montclair University political scientist Brigid Harrison, however, the endorsement might not indicate much of a change.
"I think that, typically, the endorsements mean relatively little," she told PolitckerNJ. "What all of the research shows is that when voters have very little information, they are likely to rely on opinion leaders. But, in high-information contests where voters feel qualified to evaluate candidates and make their own decision, these kinds of endorsements actually carry very little weight when it comes to how people vote."
Harrison did say that, due to the small media market in New Hampshire where the Union Leader is the largest daily paper, the endorsement may be valuable in a different way.
"When there are relatively few outlets—basically one daily newspaper and several weeklies—this is a win because it allows him to get that valuable media space," she said. "For Governor Christie the good news is that these endorsements matter in the primary among campaign contributors. They demonstrate a degree of acceptability among party leaders and elected officials."
And according to Harrison, Christie has well-developed acceptability among those leaders and officials.
"I think that he has been building relationships for quite some time. He has had a lot of opportunity—more than any of the other GOP contenders—to curry favor with elected officials and party leaders," Harrison said. "We are seeing that play out now. Obviously he has been working, spending a lot of time in New Hampshire building those relationships so he is clearly starting to see some of the success of having invested that time."
The New Hampshire primary will be held on February 9 and, according to Murray, if Christie can scrape by with a third place finish, he might be in a better position to get the eventual nomination.