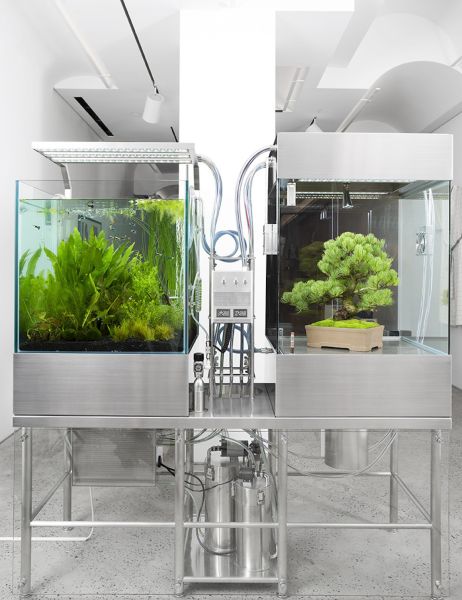 If the name Azuma Makoto sounds at all familiar, it is because the artist-cum-scientist-cum-florist last year sent a bonsai tree into space, photographing it as it ascended, beautifully, and earning some worldwide attention in the process. But while he's broken the Earth's atmosphere with a tree, another career milestone had eluded him: until this fall, he had never had one of his sculptures on view in a New York City gallery.
Chelsea's Chamber Gallery recently installed a striking work by Mr. Makoto, a gleaming steel vitrine containing a bonsai tree, connected to an aquarium. The tree, to massively oversimplify, provides oxygen to the fish as their filtered water feeds the plant.
This artistic/scientific installation/sculpture Paludarium Osamu has a prominent place in "Human|Nature," curator Andrew's Zuckerman's year-long exhibition at Chamber.  An excited Zuckerman, who paired Makato's work with a suite of pieces from the US, Belgium, Argentina, Papua New Guinea, China, etc., said people have been struck by the intricacy and delicacy of the work.
The year-old gallery and design boutique directly under the High Line (515 West 23rd Street) was founded by Argentinian curator Juan Garcia Mosqueda, who had worked with the Museum of Modern Art. Already adopted by the buzzy style set—it was dubbed a "postmodern reliquary" by Dwell magazine and a "temple of design" by Metropolis—the gallery features white metal walls, concrete floors and an elaborate arched ceiling.
Mr. Makoto had a curious road to the art world: studying to be a musician he instead took a detour into flower arranging, and soon owned a bespoke floral design shop doing highly involved designs. He went on to work with Japanese art superstar Takashi Murakami on a project, and then paired with Champagne producer Perrier-Jouet to design floral sculptures inspired by their bottle in which white orchids, suspended on string, seemed to float in the air.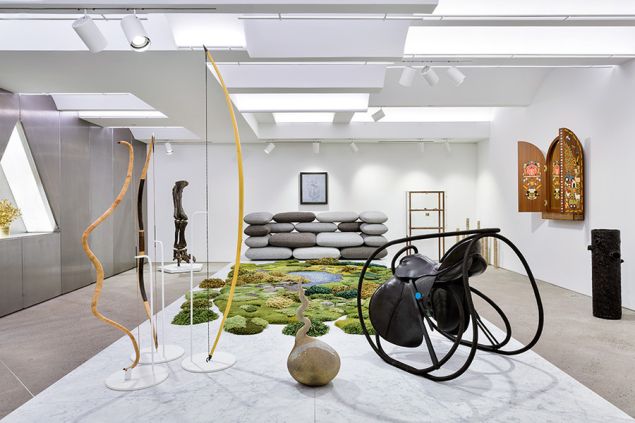 His cool living sculpture is $65,000. The artist's statement explains it thus: "In 19th-century England, a small, glass-enclosed conservatory called a "paludarium" was invented to house and protect exotic plants after they traveled from far off places, having been extracted from their natural habitats. When placed inside this protective glass container, the plant thrives in an environment that emulates its natural habitat, yet it becomes a spectacle of displacement having been taken from its place of native origin."
Much as Mr. Makoto, the artwork is a temporary immigrant we hope might become permanent.