I'm going to start out by saying that shopping in Los Angeles is vastly different than shopping in New York. Not only is the clothing selection slightly cheerier, with more color and less severe shapes, but the experience of being in a store out there could be described similarly. The suburban sprawl of the City of Angels allows shop owners to select spaces that are grand and airy, places where abundant sunlight shines through the front windows.
This is a place where rent isn't astronomical, so playing and experimenting with a shop is a more feasible. Take Rick Owens' new space as an example, which harbors a walled-in outdoor seating space, an entire shoe section (with a dozen or so kicks) and a glass wall that blows smoke, literally.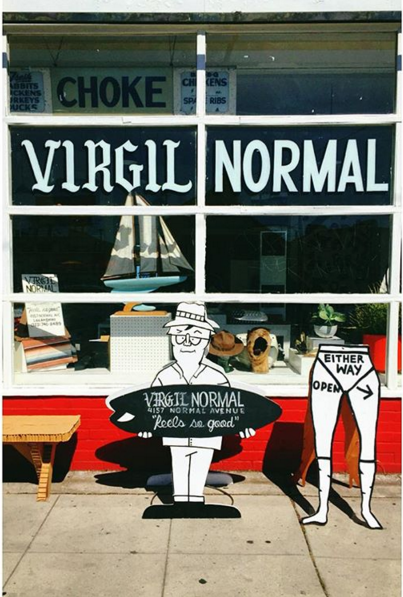 Another far from basic shop is Virgil Normal, located in the trendy Silverlake area. I was alerted of its presence by a hand drawn sign that was posted outside of Sqirl, an indie celeb-favored brunch spot known for their toast and jam. A mere stroll around the corner brought me to the Virgil Normal storefront.
As it turns out, Shirley Kurata (who styles Rodarte's runway shows and dresses Lena Dunham) is the mastermind behind the menswear and homegoods boutique. So it comes as no surprise that the story behind the shop is out of the ordinary.
"This place used to be a moped shop called Choke. We were in a moped gang [called The Latebirds] and this was a hangout for all the mopeders and even non-mopeders," Ms. Kurata told Observer. After the owner of the shop closed his business, Ms. Kurata had the idea to take over and create the shop she always talked about opening.
After signing a lease on May 1 of this year, she scrambled to reach out to her fashion designer friends and built up a stock of clothing, alongside store manager and graphic designer Charlie Staunton. Virgil Normal was up and running by June 20. In respectful homage to the former garage that once was, there is a single red moped affixed to the front wall, reigning over the merchandise.
As for the shopping experience, expect Virgil Normal to be stuffed with a delightful hodgepodge of vintage garb, scoured by Ms. Kurata and sourced from vintage buyers, alongside shirts from Bridge & Burn and whimsical t-shirts by Peter Jensen. They "have a guy from Ojai" who makes pottery for them and a selection of beauty products, most of which smell like Big Sur, including Juniper Ridge Backpacker's Cologne. However, they don't want compete with Vinny's Barbershop next door. "They have so much [product] at the barbershop," Mr. Staunton said. "We don't want to overlap!"
The store also carries items found by Our Open Road, friends of Ms. Kurata who are collecting bits and bobs they come across while they traverse South America in their VW Westfalia. And yes, Rodarte is represented here too, albeit not with their intricate frocks, but in the form of some sweatshirts and hats.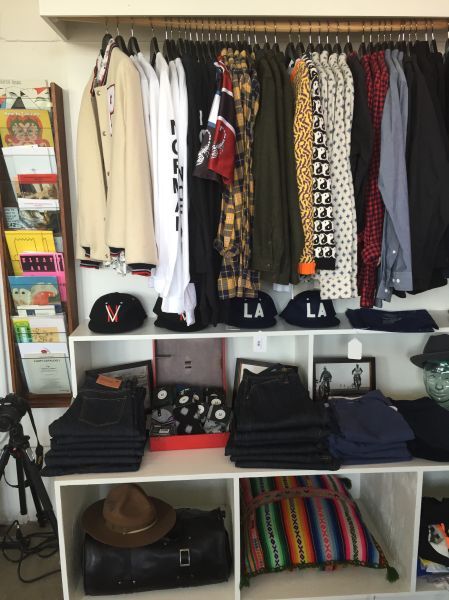 In addition to clothing, expect to see a rotating art show throughout the space. When I stopped by earlier in October, works from Brandon Andrew's "I Wear My Feelings On My Sleeve" exhibit were on display, including a squiggle neon light (which represented Sunset Boulevard) in the window and canvasses covered with heat-sensitive fabric.
The back patio of the space, which goes by the moniker Cafe Legs, also plays hosts to pop-up shops. In the future, it might be used for dinner parties or ceramics classes. "We already had a bouquet making class and everyone loved the space, so we will keep going with that," Ms. Kurata said.
So while it's definitely worth a trek to L.A. to visit Virgil Normal, those who can't swing a West Coast trip will definitely benefit from perusing their e-commerce shop. Although, you will miss out on quite a few entertaining stories from Ms. Kurata and Mr. Staunton.
Like how they named the shop, for example. "It's because we're on Normal and the cross street is Virgil. We kind of like that it sounds like a person, you know?" Ms. Kurata told us. "Also, I heard that Duane Reade did the same thing with their name."
Virgil Normal, 4157 Normal Ave.,Los Angeles, CA 90029