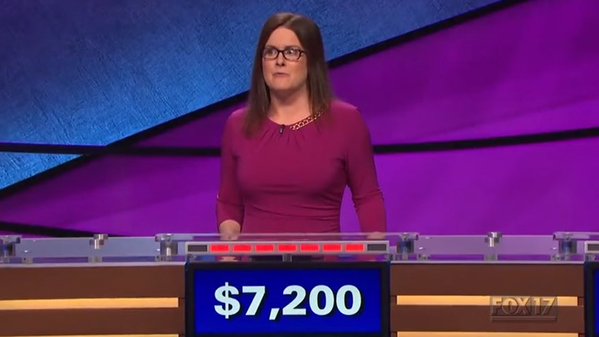 Jeopardy! isn't normally the type of show that trends on social media—that is, unless one of its former contestants does something stupid.
But this week the show was the talk of Twitter, thanks to a contestant named Laura Ashby from Marietta, Georgia. By Tuesday night, her two-day cash winnings totaled $36,802.
Twitter users, however, were less concerned about the answers Ms. Ashby gave than the way she gave them. You see, Ms. Ashby uptalks, which means that she inflects up at the ends of her sentences so that they sound like questions. Here's what that sounds like in action:
Unsurprisingly, the Internet was riveted. The hashtags #Jeopardy and #JeopardyLaura were trending throughout the Monday and Tuesday broadcasts:
Sadly, Ms. Ashby lost last night, coming in third in the Tournament of Champions, and so was only able to pocket $1,000. Twitter, however, was relieved:
For her part, Ms. Ashby took the jokes in stride, teasing the haters with some good-natured ribbing:
Ah, Twitter—where viewers can insult TV personalities, and those same personalities can give it right back to them.