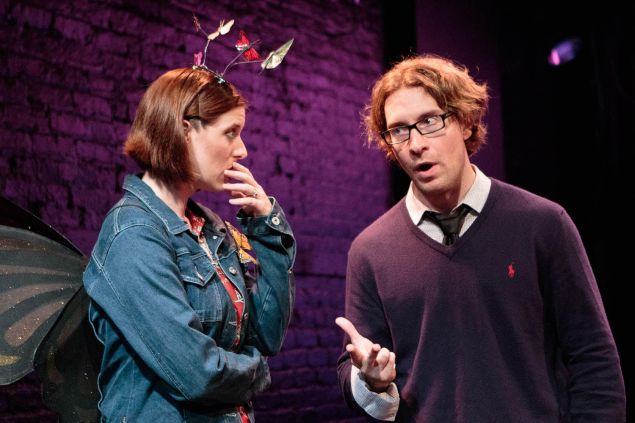 You've got to love New York. Most places would be overjoyed to have a new production of Berg's Lulu at their major opera house, let alone so sharp and splendid a presentation as is currently in the repertoire at the Met. But here in Gotham last week, we had no fewer than three 21st-century operas playing simultaneously.
Most successful was an unpretentious gem entitled Heartbreak Express, presented Saturday (and running through November 21) by a scrappy little group called Rhymes With Opera. This odd but delightful opera is a character study of four fans of singer Dolly Parton who are waiting for an audience with the legendary lady.
Librettist John Clum took his inspiration from a documentary film about Ms. Parton fandom, For the Love of Dolly, loosely basing his characters on fans depicted in that movie. In the opera, quarreling small-town sisters Darlene and LuAnne have dressed up in homemade butterfly costumes to honor Dolly. Joining them in a waiting area are a gay couple, Travis and Don, whose relationship is strained by Travis' obsessive collecting of Parton memorabilia.
These four unhappy people have come on a pilgrimage in hopes of having their questions answered and their problems solved. (As they approach the divine presence, a mysterious Assistant warns, "She can touch you, but you can't touch her.") But in the end, worldly pain is not so easily assuaged: Dolly helps those who help themselves.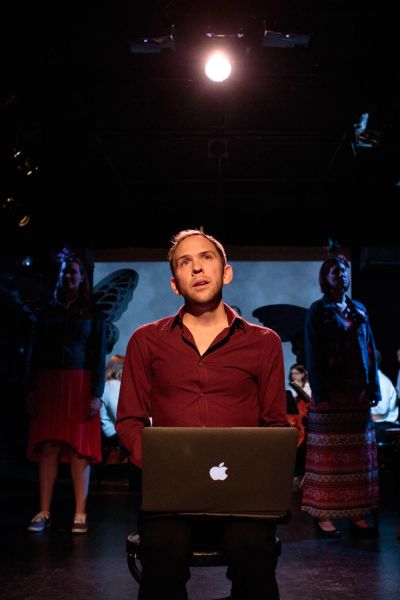 So offbeat a topic might have tempted a composer to bizarre and campy excesses, but George Lam kept his music heartfelt, always attentive to the cadences of speech. This is one of the few operas I've attended lately that didn't include projected titles of some kind, and, to be frank, one of the few that never needed them.
Mr. Lam makes a few charming references to Parton's musical roots, in particular a honky-tonk waltz that wells up from the saxophone during Darlene and LuAnne's first argument. When the Assistant (countertenor Peter Thoresen) takes a moment to ponder his boss' oblique wisdom, his music, flipping between a fluttery chest register and flute-y head tones, seems to echo the Nashville diva's distinctive vocal stylings.
Elisabeth Halliday brought commitment to LuAnne's bitter recriminations and Karen Hayden captured Darlene's sulkiness with a powerful lower range. John Callison's warm baritone evoked sympathy for Don's worries about his relationship, and Robert Maril's slightly fussy vocalism was altogether appropriate for high-maintenance Travis.
In contrast to Heartbreak Express' modesty, Tom Cipullo's Glory Denied, presented Thursday by Chelsea Opera, seemed to overreach. This 2008 work (first heard locally five seasons ago) portrays the frustration of the real-life Vietnam War POW Col. Jim Thompson, who returned home after nine years of captivity to find his marriage destroyed and the country unrecognizable.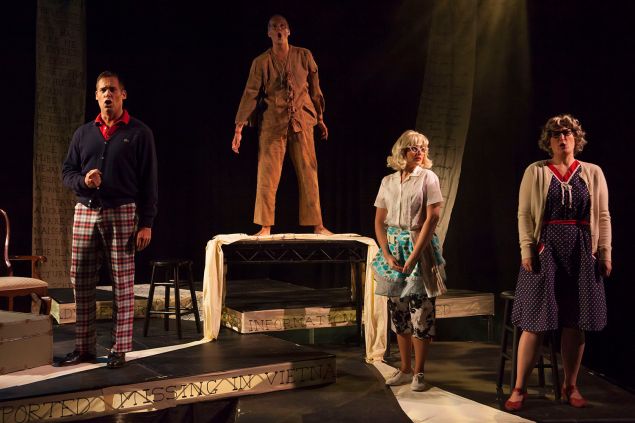 Mr. Cipullo's method of condensing this vast story into two hours of stage time recalls the dramatic structure of the Sondheim/Goldman musical Follies. Thompson and his wife Alyce each are presented in "younger" and "older" versions, a solution I found confusing when the performers of these roles were called on to portray other characters, as well (for instance, the warden of Thompson's prison camp).
A further complication is that Mr. Cipullo's music was so unremitting. It makes sense, of course, that a scene of torture or even an angry confrontation between husband and wife could be noisy or even brutal, but the wildly leaping vocal lines and percussive orchestra almost never relaxed. With so much of the text incomprehensible, I could only guess at the story. Only when I read the program notes afterward did I realize that the older Thompson's odd posture in the final scene was meant to indicate that he had suffered a stroke.
If Alyce comes off as a two-dimensional shrew in this piece, that's less Mr. Cipullo's fault as that of the shrill singers Kate Oberjat and Martha Guth as the younger and older incarnations. (They weren't helped by a pair of singularly unrealistic wigs.) Tenor Brandon Snook swung his light tenor fearlessly at the younger Thompson's tormented wails, while baritone Peter Kendall Clark rose to an impressive frenzy in the retiree's breakneck patter song about changes in American society.
Lynne Hayden-Findlay, one of the founders of Chelsea Opera, gamely staged the piece on a platform improvised above the altar of St. Peter's Episcopal Church, though she might have rethought the nonstop smoke effects. Carmine Aufiero kept a tight rein on the bombastic orchestration even when he fell off his stool in mid-scene.
Also covering the singers was the relatively small band of You Us We All at this musical theater piece's American premiere at BAM Wednesday. That's particularly bizarre since the singers were all body-miked. Not that you missed much, because the libretto by playwright-director Andrew Ondrejcak runs to such epigrams as "I forgetith how glorious the sunset is at thy infinity pool."
That observation is part of a colloquy between the allegorical figures of Hope and Virtue, who knock back martinis and debate whether to take the party to a nearby lap-dance club. Later in this modern reimagining of a 17th-century English court masque, Death asks his boyfriend Love if his failure to reply to an email constitutes a breakup.
It's not unpleasant. The music by Shara Worden is happy-shiny pop with a seasoning of Philip Glass, at its bubbliest in a series of fan letters to pop divas like Beyoncé, sung by Hope (Ms. Worden) in a gossamer little-girl soprano.
But the piece has so little substance it seems to drag on much longer than its actual duration of under 100 minutes. People took their clothes off, Time (scruffy actor Carlos Soto) rolled up the glossy stage floor to reveal a trap door to nowhere and Death (Bernhard Landauer) wailed in an anguished countertenor as Love (baritone Martin Gerke) delivered blow-up rabbit dolls to the rest of the cast.
The audience laughed here and there, usually at an easy pop culture reference. As for me, I loved the rabbits, but otherwise You Us We All was not my cup of twee.