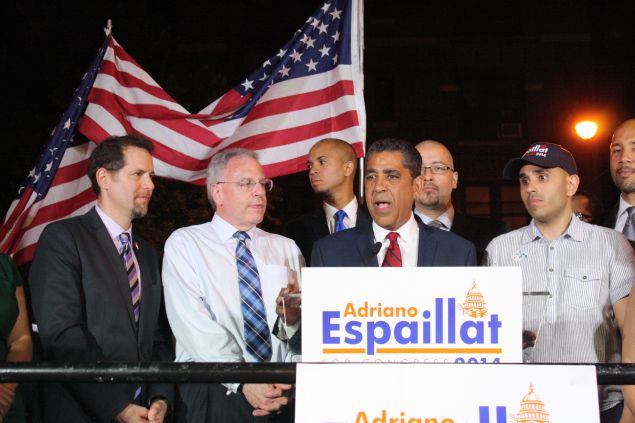 State Senator Adriano Espaillat formally declared his intentions to run for Congress once again, setting up a crowded and volatile contest to replace Congressman Charles Rangel of Harlem.
"In Washington I will continue to fight for our families by getting to work on day one to fix our NYCHA buildings, protect tenants, and invest in job creation and high quality schools," Mr. Espaillat said in a statement this morning. "The neighborhoods of the 13th Congressional District have witnessed historic changes and need a strong voice that will put working families first. Together, we can ensure our children inherit a better city than the one we inhabit."
Mr. Espaillat, who represents the neighborhoods of Washington Heights and Inwood, ran against Mr. Rangel in 2012 and 2014, losing both times. His 2012 bid caught Mr. Rangel by surprise, taking advantage of the 13th Congressional District's changing demographics to nearly oust an incumbent who has held the seat since 1971. The district, which includes upper Manhattan and the Bronx, is majority Latino after decades of serving as a stronghold of African-American political power.
Mr. Espaillat, a Dominican-American, made a second try in 2014, drawing the endorsements of Council Speaker Melissa Mark-Viverito, Comptroller Scott Stringer, the Bronx Democratic Party and a host of labor unions. But even with a more sophisticated campaign apparatus, Mr. Espaillat came up short again, failing to win much support outside of his Latino base. Blacks stuck with Mr. Rangel in overwhelming numbers, as did Puerto Ricans who have a history of resenting the Dominican influx.
His announcement this morning, coming via press release, is far more low-key than his campaign kickoff last year.  Back then, Mr. Espaillat stood with sign-waving supporters inside the gilded United Palace Theater in Washington Heights, promising a "big tent approach to politics."
After his disappointing 2014 showing, it's not clear how much backing Mr. Espaillat, who lacked Mr. Rangel's charisma and spunk, will win from the political establishment this time around. In a deeply divided field with his committed base of uptown supporters, however, Mr. Espaillat may be well-positioned to come out ahead.
Mr. Rangel, retiring at the end of his current term, has done Mr. Espaillat's rivals no favors by repeatedly refusing to endorse a candidate for Congress. Black votes in Harlem could be divvied up among Assemblyman Keith Wright, a political establishment favorite, State Senator Bill Perkins, an outsider with his own fans, and Clyde Williams, a well-funded candidate with ties to national Democratic circles. Former Assemblyman Adam Clayton Powell IV, the son of the legendary Congressman Adam Clayton Powell Jr., and pastor Suzan Johnson Cook are also running.
Mr. Espaillat, known for campaigning with sound trucks bearing his name, could have his own problems winning over his bloc of Dominican-American voters if his old rival Assemblyman Guillermo Linares, a trailblazer in Dominican politics, jumps in the race. City and State reported this as a distinct possibility this morning.
The race could be historic if Mr. Espaillat or Mr. Linares win, becoming the first Dominican-Americans elected to Congress, but it will lack national implications, other than sending the first congressman not named Rangel to Washington in almost a half century. The House is in firm Republican control and any Rangel successor will not have the clout he enjoyed in firm Democratic majorities. On hot button social and economic issues, all of the candidates tilt left and hold similar views.
No Republicans are running in the heavily Democratic district. A primary will be held next June.