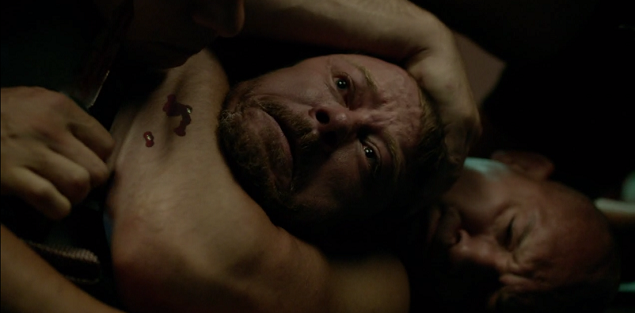 (Each day this week, tvDownload will take a look at one of the six potential series rolled out during Amazon's 2015 pilot season. Today: Patriot)
Nailing down what Patriot is about is no easy task. In fact, it's not even so simple to nail down a genre for this hour-long pilot from The Secret Life of Walter Mitty scribe Steve Conrad. It's almost like Daniel Craig's James Bond meets Broadway's Once. Call it…folk-spionage? Tonally, it shoots -and only inconsistently reaches – a darkly comedic, blood-spattered Fargo quality. And also Terry O'Quinn (Lost's John Locke) plays a key role, so that's sure to play with your emotions a bit.
There are two things I can say for sure: 1) I absolutely loved this Amazon pilot. 2) I can see why many, many people would dislike this Amazon pilot.
The plot revolves around intelligence officer John Tavner (Michael Dorman), who is tasked with de-escalating Iran's nuclear ambitions. To do this, he must enter into a "non-official cover" as a mid-level employee at a industrial piping firm in Milwaukee. Which sounds like an absurd, round-about way to go about things, but that's part of this show's fun; everything is absurd and round-about. The shifts in tone between dead-serious espionage thriller and black comedy happen on a dime, with results ranging from jarring to delightful.
Kurtwood Smith (That '70s Show) is fantastically hard-ass as Tavner's increasingly bemused new boss at the piping firm (best deadpan: "You keep parking in my fucking parking spot"), and Michael Chernus (Orange is the New Black) fills his role nicely as Tavner's brother. In fact, the whole cast seems game for this strange journey, which helps. Mr. Dorman as a lead especially pulls off an ability to play the spy character straight, even if that spy is an Iraqi War vet that writes hyper-specific folk songs to deal with his PTSD and routinely enters mechanical bull riding competitions in Amsterdam.
Again, though, I can see where a viewer would be turned off. If we're being specific, it's probably right amount the moment Tavner nails his job interview by pushing a more qualified applicant in front of a truck. It's this left-turn, giddily violent tone that makes the comparisons to Fargo easy, but honestly Noah Hawley and Co. toe that tonal line so adeptly over there at FX it's obvious Fargo is the major exception, not the rule. Patriot has a tough time keeping up that quality consistent over the pilot – a minor plotline that sees a clueless colleague named Dennis trying to join in on Tavner's spy games doesn't always land – but when it's hitting on all cylinders, this show is gleefully deranged.
Looking at Amazon's entire new pilot slate, this and One Mississippi are the only two I'm actively rooting for to get picked up to series. But if we're being honest, Patriot is the sole offering I think I'd watch through an entire season. In a day and age when there's almost too much TV and every choice counts, I can't think of any higher praise.