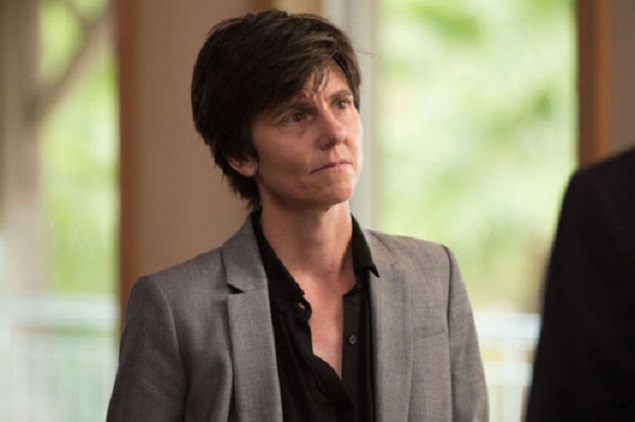 (Each day this week, tvDownload will take a look at one of the six potential series rolled out during Amazon's 2015 pilot season. First up: One Mississippi)
One Mississippi may be the most honest show – TV, streaming, or otherwise – that I've ever seen. Co-written by standup Tig Notaro and Diablo Cody, and executive-produced by Louis CK, this half-hour offering from Amazon's latest batch of original pilots is billed as a black comedy, but any laughs that come are funeral laughs, laughs that you stifle immediately because you feel bad. What's left is an achingly personal, undoubtedly moving look at surviving the unhappiness that comes with both dying and living.
In the pilot a lightly-dramatized version of Ms. Notaro, herself a double mastectomy survivor, returns to her Deep South hometown just in time to watch doctors take her mother off life support. And it's ugly, as it should be. Ms. Notaro's mother withers and wheezes as she slips away, and we're forced to watch much like her own daughter is forced to watch. This isn't 2011's hopeful cancer film 50/50. This is 20/80, and the inevitability of it hurts the way losing an actual loved one hurts.
And yet Ms. Notaro and Ms. Cody are somehow able to mine little personal moments that "lighten the mood," like you would say a light-bulb lightens the night sky. A moment immediately following her mother's death, where Ms. Notaro and a nurse share a laugh over a misunderstanding, is the closest we come here to straight lightheartedness. And even then the moment is an imagined one, inside Tig the character's head, and we realize how hard laughter would come at a moment like this.
Ms. Notaro, no stranger to dry self-deprecation or interpersonal reflection, does much of the heavy lifting here while not actually saying much. It's an incredibly visual show, at least in the pilot. But John Rothman as Ms. Notaro's step-father is masterfully and purposely wooden. When he tells Ms. Notaro, "I'm your stepfather, so technically we're not related anymore," it's so matter-of-fact it doesn't even come off as mean-spirited.
Aesthetically, the obvious comparison is Transparent, which is still the gold standard of what a Amazon pilot can achieve. But One Mississippi is telling a vastly different story, one that, almost impossibly, seems to pack more of an emotional wallop than Jill Solloway's 2014 offering. I've been trying to figure out why, and here's what I came up with – One Mississippi opens with Ms. Notaro telling a long story, over 2 minutes long, over the airwaves, a childhood remembrance of stuffed animals and a make-believe restaurant. And whether it's in the writing, the presentation, Ms. Notaro's performance or all of the above, you understand this story has meaning even as it's awkwardly told. That is basically One Mississippi in a nutshell – every scene, no matter how its presented, has meaning and you can feel it, even if you're not immediately sure what that meaning might be.