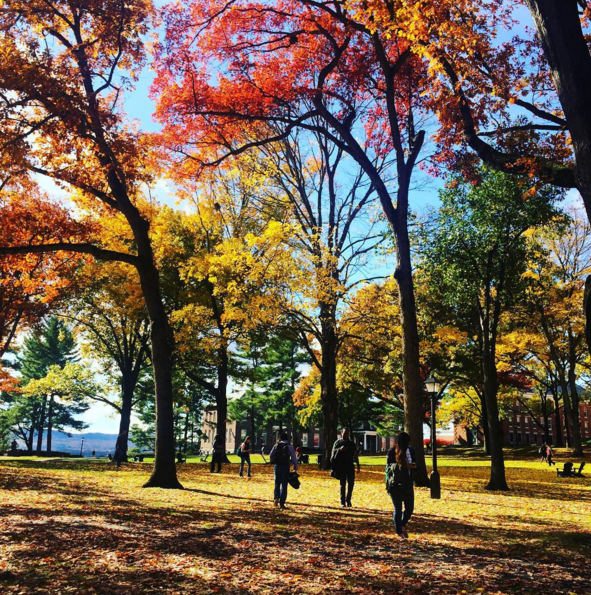 Late last week, in a quaint Western Massachusetts town, a crowd of several hundred students held a sit-in at their campus library. The school is Amherst College and the movement is #AmherstUprising.
Like similar demonstrations across the country, #AmherstUprising is an expression of solidarity with students at the University of Missouri, and the broader #BlackLivesMatter, but is also its own campaign to address issues unique to the 194-year-old institution. Like other movements, #AmherstUprising has received its share of censure from external commentators.
Amherst is a liberal arts college known for small class sizes, professors who are at once renowned scholars and great teachers, abundant resources to support student research and campus programming, and a close-knit community of students and alums.
Not only is Amherst a top-ranking college, it is also a campus where—despite its white, affluent heritage—diversity is celebrated and liberal values, for the most part, prevail. In recent years, the school made national headlines for its radical efforts to recruit low-income and minority students and to diversify its student body.
'What they ought to see are students who are not willing to accept the status quo, but are intent on shaping it.'
It can thus, at first blush, be difficult to imagine what might possibly provoke mass protests at my idyllic alma mater. Why would students privileged enough to attend such an institution stage an uprising? I discussed this with Anthony Jack, my classmate at Amherst and a doctoral candidate in sociology and an associate doctoral fellow in the multidisciplinary program in inequality and social policy at Harvard University.
Mr. Jack, who recently penned an op-ed for The New York Times on the struggles of what he terms the "privileged poor," notes that much of the confusion surrounding #AmherstUprising exists because of a fundamental misreading. (A fantastic treatment on the privileged poor is the 2014 documentary American Promise, which follows the education of two New York City black boys who start out at an elite private school.)
"Many view these student demonstrations through the framework of 'Why are students complaining when they should be happy to receive a handout?' Instead, what they ought to see are students who are not willing to accept the status quo, but are intent on shaping it," Mr. Jack said.
NEW REALITIES, OLD INSTITUTIONS
Part of the status quo Mr. Jack speaks of is the dramatic demographic shift the college has undergone in recent years. Significantly more minority students, particularly African-Americans, have been admitted and this change for the historic school is quite palpable.
Ron Espiritu, a teacher in Los Angeles and a 2006 alum who has visited Amherst a dozen times since graduating, notices the stark difference and said of the new campus makeup, "I see all of these black and brown faces and I think, 'this is amazing!'" But as these students have explained to Mr. Espiritu—who was a student leader at Amherst's Latinx advocacy group La Causa—while numerically speaking there may be greater diversity, brown students still suffer the same feelings of hostility and alienation he felt as one of a small handful of Chicanos on campus.
Last fall, tensions came to a head when a group of students organizing events in support of #BlackLivesMatter received harassing messages in emails and on social media. They found their #BlackLivesMatter posters replaced with #AllLivesMatter.
NEAR-UNANIMOUS SUPPORT
It is important to understand the backdrop against which #AmherstUprising occurs. Equally illuminating is the response the demonstration has generated. #AmherstUprising elicited the support of an overwhelming portion of the student body. As many as 1,200 students were reported to have participated—significant figures for a school with a student population of just under 1,800.
Even more striking was the endorsement student-run #AmherstUprising received from faculty members and academic departments, at least 22 of which have formally expressed support. (The school's website lists a total of 28 academic departments.) Meanwhile, the college president, Biddy Martin, was en route to Japan when she heard of the demonstration. She subsequently cancelled her trip and flew back to Massachusetts from her layover in Washington, D.C. In an era that has seen university administrators leaving their posts over their race issues on campus, Ms. Martin's statement was broadly praised by alums and faculty alike.
On Monday evening, a faculty meeting was held to discuss last week's sit-in. One notable outcome was the unanimous vote to oust the college's unofficial mascot, Lord Jeff. Political Science Professor Javier Corrales was in attendance. "They had to bring extra chairs in to accommodate everyone," he said. During the two-hour-long meeting, professors expressed strong support for the students' movement, many moved to tears.
"I've never seen such unanimous support from faculty," Mr. Corrales said. "I've seen students cry before, but not professors, and not while at a faculty meeting,"
NOT JUST REVOLT, BUT RECONSTRUCTION
To scrutinize the movement solely on the basis of what some have called illiberal demands is to miss entire sections of the story. "Students are right to want to engage with the administration on what they feel is lacking at the college," Mr. Jack said. "Whether their demands rest squarely within the purview of what the administration can fix is not necessarily for [the students] to determine."
'My professors—supposedly experts in their fields—could not name one black artist beyond the two or three everyone already knows.'
What detractors often fail to consider is that free expression is thwarted when students of non-majority background are precluded from learning or from contributing to their educational environment because of hostilities they experience.
Class of 2007 alum Ashley Payne described her experiences as a black, female student: "I did not reach my full potential because I felt ignored, misunderstood and therefore could not get the support I needed." Ms. Payne cited a lack of academic support and mentorship by faculty of color—the latter a shortcoming most of my brown and black former classmates from across the political and economic spectrum lamented.
"When you attend a top school like Amherst, you expect to receive the best education and exposure to the most interesting and cutting-edge materials. So I felt it was a disservice when my professors, supposedly experts in their fields, could not even name a black artist beyond the two or three everyone knows," Ms. Payne explained. This critique of curricular deficits echoes the sentiments shared by Pulitzer-Prize-winning novelist Junot Diaz, who last year penned the essay "MFA vs. POC" for The New Yorker, sparking a nationwide debate.
#AmherstUprising is by no means perfect—even from the standpoint of student supporters. As part of the movement, a number of working groups were formed, representing different student interests. Each group expressed its own set of grievances, but they were not adequately reflected in the list of 11. Many of the working groups' demands, like the ones from La Causa, are well-reasoned and concrete.
But again, to fixate on these demands is to miss what the project is all about.
What we are witnessing today is not a collective whining or a mere revolt. It is the next phase of a long-term and complex building project.
Amherst College is undergoing a massive soul-searching, not unlike Yale, Harvard and its other higher education counterparts. It remains a pioneering institution for promoting educational equity, but realizing its vision of creating a more diverse and inclusive student body requires more than just admitting more brown bodies. Progress is messy and painful, raising more uncomfortable questions than bringing actionable answers in the short-term.
But the project is worthwhile. Contrary to the fear that what is happening today is creating coddled, helpless, entitled graduates, the exposure I had to the relentless efforts of my classmates to fight for a safe and inclusive space to learn and share has been edifying. To the litany of Amherst attributes I listed above, I would also add my classmates, and in particular those who are students of color, as indispensable assets that have had a transformative impact on my education.
They have taught me to unlearn a decades-old habit of quelling my instincts in deference to traditional authorities, to refine my notion of "grit" and not conflate that with denial of unjust and systematic oppression—and the pain I suffered from it. Rather than making me intellectually weak, watching my classmates earnestly, if imperfectly, questioning the status quo fortified my critical thinking skills; to my character, these #AmherstUprising prefaces added "courage."
What we are witnessing today is not a collective whining or a mere revolt. It is a movement that is neither knee-jerk nor reactionary, but thoughtful and visionary. It is the next phase of a long-term and complex building project. Just as mass movements risk fomenting groupthink, unreflective dismissals can create needless regression.
To the extent that it has sparked national discussion on important issues pertaining to educational equality, #AmherstUprising has been productive. But in my view, the greater victory has been its ability to dismantle the well-worn cynicism of so many seasoned intellectuals and teachers, and of this humble writer.
Adeline Oka is a public speaker, essayist, ghostwriter and the Editorial Director of Invest: Miami. She holds degrees from Amherst College and the University of Cambridge. Follow her on Twitter: @adeline_oka