When Edward Snowden went public nearly two-and-a-half years ago with his explosive revelations about the National Security Agency, his former employer, the mask of secrecy that NSA had worn since its birth in 1952 fell for good. For NSA, America's biggest and most important intelligence agency, this was a deeply unwelcome and uncomfortable change. For decades, the agency had gone about its top secret business with little public scrutiny or fanfare.
Out at its main base at Fort Meade, in the Maryland suburbs halfway between Baltimore and Washington, DC, NSA had long been regarded as "No Such Agency," and for many years the Pentagon indeed denied its very existence, even though its sprawling headquarters complex, where tens of thousands are employed, was visible from the highway.
While the agency no longer denies it's there, the Snowden compromise cast scrutiny on NSA of a degree and kind it had never imagined. The initial reaction at Fort Meade to Snowden was shock, then disbelief that the agency's "crown jewels" had been exposed to the world. NSA was slow to react and, while much of that reticence can be blamed on the White House, which for months reacted to the Snowden affair by pretending it wasn't going on, there's no doubt that the agency fumbled its response too.
Media and Congressional scrutiny, not always well informed, added blows, with many Americans first learning about NSA as the alleged violator of their civil liberties.
There was plenty of counsel being proffered – I gave some of it – that the Snowden saga, though admittedly a debacle, also offered an opportunity for NSA to turn the page from its spooky Cold War self and become less obsessively secretive about its activities. While current operations must remain behind a shroud of secrecy, much about NSA could be revealed to the public without loss of sensitive intelligence sources and methods.
Yet what followed came slowly, too late to repair the agency's highly damaged public image. Media and Congressional scrutiny, not always well informed, added blows, with many Americans first learning about NSA as the alleged violator of their civil liberties. Snowden's depiction of the agency painted an alarming picture that stoked the fires of political fury.
This image contrasted sharply with how NSA saw itself. While the agency had indeed once been involved in surveillance of certain domestic political opponents, that ended in the early 1970s, thanks to push-back from agency staffers (among them my father) who objected strenuously. Since then, all NSA employees have been strongly warned about any possible violations of civil liberties in the conduct of intelligence operations, so Snowden's accusations, which were parroted by the media without much analysis, were deeply at odds with the agency's self-image.
It hardly helped that NSA leadership panicked in the face of Snowden. Even internally, then-director General Keith Alexander struggled with how to address the unprecedented fiasco. Never popular with the workforce, which viewed him as aloof and arrogant, Alexander headed NSA for nearly nine years, making him the longest-serving director in agency history. The Snowden debacle will dominate Alexander's page in the annals of American intelligence.
His tenure at Fort Meade witnessed the collapse of basic security, enabling Snowden to gain access to the agency and steal more than a million classified documents while working as a system administrator. While NSA counterintelligence was undermined, contractor cash-outs, including to friends of the director, mounted at an unprecedented pace. Alexander's legacy is a bitter one, and by the time he left the agency in spring 2014, NSA was reeling from the public blows caused by Snowden.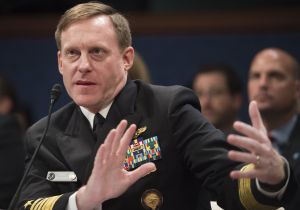 The agency inherited by his successor, Admiral Mike Rogers, remains in a state of crisis. NSA employees have faced uncomfortable questions about what they really do – Are they actually violating Americans' rights? Do they follow the law? – from friends and family, and agency leadership has failed to offer much help or guidance there. Agency top management has been distant from the workforce in this extended hour of trouble, and many employees are despondent, even angry.
To make matters worse, NSA morale was already precarious before Edward Snowden defected to Moscow. Years of poor budgetary planning meant that promotions slowed significantly as the Pentagon began to draw down from its losing wars in the Greater Middle East. While NSA goes to great lengths to recruit young talent, it has a hard time keeping rising stars, who frequently take jobs in the far more lucrative private sector, rather than face dismal prospects for promotion at the agency. The stench surrounding NSA caused by Snowden has hardly helped keep promising employees on staff.
Just how bad morale has gotten is revealed by a series of shocking incidents, including violent criminality that's hardly ever encountered among the NSA's highly vetted workforce. Last week an agency rising star, the former head of the high-priority Korea Division, pleaded guilty to beating his three-year-old son to death.
In an equally shocking incident in late October, a respected NSA mathematician regarded as an up-and-comer bludgeoned his wife to death with a barbell while the couple's three children were at home in Laurel, an agency bedroom community. The brutal murder sent shockwaves through NSA, where the late woman was also employed.
Shortly before that, an NSA senior official attempted to commit suicide in the office – something which has never happened in the agency's long history. The top official survived and details have not been released to the public. The Fort Meade tradition of hushing up controversial incidents continues even in the age of Snowden.
Year in and year out, something like eighty percent of the actionable intelligence in the Federal government comes from one source: NSA.
Such violence cannot be placed at the feet of Edward Snowden or agency leadership. That said, it's clear that the scandals overwhelming NSA over the last couple years continue to take a frightening toll on morale and performance. An unhappy workforce is a vulnerable workforce, as NSA security knows. Fears of "another Snowden" are widespread at Fort Meade, where counterintelligence is worried that angry and disaffected employees are vulnerable to exploitation by hostile intelligence agencies. To say nothing of the Russian mole lurking inside the agency – it was not Snowden – that NSA has known of since 2010, but never uncovered.
Despite the Snowden revelations, the National Security Agency remains largely unknown to most Americans. Since agency leadership has failed to open up to the public, preferring to remain in hiding while hoping for the best, lies and deceptions about what NSA really does continue to proliferate at the expense of truth. In fact, the agency is the biggest source of intelligence in the United States and the free world, and has been for decades. Year in and year out, something like eighty percent of the actionable intelligence in the Federal government comes from one source: NSA.
Although NSA is vital to defend our country and our allies from terrorists and foreign enemies, its public image is in tatters, and so is agency morale. Keith Alexander, who oversaw the unraveling at Fort Meade, is doing fine. In addition to his generous four-star general's pension, Alexander's cybersecurity start-up has raised over $32 million from venture capitalists. It cannot be said that the agency he headed for nearly a decade, much less its workforce, are doing equally well.
John Schindler is a security expert and former National Security Agency analyst and counterintelligence officer.