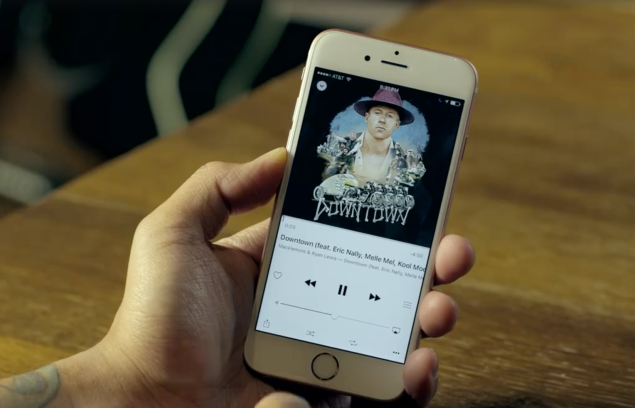 In a blog post today, Facebook announced a new feature called "Music Stories," which allows users to sample 30-second song "previews" directly on the site. The post was, like most tech announcements, full of vague language. Sure, vague language may well be what a press announcement is going for, but it would never pass muster in a newsroom. We took the liberty of inserting editor's remarks. Here's the annotated transcript.
There are few things people love more than music. [IS THIS THE BEST YOU'VE GOT?] People find out about it from artists and friends alike, and they love to share their discoveries. [YOU'RE NOT REALLY SAYING ANYTHING HERE] Today we are enabling better music discovery and sharing on Facebook. [START WITH THIS SENTENCE; THE OTHER STUFF IS JUST VAGUE FILLER]
On the Facebook iPhone app, songs and albums shared from the leading music services will become "Music Stories," a new post format which allows people to listen to a 30-second preview of the shared song (or album) while on Facebook. [SEEMS PRETTY RANDOM THAT WE'RE CALLING THIS "MUSIC STORIES"; IS THERE ANY REASON FOR THAT? IT'S BLAND AND BUZZWORD-Y; LET'S COME UP WITH SOMETHING MORE INVENTIVE] The preview is streamed from either Apple Music or Spotify (depending on the source of the link shared), and can be purchased from or saved to the respective music streaming service.
The previews from Apple Music and iTunes are available directly through Facebook. If you want more, click through to stream full tracks on Apple Music or add music to your library with a single click to purchase through the iTunes store. The previews from Spotify are also available directly through Facebook. If you want more, click through to stream full tracks on Spotify or add to your library without leaving Facebook. [YOU LOST ME AT "PREVIEWS"] We will expand Music Story [AGAIN, "MUSIC STORY" IS A BORING NAME; RETHINK THIS] support for additional streaming music services soon.
We hope by making this experience better, artists will share more, friends will share and engage more, and music will become a better part of the Facebook experience overall. [HOW WOULD YOU CHARACTERIZE THE FACEBOOK EXPERIENCE? GO INTO IT A BIT; I WANT TO FEEL LIKE I'M SITTING THERE BESIDE YOU!]
Click here to download the videos posted in this article. [LET'S ADD MORE LINKS TO THIS POST] You have permission from Facebook to publish them on all platforms. [FEELS A LITTLE CONDESCENDING]