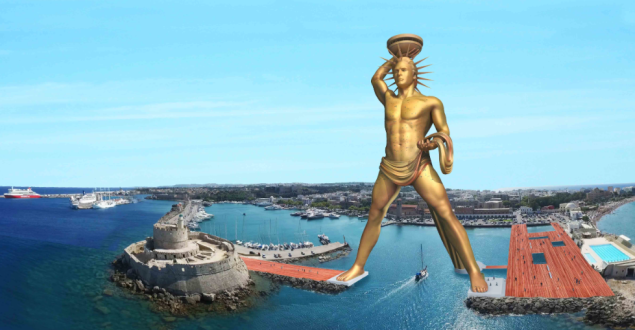 The statue Colossus of Rhodes sat on a podium near the Harbor of Rhodes for 52 years until an earthquake struck in 226 BCE, knocking it down. Now, a group of young professionals are seeking to rebuild the 98-foot-high iron and bronze statue of the Greek god Helios.
Besides rebuilding the statue, the Colossus of Rhodes Project seeks to create jobs during the economic crisis in Greece while boosting tourism in Rhodes by restoring the statue's historical and cultural significance.
"The project considers a brand new position—not in the middle of the city, but outside its walls—as a new voice, a new point of reference for the ships at night time," reads the Colossus of Rhodes project's website.
The new statue wouldn't be a replica of the original, but would instead be recreated using 21st century standards. It would be over 400 feet tall, much taller than the original, and the Greek god Helios' legs will be open, instead of closed. Inside the statue will be a museum that displays Ancient Greek treasures that haven't been seen by the public. Besides the museum, the interior will also host a library, a cultural center and an exhibition hall.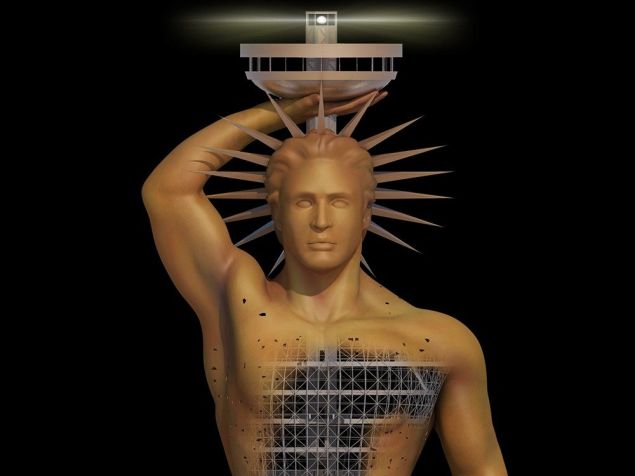 Fittingly, the Greek god of the sun's exterior will be covered in golden solar panels.The exterior will also include a lighthouse that would be visible for 35 miles. Modern construction techniques and state-of-the-art technology will be used to make this Colossus of Rhodes earthquake-proof. (Smart!)
Funding for the new structure is expected to come from cultural institutions and international crowd funding. The project could be completed within three to four years and would cost an estimated $260 million to $280 million.