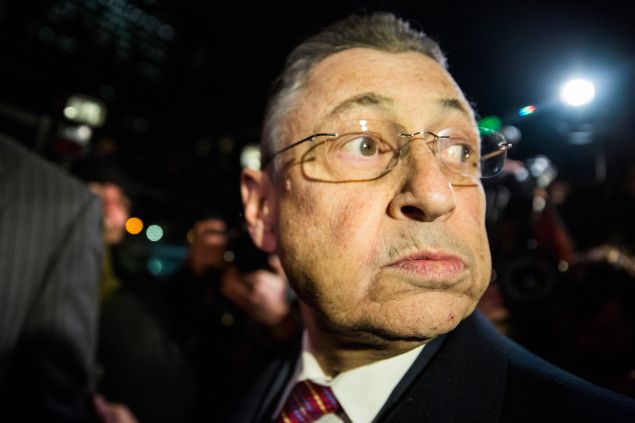 Gov. Andrew Cuomo today applauded the conviction of former Assembly Speaker Sheldon Silver—who once stood alongside him as one of the most powerful Democrats in the state.
Mr. Cuomo praised the work of U.S. Attorney Preet Bharara's office in uncovering Mr. Silver's misdeeds and putting him on trial. He argued that Albany must respond by passing further measures to combat the sort of fraud and extortion of which the jury found Mr. Silver guilty.
"Today, justice was served. Corruption was discovered, investigated, and prosecuted, and the jury has spoken," Mr. Cuomo said in a statement. "With the allegations proven, it is time for the Legislature to take seriously the need for reform. There will be zero tolerance for the violation of the public trust in New York."
The remark more recalled Mr. Cuomo's insistence upon new ethics measures shortly after Mr. Silver's arrest in January, and less his comments earlier this month when he seemed to suggest a certain amount of public corruption was inevitable, and that the reforms he had passed went far enough.
"There will always be dishonest people. There will always be people who try to find a way around the system," he said, arguing the Clean Up Albany Act of 2011 was responsible for the charges against Mr. Silver. "And we have to have a system where if someone does that, your system can actually find them and punish them so nobody gets the same idea."
The fiscally conservative Mr. Cuomo was often at odds with the liberal Mr. Silver in the budget negotiating room, yet the men made great efforts to appear chummy in public. The governor referred to himself, Mr. Silver and former State Senate Majority Leader Dean Skelos—now also on trial for alleged corruption—as "three amigos" in his State of the State address this year.
And in a memorably bizarre moment during the 2014 primary season, Mr. Silver gathered with Democrats on the steps of City Hall to demand Mr. Cuomo's liberal challenger Zephyr Teachout show the same unequivocal commitment to supporting Israel that the governor had. The two Democrats, Mr. Skelos and State Senate co-leader Jeffrey Klein had visited the Jewish State together months earlier.
When Mr. Bharara unveiled the indictment against Mr. Silver, he told reporters to "stay tuned." Just months later, it came to light that the charges against Mr. Skelos and Mr. Silver both involved luxury developer Glenwood Management, which has donated heavily to Mr. Cuomo's campaign.
These incidences, combined with Mr. Bharara's repeated public tweaking of the governor over the unceremonious scuttling of the anti-corruption Moreland Commission, has stoked considerable speculation that Mr. Cuomo's office is also being probed.