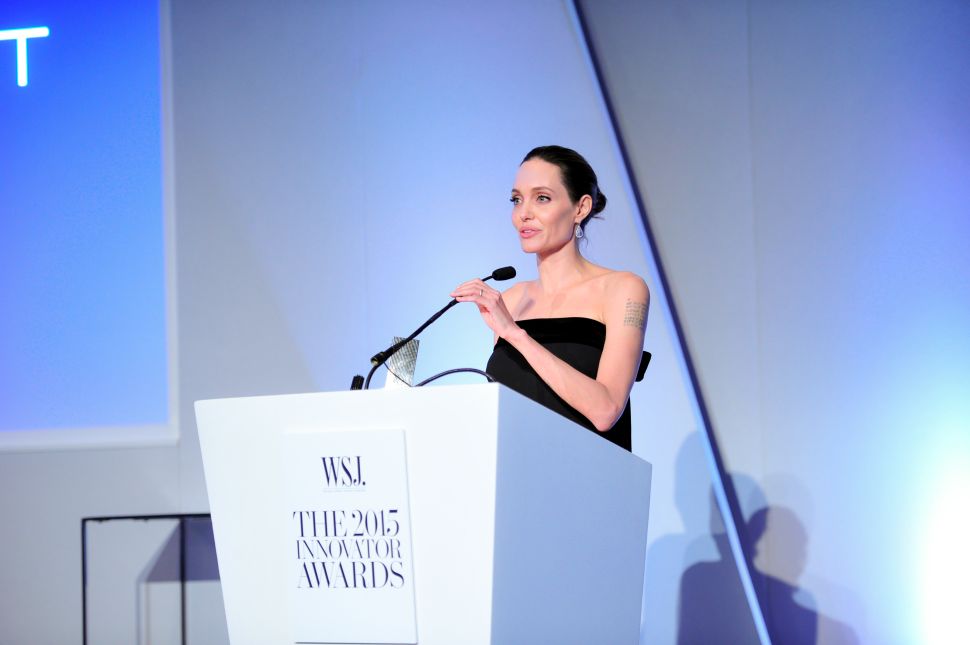 WSJ. Magazine's Innovator Awards are always packed with big names from seven different sectors of the world: technology, entertainment/film, design, fashion, art, brand and literature. Every year, heavyweights from each category are curated into an intimate dinner and awards presentation at the Museum of Modern Art.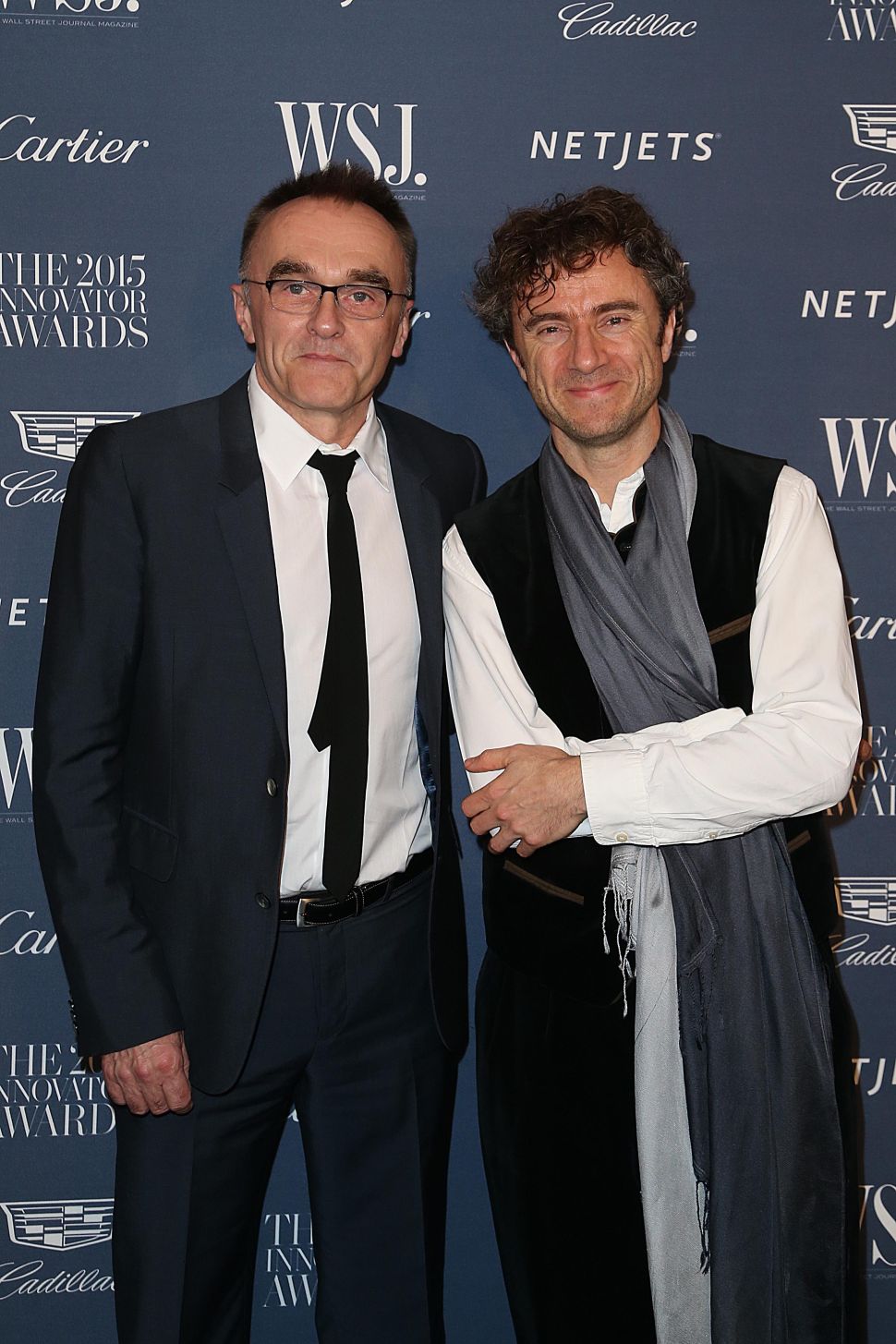 Artist Tom Sachs introduced Nike's Mark Parker who took home the Brand Innovator Award. Richard Serra arrived by video chat to accept his Art Innovator Award, and Thomas Heatherwick, the Brit whose sculpture will be the centerpiece of the upcoming Hudson Yards, was given his Design Innovator Award by Danny Boyle. Miuccia Prada was dubbed the evening's Fashion Innovator. "She finds my love life incredibly boring, and she finds my sex life even more boring," Francesco Vezzoli said in his introduction for Ms. Prada. "She would rather hide than speak, except tonight she's not going to hide. She's here with us."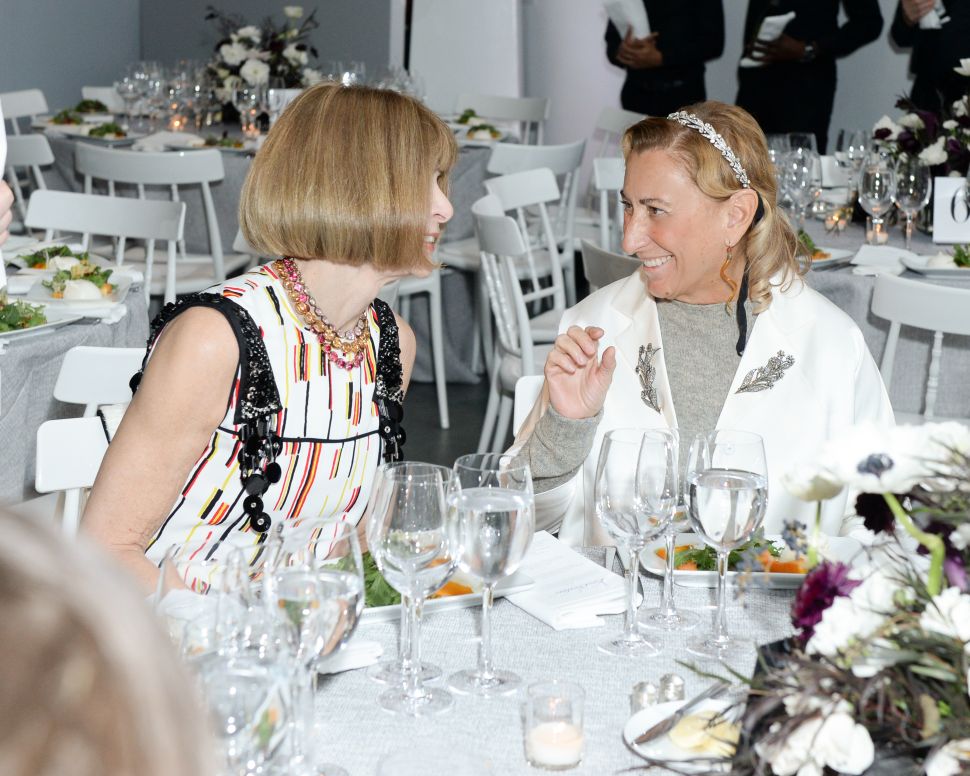 Jared Leto, sporting fluorescent pink slicked back hair, introduced Stewart Butterfield, the creator of e-mail app Slack, and the winner in the Technology category. "Anybody that can help kill off e-mail is a friend of mine," Mr. Leto said of the serial entrepreneur. "He rises from the ashes, and starts a little communications app called Slack. It becomes the fast growing enterprise software in the history of tech, garners a multi-billion dollar valuation, gets an Innovator Award from the Wall Street fucking Journal—I told you, no class up here—and has an Oscar-winning rock and roll technophile weirdo with pink hair on speed dial, ready to jump on Jet Blue to present him with what is a more than well-deserved token of appreciation for showing us all to be brave, how to fight for what we dream of, and how to fail, and fail beautifully." In his acceptance speech, Mr. Butterfield noted the crowd full of models, actors, and artists. "We're definitely not in Silicon Valley anymore," he said with a smile and a shake of his head.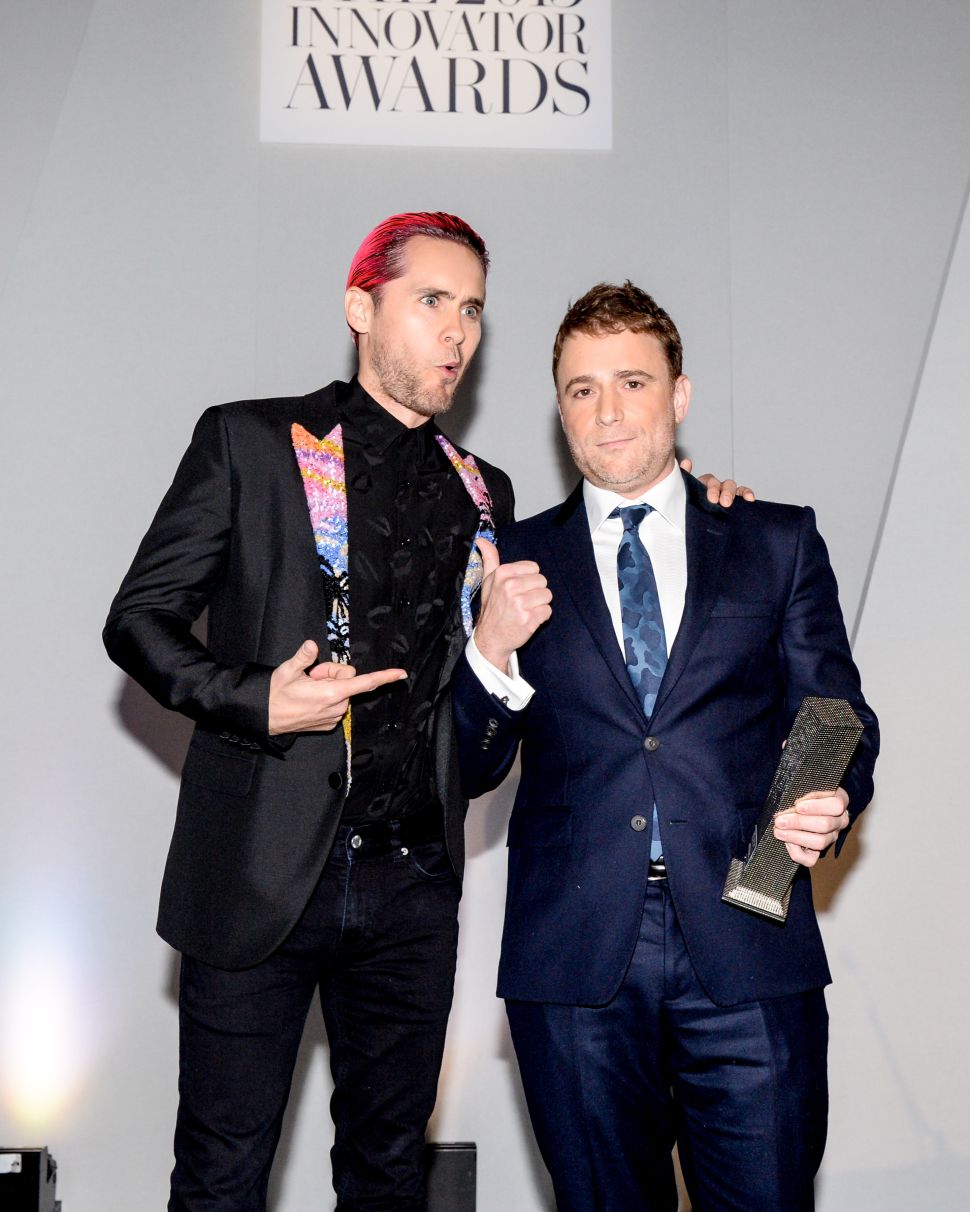 The woman of the hour, and the cover star of the WSJ. Innovators issue out this weekend, was Angelina Jolie. The actress, producer, and humanitarian sat between husband Brad Pitt and WSJ. Magazine's Editor-in-Chief, Kristina O'Neill. Robert DeNiro sat next to Mr. Pitt, and provided Ms. Jolie's introduction, but not before taking a dig at Mr. Butterfield who had preceded him. "I'm just going to ask one question," Mr. DeNiro said. "Who was the last speaker here? Because I thought you were a little condescending to us actors or celebrities. So I'm going to go on record with you just to say that, and I don't give a fuck who you are."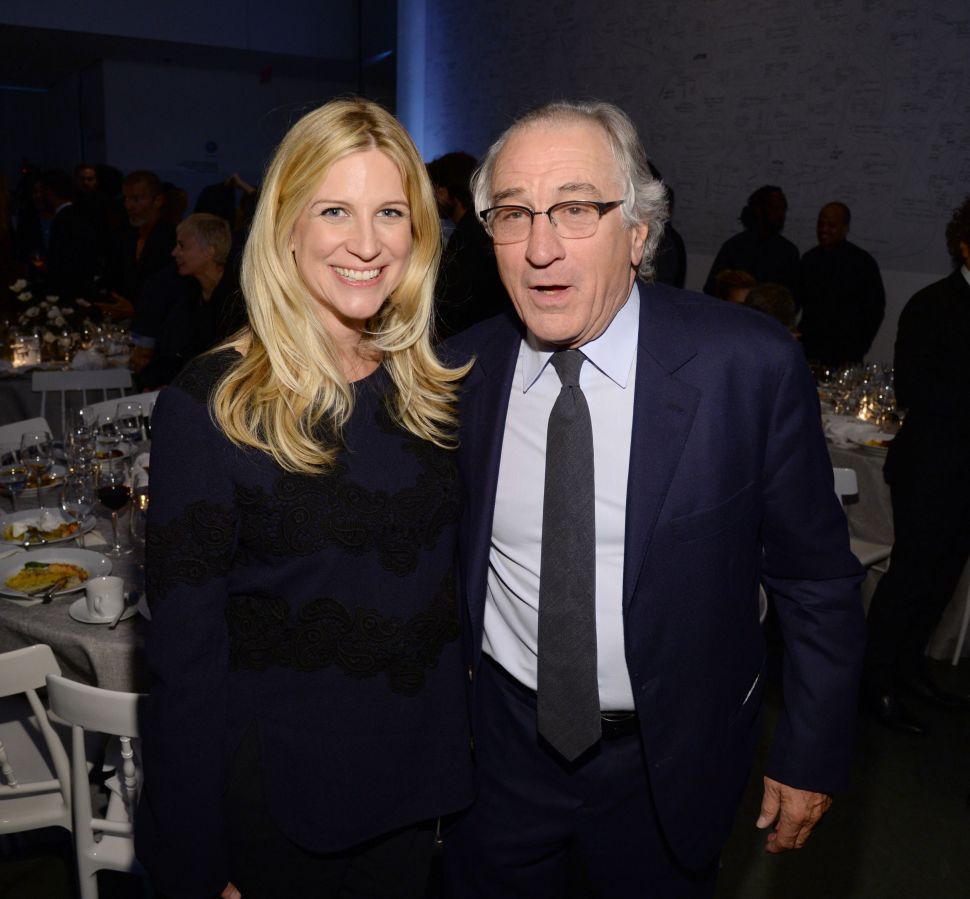 Ms. Jolie accepted her award a bit more graciously. "I feel that to be innovative is to be able to stand alone. To know that people may not always understand or like what you put forward, but if you're prepared to work hard, if your intention is pure, and if you're willing to fail, then you sometimes succeed," she said clutching her innovator award for the Entertainment/Film category.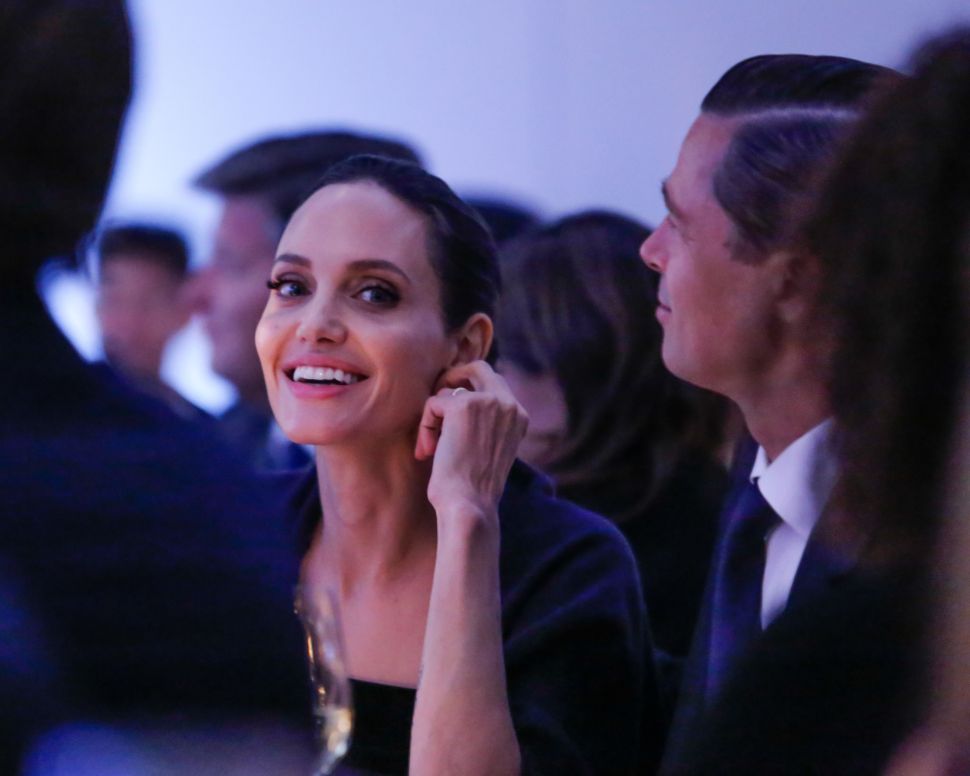 "My children are innovative, all children are," she added. "They are pure and bold, and have yet to make themselves smaller or be self-conscious. They are expressing, reaching, learning, and sometimes, often, making a big beautiful mess. Their need to try and play is something we often forget as we grow older. All of us here tonight are being honored because the little kid in us didn't go away." Following her powerful speech, she was congratulated with a peck from Mr. Pitt and Mr. DeNiro before carrying on upstairs to view the new Picasso Sculptures exhibit.