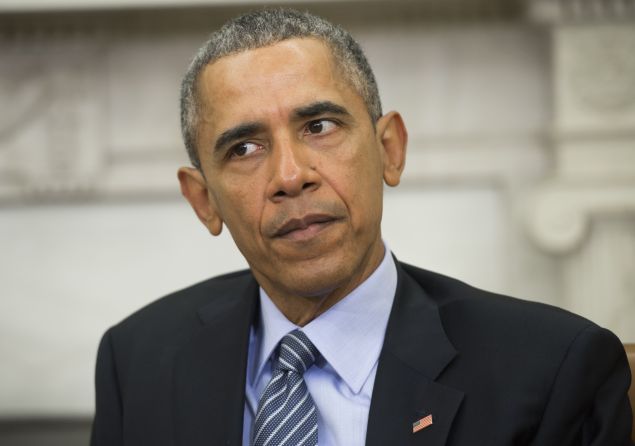 Since President Obama pushed through his Iran nuclear deal without a congressional vote, the folks in Tehran have responded in some mighty unusual ways.
First, they've jailed five visiting Americans—and are holding them hostage. Then they launched a massive cyberattack against the U.S. State Department, Aramco and several American banks. Plus, they are cracking down on Iranians who advocate better ties with the United States, even shutting down businesses that have American connections—including a KFC knock-off in Tehran. But most significantly, the Ayatollahs are threatening to renege on the nuclear deal if we push too hard to get our citizens back.
We hope this gives pause to President Obama and the deal's supporters in Congress. If this is how Iran acts before we have released the $100 billion-plus in frozen funds, how might they behave when we have no more Iranian funds to use as leverage?
Mr. Obama must not release billions of dollars to Iran until its regime demonstrates some peaceful good faith.
On Monday afternoon, President Obama and Israeli President Benjamin Netanyahu met in the Oval Office. "It's no secret that the prime minister and I have had a strong disagreement on this narrow issue," said Mr. Obama, seated beside Mr. Netanyahu. "But we don't have a disagreement on the need to make sure Iran does not get a nuclear weapon, and we don't have a disagreement about us blunting destabilizing activities in Iran that may be taking place," he added. "And so, we're going to be looking to make sure we find common ground there."
A good start would be to believe at least some of what the Ayatollah Ali Khamenei, Iran's supreme leader, has been saying. First is his insistence that the "Death to America" slogan is eternal.
Then there's the flag.
The regime has put up new anti-American billboards in Tehran that mock the Iwo Jima flag-raising photograph that symbolized Marine sacrifice in World War II. The Iranian version, titled "Story of a Flag," shows U.S. Marines with bloodstained hands raising an American flag over a pile of corpses and rubble.
Iran's semi-official state news agency, Fars, gave it the following caption: "The US is killing thousands of people from different nations, ethnicity [sic], races and religions to impose its hegemony over the Middle East."
Some urge us to believe the Ayatollah's wobbly backtracking that "The slogan 'Death to America' is backed by reason and wisdom. . .[and] does not mean death to the American nation; this slogan means death to the United States policies, death to arrogance."
So how should we interpret these words and actions? Should we not worry about Iran's acquisition of an $800 million Russian advanced surface-to-air missile system? The system, which could be operational as soon as the end of this year, would make it much harder for American or allied air forces to penetrate Iranian air defenses—should it be necessary.
We urge Mr. Obama and Mr. Netanyahu to put aside their personal animosities and find real common ground on what these Iranian provocations mean, and how to deal with them. Moreover, Mr. Obama must not release those billions of dollars until Iran demonstrates some peaceful good faith on the world stage.