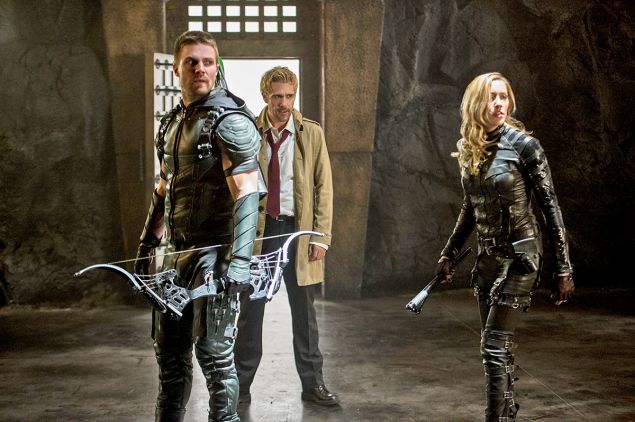 Ah, the crossover episode, when a network brings two TV shows together, whether you asked for it or not. There are many ways to look at a crossover – ratings grab, fan service, lazy writing, inspired writing, or simply the faceless people behind the scenes deciding to have a little fun for once. Either way, crossover episodes happen, and we tune in because at best they are double the fun, and at worst you have two times the material to make fun of.
So technically, last night's Arrow wasn't a crossover. With NBC swiftly cancelling Constantine last year to the cries of literally dozens of trench coat-wearing fans, John Constantine no longer has a show to cross over from. But Matt Ryan did dust off the aforementioned trench coat and threw on the perpetually loosened tie, and it was fun. It wasn't the greatest episode of Arrow, and it wasn't the perfect crossover episode, but it worked on a level that at least made me wish NBC gave Mr. Ryan and Constantine as a whole a little more to work with before banishing it to the fiery underworld (aka Fridays at 10 PM). It's funny to say because we're talking about the CW here, but seeing John Constantine interact with other DC characters, taking shots at NBC and having audiences actually get excited about it made me wish we lived in an alternate universe, where HBO or Showtime or AMC's Hellblazer aired on Sundays, and John Constantine could smoke as many cigarettes and fuck as many women, and men, as he wanted but it wasn't a big deal, it was just what he did in-between the exorcism of terrifying demons.
But I digress. Mr. Ryan's appearance on Arrow led me to thinking…what are the ingredients for a perfect crossover episode? There's no shortage of options to pour over in recent memory. Yeah, there was Arrow/Constantine, but before that there were multiple Arrow/The Flash, and the upcoming crossover-disguised-as-series Legends of Tomorrow. Last week, FOX went ahead with a Bones/Sleepy Hollow crossover, because Sleepy Hollow is spooky, and human bones are also spooky, or…something? It wasn't great. A year before that FOX also sent the Griffins to Springfield in a Simpsons/Family Guy crossover that was…also not great. Then there are the classics: Mork and Mindy/Happy Days/Laverne & Shirley, Batman/The Green Hornet, The X-Files/Cops (Kind of), Teenage Mutant Ninja Turtles/Mighty Morphin Power Rangers (greatest of all time).
In the end the difference between the good, the bad, and the inexplicable boils down to three components:
Tone
Finding two shows that have matching tones, or somehow making two clashing tones work, is the most essential part of any crossover episode. This is 2015, audiences have a wide range of interests and tastes. Someone watching Game of Thrones live can be DVR'ing Brooklyn Nine-Nine simultaneously, and never the twain shall meet. Two different tones, kept miles apart. 
But when two clashing tones come together, it's genuinely uncomfortable. Family Guy has always, always since its inception been a cruder, more cynical show than The Simpsons. Because they were #1 and #2 in the world of animated family comedies, though, viewers were happy to see them metaphorically battle it out. But to see it actually happen? To see Homer Simpson, lovable oaf for 26 years, attempt to murder Peter Griffin with a rock? It was jarring. It took you out of the experience just as you came to terms with seeing Bart Simpson in a scene featuring a rape joke.
And sometimes the clash of tones is the whole point, and that works just as well in small doses. See: Law & Order's homicide detective John Munch on Arrested Development.
World-Expanding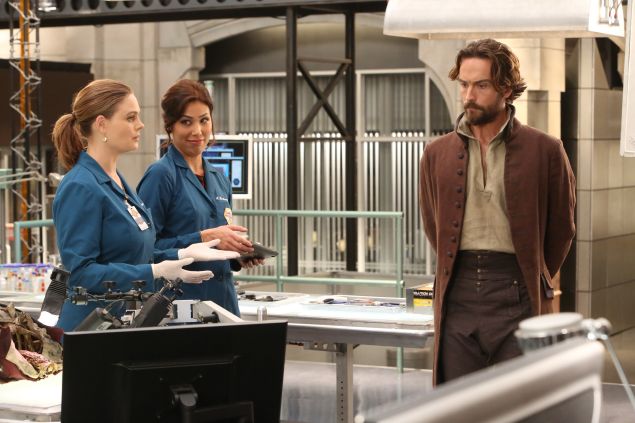 A crossover episode automatically asks the viewer to accept these two shows exist in the same world. Which is fine, if the writers have the ability to make enough space in that world to comfortably fit both histories, and the courage to mix them. A lack of both, however, comes at the expense of both a good crossover and a good episode of television.
This is why the two-part crossover of Bones and Sleepy Hollow didn't work – the writers simply asked us to accept too much. Bones exists in a world of science, where no one has ever hinted at the paranormal, where characters are not only secure in the knowledge the supernatural doesn't exist, but don't encounter any evidence to the contrary. Meanwhile, 4 hours away in Sleepy Hollow, New York, an entire army of zombie soldiers marches down the street. Again, okay. Whatever. But during the whole two hour event Temperance Brennan and Seeley Booth were never exposed to Ichabod Crane and Abbie Mills' reality. There was always a tip-toeing between worlds, between science and supernatural, so the crossover never actually crossed over. It amounted to nothing more than familiar faces standing in the same room, not really understanding each other.
The result was a weak episode of Sleepy Hollow, a weaker episode of Bones, and an unnecessary crossover overall.
Good Crossover, Better Episode
Too often, the story of a crossover episode is the crossover itself, and that's it. The device can too often be used as a crutch, something to hang the story on for an hour while telling little actual story. It's the reason that Marvel's Cinematic Universe is slowly devolving into $100 million, two and a half hour crossover episodes that take three years to make.
it is also what kept Constantine's Arrow appearance from being truly great. All of the scenes where Sara Lance wildly crashed through windows and haphazardly attempted to kill Thea Queen seemed like filler until the next Constantine flashback. By the time Constantine showed up in the present to attempt the recovery of Sara's soul, we were more than halfway through the episode and the climactic struggle was vastly underwhelming. It was cool to see Mr. Ryan rolling his eyes into his head and reciting spells on our screens again, but that didn't cover up the fact that the much-hyped battle for Sara's soul was relatively easy. I mean, John, Oliver, and Laurel had to face some fun house hallways and three otherworldly dudes with swords. Swords! Arrow somehow found the one weapon to bring to a fight in 2015 more useless than a bow and arrow.
For the flip-side, look to 'X-Cops,' the seventh season X-Files episode where the Cops style provided a change of pace but also added to the narrative. Or Buffy the Vampire Slayer and Angel, which worked because it was a popular spinoff logically – and finally – crossing paths with its even more beloved mothership.
'Haunted' was a fun, breezy, and nostalgia-filled crossover, true. But it was a sub-par episode of Arrow. The question now is – does this speak more to the waning quality of CW's green-clad hero? Or the underrated, under-appreciated, and gone-too-soon charm of Matt Ryan's John Constantine?