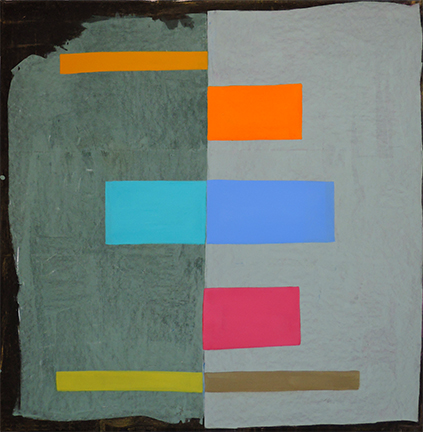 Walking into the entry gallery at André Zarre, which is showing Randy Bloom's "Don't Shoot: All Lives Matter" through November 14, is like walking into a pirate's treasure cave. You are surrounded by seven big, spot-lit paintings. They glow like jewels because each has a base layer of charcoal gray paint that also surrounds its image—setting that image off like the black velvet of a jewelry case.
On top of this dark gray layer is a slightly smaller, very fluid rectangle of a paler color, usually but not always gray and split up the middle by a very narrow, very straight dark line.
And on top of these pale layers are stationed bright rectangles that stick out to the right and/or left.
One constant through all of Ms. Bloom's nearly 40 years of work is this firm, bold, decisive and classically simple manner of paint application—no artistic wobbling or daubing.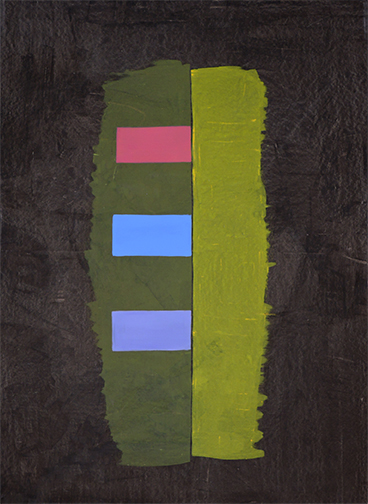 The other, even more admirable, constant is color that is clear, pure, beautiful—and off the beaten path. Her palette is at once so vivid and so mellow that it can upset viewers accustomed to the fashionably murky or the seven standard hues of the rainbow.
To Carter Ratcliff, the noted critic who contributed a statement for the gallery show, the black lines up the centers of these canvases suggest a human spine, with the horizontal bars of color perhaps analogous to limbs, and the missing head "virtual, a realm of thought and feeling we share with the artist…"
He is also reminded of a "bird's eye view," so we see from above "a flat stretch of terrain," with the bars of colors equal to "plots of land."
I, too, see hints of a human figure in the vertical central strip and horizontal rectangles, but I also see tall, proud pine trees with clumps of branches intersecting with the trunks.
Also (here is a truly archaic association): how about those outstanding bars corresponding to the stiff bright flags used as semaphores devices to signal messages at sea?
But most of all I am reminded by Bloom's horizontal bars of flags flapping happily and vigorously in a high old wind, bringing life to all that surrounds them. The artist's imagery continually evolves—it's never been the same for long, nor is the end in sight.
When I first became acquainted with the artist, she was spending a good deal of time attending integrated workshops in South Africa. Later, she had a show in Japan. Most recently, her favorite international home (away from her loft in SoHo) is Istanbul.
Her work is serious, but at the same time, jolly. In art as in life, Ms. Bloom, who has exhibited at the O.K Harris and Jack Tilton galleries in New York City, loves a good time. Born a striking brunette, she not long ago went platinum—said she wanted to know if it was true that blondes had more fun. She now says that, yes, they do.
The images themselves—her idiom—have constantly evolved since she first achieved a mature style in the 1980s—not that long after she graduated in 1976 from the progressive Franconia College in New Hampshire.
On her website, you can see some—though not all—of the many veins of imagery she's explored over the years, from "circles" and "diamonds," mostly in the 1980s and 1990s, on through "boxes" in the early 21st century and "dots" and "grids" in the past few years.
The latest work hasn't yet been put in a category. All it says at the website is "new."
You have to go to André Zarre (at 529 West 20th Street) to really see what it's all about.