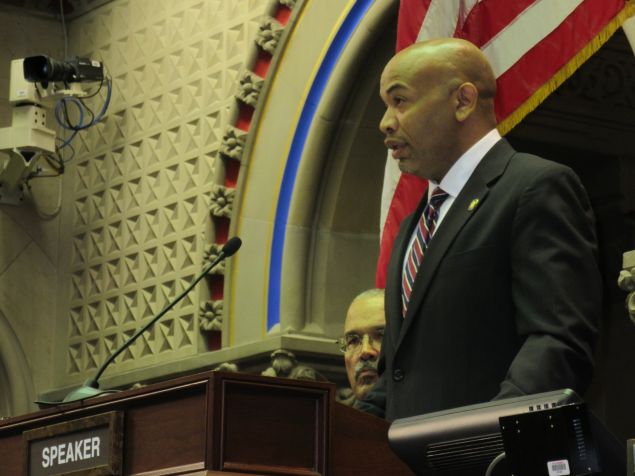 The new speaker of the Assembly rued the fate of the old today, as a jury convicted the once powerful Sheldon Silver on several counts of corruption.
Mr. Heastie, whose peers picked him to succeed Mr. Silver in February, seemed to allude to the parallel trial of ex-State Senate Majority Leader Dean Skelos, which is still ongoing. The Democratic Assembly leader vowed to push for greater ethics reform in Albany, which has been long and slow in the making since Mr. Silver's arrest in January and Mr. Skelos's in February.
"I am deeply saddened by the events that have taken place this year, culminating with today's conviction of former Speaker Sheldon Silver," he said in a statement. "Words simply aren't enough. We will continue to work to root out corruption and demand more of elected officials when it comes to ethical conduct. The Assembly majority remains committed to exploring ideas and implementing reforms to restore trust in our government."
The Bronx politician touted measures taken during his short tenure to combat corruption, including a new Assembly Office of Ethics and Compliance, new laws to obligate lawmakers to reveal more about their outside income, more stringent rules about reimbursements for expenses incurred and additional regulations on the use of oft-abused campaign funds.
"It is our hope that in time, the new measures we have recently put in place to strengthen ethics compliance will have a positive impact," he said. "The Assembly majority has taken clear and determined steps to combat corruption, and we will continue our efforts to restore public trust in government."
Only the disclosure requirement, however, has any bearing on Mr. Silver's crimes: shaking down developers to hire a law firm that paid him referral fees, and funneling state money into a medical center that referred patients to another law firm that he worked for.
Mr. Heastie highlighted that his house of the State Legislature had voted in favor of of closing the "limited liability corporation" loophole, which permits developers to circumvent donation limits by contributing through multiple shell companies, and to publicly finance elections so as to limit the influence of private money—and jabbed the GOP State Senate for not passing similar legislation "to limit the influence of big money in politics."
Mr. Heastie himself, however, has faced criticism for past uses of his campaign money for personal purposes, his receipt of many per diem reimbursements and for continuing to concentrate power in his own hands through control of the Democratic Assembly Campaign Committee, which raises and spends money to re-elect his members. In a conversation with the Observer earlier this year, he claimed he had increased the communication between the speaker's office and individual assembly members, which was notoriously one-sided during Mr. Silver's heavy-handed 21-year reign.
The speaker said he was working with the GOP-controlled State Senate to pass a bill that would strip politicians convicted of corruption of their public pensions. Both houses have passed legislation on the issue, but the bills do not match and thus cannot yet go to Gov. Andrew Cuomo's desk.