Assembly Speaker Carl Heastie will be the keynote speaker tonight at a fundraiser for Bronx Councilman Fernando Cabrera—an evangelical Christian pastor who has drawn fire for praising the fiercely anti-gay government of Uganda as "godly"—according to a post on Mr. Cabrera's Facebook page.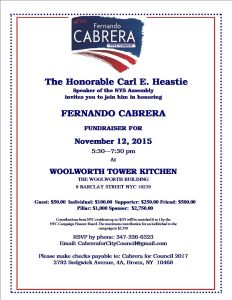 Mr. Cabrera loaded an image announcing the fundraiser, which requests donations ranging from $50 to $2,750, onto the social media site this afternoon.
"The honorable Carl E. Heastie, Speaker of the NYS Assembly, invites you to join him in honoring Fernando Cabrera," the invitation reads.
As speaker of the Assembly, Mr. Heastie stands alongside Gov. Andrew Cuomo as one of the most powerful Democrats in the state.
"I am looking forward seeing you all tonight!" Mr. Cabrera wrote.
Mr. Cabrera, a socially conservative Republican-turned-Democrat, attracted denunciations from his colleagues last year when a video emerged of him praising the government of Uganda, which last year passed a controversial law criminalizing the "promotion" of homosexuality and punishing the crime of "aggravated" homosexuality with life imprisonment. At the time, the councilman was seeking to unseat Bronx State Senator Gustavo Rivera, and denied supporting that statute—even though on the video he lauded Uganda for refusing to bend to American pressure to embrace gay marriage.
The councilman drew fire for taking campaign contributions from hedge fund head Sean Fieler, who had attacked what he called "the myth" that "gay relationships lend themselves to monogamy, stability, health and parenting in the same way heterosexual relationships do." His ties to the socially conservative Family Research Council also came under scrutiny.
Mr. Heastie, who in 2014 was Bronx County Democratic chairman and had yet to ascend to the speakership of the Assembly, backed Mr. Rivera's ultimately successful re-election campaign—even though he had supported Mr. Cabrera for Council in 2009.
Mr. Heastie's office did not immediately respond to requests for comment. He stepped down from the Bronx County chairmanship shortly after becoming speaker in February.
His replacement, Assemblyman Marcos Crespo, is also known for his opposition to gay marriage.
Funds from tonight's even will go to Mr. Cabrera's 2017 Council campaign.