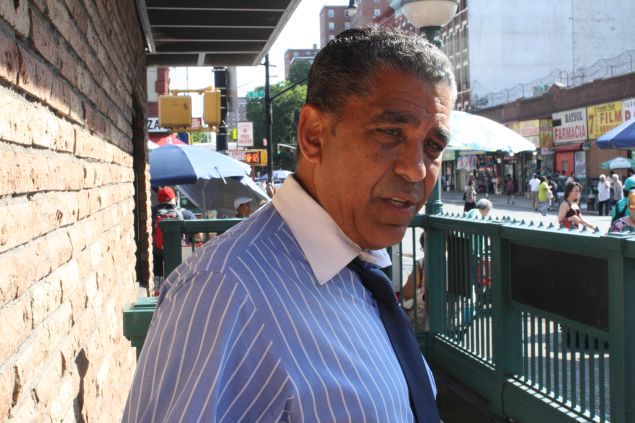 Assemblyman Guillermo Linares has a message for Councilman Ydanis Rodriguez: this isn't a dictatorship.
Mr. Linares, a Manhattan Democrat who declared his intentions to run for Congressman Charles Rangel's seat today, shot down an offer from Mr. Rodriguez to run for State Senator Adriano Espaillat's seat instead. Mr. Espaillat, a rival to Mr. Linares in upper Manhattan's Dominican-American community, also said today he'd run for Congress a third time.
"Last I heard, this is a democracy and the voters have the last say. It is not a dictatorship," Mr. Linares told the Observer. "The senator ran twice, came up short and it is time to have someone represent this district with the credentials as I have and I fully intend to be an option for the voters."
Mr. Rodriguez said in a statement earlier this afternoon that Mr. Linares should stand down and run for Mr. Espaillat's seat, something the veteran lawmaker tried to do in 2012. He also suggested that Carmen de La Rosa, a Democratic district leader and his own chief of staff, seek Mr. Linares' Assembly seat.
"This provides a blend of experienced leadership with energetic youth, while opening the path to a fresh generation of leaders eager to serve uptown," Mr. Rodriguez said.
Mr. Rodriguez's plan, of course, would put Mr. Linares at a disadvantage. With the primary for Congress set for June and the Senate primary set for September, Mr. Espaillat can do what he's done the last two cycles if he loses the congressional race: quickly turn around and run for his old seat. Mr. Linares, a trailblazer in the Dominican community, was a city councilman in the 1990s when Mr. Espaillat served in the Assembly and the two drifted apart.
When Mr. Espaillat ran and won a Senate seat in 2010, Mr. Linares, who also served a stint in City Hall as commissioner of the Office of Immigrant Affairs, replaced him in the Assembly. In 2012, Mr. Linares challenged Mr. Espaillat for his Senate seat after Mr. Espaillat ran and lost to Mr. Rangel the first time. He was crushed, but would have his revenge; the Espaillat ally who filled Mr. Linares' Assembly seat, Gabriela Rosa, pleaded guilty to marriage fraud in 2014 and Mr. Linares ran successfully that year to get his old seat back.
The 13th Congressional District, spanning upper Manhattan and the Bronx, is majority Latino but traditionally has been an area of black political power. Mr. Espaillat has tried to be the standard bearer for Latinos and an agent of change in the area, but Mr. Rangel, who has held the seat since 1971, has fended him off. His decision to retire after the end of his current term has led to a crowded, unpredictable primary.
Mr. Linares' presence in the race, at the minimum, guarantees Mr. Espaillat cannot scoop up the entirety of the crucial Dominican vote. He insisted, however, he wasn't in the race to simply split votes with his hated rival.
"No one will dismiss the diversity this district has and the fact that at the end of the day the voters and in their wisdom collectively will pick the person they feel will unify the district," he said. "I've shown a track record of accomplishment and have a vision for the district that is promising. The voters should not be denied that."