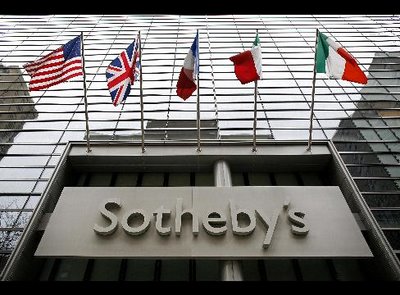 Even after a $1.1-billion two-week auction season, leading art auctioneer Sotheby's seems to have some doubts about business. The house is offering buyouts to employees in an attempt to cut costs, in a bizarrely timed development, according to a memo shared with Bloomberg News.
"I certainly understand that announcing a cost reduction program right after two weeks of dazzling sales may be unexpected," Sotheby's CEO Tad Smith said in the email. "It is our hope—but because this is voluntary we cannot be sure—that this program will achieve both the efficiencies from which our organization would benefit, as well as create enhanced professional development and leadership opportunities for those who will steer Sotheby's into the future."
Of course, as is generally the case when buyout "opportunities" are floated, there could be layoffs if the company doesn't manage to trim staff voluntarily, Bloomberg News said.
Sotheby's was under the gun during their fall sales because of the Taubman collection, the highest valued private art collection ever to hit the auction block (it was appraised at about $500 million). Because the late A. Alfred Taubman had served as chairman of Sotheby's (before ending up in the slammer for price-fixing!), the house saw the collection as symbolically important, it would seem, and in a bid to secure the business, guaranteed the entire thing.
After the first Taubman sale Mr. Smith was strangely equivocating, as the Observer reported at the time. "We are on track to cover most of the total guarantee," he said. "Bear in mind that both the hammer and buyer's premium count towards the guarantee."
But other sales seemed strong, if not quite as strong as last year at this time. The contemporary sale set two records and topped the low estimate, whereas the Impressionist and Modern sale saw a Picasso overturn a record for the artist's blue period works sold at auction.