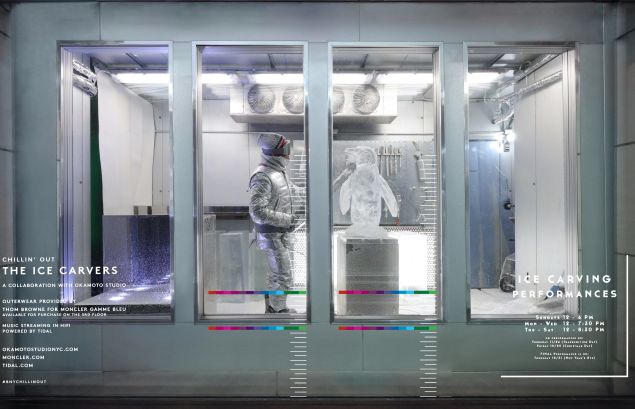 For the 2015 holiday season, the grand unveiling of festive windows across New York has become a subdued effort. Where there were once buzzy pop performers and masses of onlookers, local department stores have decided to opt for smaller, more intimate celebrations.
At Barneys, they took this concept seriously, even going as far as naming their holiday campaign Chillin' Out. And yes, there was a lot of ice abound. It might not be the most chic concept, but the store installed two utilitarian ice lockers in the window fronts. Within one, an ice carver from Okamoto Studio (who was bedecked in a custom silver Moncler Gamme Bleu jumpsuit) was busy etching out a penguin from a block of ice. Surrounding him were more blocks of ice, each denoting the Instagram handles of those in attendance.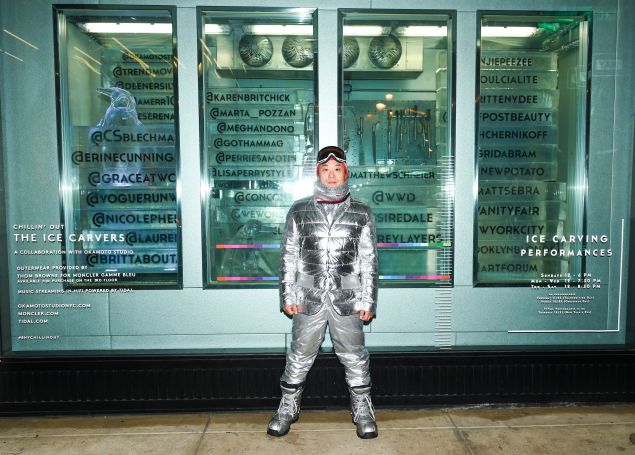 While the social media-inspired blocks of ice will soon disappear, shoppers and bystanders can catch a live ice carving experience through December 31.
The second ice locker installed by Barneys was filled with more ice sculptures, this time in the shape of castles. This concept was brought to life by the Utah-based company Ice Castles, who developed a process that melts and re-freezes the icicles that compose the window art.
Another standout street display was whipped up by sculptor Dale Chihuly. While the artist is synonymous with bright colorful pieces of glass that feature intricate twists and turns, he created the exact opposite of that for these windows. The result was spiky clear glass sculptures that looked like–you guessed it–ice. When paired with a light performance, aided with 3D digital mapping by Christie Three Sixty, the sculptures were bathed in colors and projected with the illusion of snow flurries.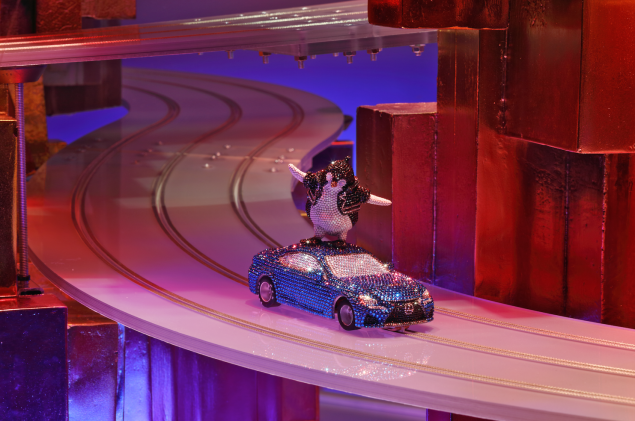 The last window was created in part with Lexus; the car brand reimagined mini crystal-studded versions of their vehicles which zoomed around a slot car racetrack. Poised atop the tiny cars were the mascot of the entire holiday campaign: Penny the penguin.
Among the four impressive windows, each featuring an intricate concept, there seemed to be something missing. It wasn't holiday cheer or a sense of adventure, but rather, it was product. There were no furry Fendi purses to drool over or an Alaïa frock to fawn on.
These festivities were obviously toned down from last year's blowout, where Baz Luhrmann and Catherine Martin were tasked with creating the windows. Celebrated with a live band, a decorous sit down dinner and a slew of celebrity appearances (including Dakota Fanning, Anna Wintour and the Public School designers), describing last year's event as lavish was almost an understatement. Perhaps due to an increasing shift in shopping habits, towards the digitally inclined purchases, this subdued celebration was necessary.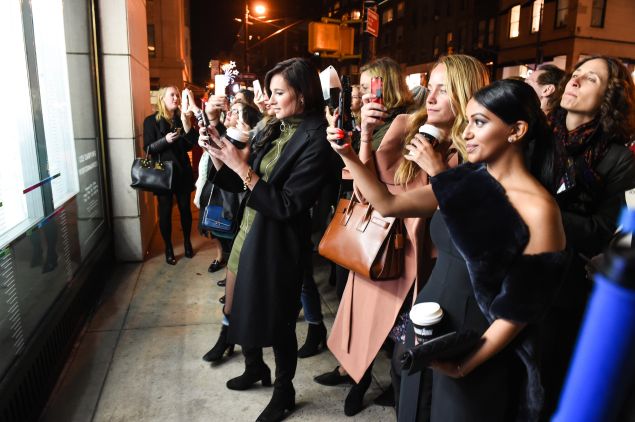 This year, Barneys fed the small group of editors and bloggers TV dinners, albeit gourmet ones served on glass platters. And even though they also doled out cups of hot chocolate and ice cream sandwiches, it was clear that the main focus of this evening was strongly centered on the artful windows.
"The Chillin' Out windows have been among the most creatively ambitious that our team has designed," Dennis Freedman told Barney's blog The Window. "We've challenged ourselves to reach new heights in terms of technical achievements, but ultimately it's the beauty and visual impact that really counts."
During the holiday season, when the debate between consumerism and the meaning of festivities often arises, it's nice to focus on pure beauty as a form of celebration. Although we can't expect that this department store trend will last for long, as it can hardly result in large sales returns.